8:15 am
Good Morning!
NDX futures are hovering, awaiting the CPI report and parsing what that may mean for interest rates.  The Master Cycle high was a week later than that of the Blue Chips.  As the tech-heavy generals go, so does the rest of the market, as the NDX Hi-Lo Index fell to -101.00 at yesterday's close.  Underlying support for NDX is crumbling.
Today's NDX op-ex shows Maximum investor Pain at 13200.00., although there is no serious short gamma threat.  Long gamma begins at 13250.00 and shows strength to 13400.00.'
SPX futures rose to 4137.90 this morning, showing buoyancy in a deteriorating market.   The NYSE Hi-Lo Index closed at -27.00 yesterday, giving a possible sell signal.  A confirmed sell signal lies beneath Intermediate-term support at 4092.18.  The 50-day lies at 4045.03.  Beneath that, thigs get dicey.
In today's options expiration, Maximum investor Pain is at 4115.00.  Long gamma begins above 4150.00, while short gamma begins at 4100.00.
Zerohedge reports, "US index futures traded in a narrow range but eventually faded earlier gains and traded with modest losses along with European and Asian stocks, as traders took some risk off the table before today's closely-watched inflation data (full preview here).  S&P 500 futures were down 0.1% on Wednesday as of 7:45 a.m. in New York, while Nasdaq 100 futures were flat. Meanwhile, short-dated Treasuries fell as worries around the debt ceiling deadline circulate, but longer-term maturities are edging higher. The dollar reversed earlier losses, and was set for a third day of gains, while oil snaps a three-day rally and gold loses momentum as traders pause for clues on monetary policy. Iron ore bounces and copper declines."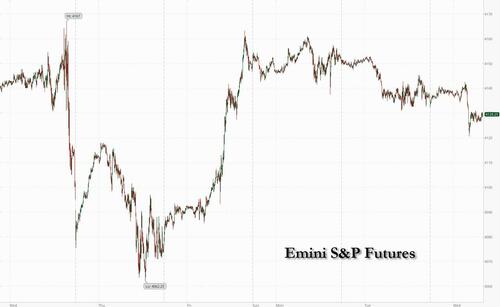 VIX futures slipped to 16.43 this morning as investor sentiment leans bullish.  The stage here is set for a panic rally by next week.  It is markets like these that draw investors to commit their hard-earned money at the wrong time.
In today's op-ex, Max Pain is at 14.00, with no short gamma beneath it.  The longs and shorts are contesting the 19.00 strike, which is where the VIX may close today.  Long conviction runs to 47.50.
TNX has pressed through Intermediate-term support at 34.71 and may decline to the trendline at 34.00 before resuming its rally.  Trending strength ay not come back until next week.  However, the Cycles Model suggests TNX may go higher at any time.  Once begun, the rally may continue through early July.
ZeroHedge reports, "So much for worries the Fed will continue hiking.
In the first refunding auction of the week, and the first coupon auction of May, moments ago the Treasury sold $40 billion in 3Y paper in an absolute stunner of an auction which was a blowout record breaker in more than one category.
Starting at the top, the auction priced at a high yield of 3.695%, a sharp drop from last month's 3.810%, but more importantly, it stopped through the When Issued 3.723% by 2.8bps, which was the biggest stop through on record (with data going back to 2016)."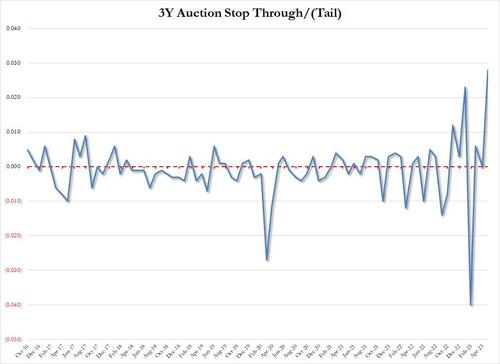 USD futures slipped to a morning low of 101.00 at the CPI press release, then bounced.  The Cycles Model shows the USD near a Trading Cycle low, suggesting a rebound above Intermediate-term resistance atr 101.63 may be imminent.