7:45 am
Good Morning!
NDX futures have slid from a lated Master Cycle high on day 265, one week after the SPX high.  Normally, NDX would lead the SPX at important junctures.  However, the flight to "safety" in the mega-tech companies has captured the imagination of many investors.  FOMO has blinded them to what may happen next, as the decline  may turn into a panic decline that may last to the end of June.
This morning's op-ex is hotly contested at 13300.00.  However, long gamma doesn't start until 13450.00 while short gamma appears to be non-existent.  A good day for a decline.
SPX futures are also down this morning, but above Intermediate-term support at 4088.75.  The aggressive sell signal is given.  Confirmation comes beneath the 50-day Moving Average at 4042.97.
Today's op-ex shows Max Pain at 4125.00.  Long gamma begins at 4150.00, while short gamma may begin at 4100.00.
ZeroHedge reports, "US index futures retreated as the short squeeze that lifted distressed regional banks fizzled and went into reverse, dragging down names such as PacWest down as much as 20%, while the latest Chinese macro data spooked investors after imports dropped much more than expected and investors prepared for key US inflation data later this week. Both S&P 500 and Nasdaq 100 contracts slipped 0.4% on Tuesday as of 8:00 a.m. ET.  Meanwhile, the dollar is edging higher, set for a second day of muted gains. Oil prices have lost the momentum of the past two sessions, falling back in today's trading. Gold is set for its third day of gains. Iron ore dropped in the wake of data that showed China's imports of the steel-making ingredient fell to a 10-month low in April. Copper also slides."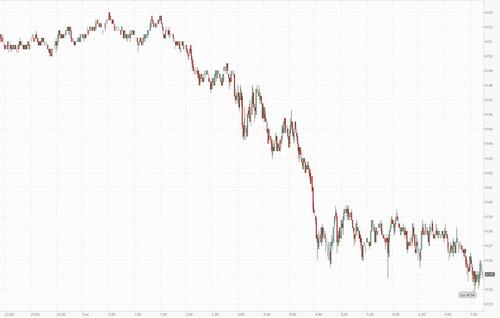 VIX futures have risen back above the long-term trendline at 17.50 in existence since November 2017.  VIX is on a buy signal above the trendline.
In Wednesday's op-ex, the strike at 19.00 is hotly contested.  However, Long gamma may already have been established at 15.00.
Zerohedge remarks, "History of debt ceiling "volatility"
JPM's market intelligence team reminds us:
The downgrade on August 4 led to a volatile market with several declines in the SPX and a peak VIX of 48 (was around 20 into the event)….SPX had a 6.7% decline on Aug 8, 4.4% decline on Aug 10, a 4.5% decline on Aug 18.
Source: Refinitiv
Volatility can actually spike on this
Yes, we agree, it does not feel like the strongest nor most compelling bear case (the debt ceiling debacle), but historically the markets have gotten concerned before."
USD futures are raiang toward Intermediate-term resistance at 101.67 this morning.  While the outlook for the USD appears bleak, the Cycles Model suggests a rally may already be underway.  Trending strength may not appear until the third week of May.
TNX has pulled back, but still above Intermediate-term support at 34.71.  The perception is that TNX is in a long, flat trading range.  However, a breakout above overhead resistance may change that perception radically.
ZeroHedge notes, "As President Biden is about to welcome Speaker Kevin McCarthy and other congressional leaders to discuss the debt ceiling at the White House on Tuesday, there seems to be little hope for a quick resolution of what threatens to become a drawn-out game of political chicken.
As Statista's Felix Richter reports, with the country's economic wellbeing at stake, both parties could hardly be further apart, as Republicans push for steep spending cuts while President Biden has been urging Congress to raise the debt limit with no strings attached.
When the country was at a similar crossroads in the fall of 2021, the White House Council of Economic Advisers (CEA) published a blog post detailing what "Life After Default" could look like.
"A default would fundamentally hinder the Federal government from serving the American people," the CEA found, while also anticipating "serious and protracted financial and economic effects."

In conclusion, the CEA urged lawmakers to avoid "the self-inflicted economic ruin" and to refrain from partisan brinkmanship. "The debt ceiling is not and should not be used as a political football. The consequences are too great."
Despite all warnings against the potentially catastrophic consequences of a default, the current debate over the debt ceiling has turned into yet another partisan issue that divides the country roughly in half."