2:00 pm
On may consider the Financial Select Sector ETF as a means of hedging against further bank runs.  This memo is for informational purposes only and not a recommendation to buy or sell any securities.
1:27 pm
BKX got enough energy today to challenge the Cycle Bottom resistance at 83.26 before pivoting back beneath it.  The is a renewal of the existing sell signal.  While some felt that their short profits may have been eroding, the fact remains that the correction barely rose 19.8% of the decline at today's peak.  BKX is now in for a two month decline that may erase another 50% from its value.
9:59 am
Wave (E) of the VIX Triangle has likely become a double zigzag, adding the 6h and 7th points to the Triangle formation at a low of 17.45 (The 39-month trendline comes in at 17.42).  This is an extreme move, calling for an extreme countermove to the end of May, as mentioned earlier.  At a personal level, 6 month's living expenses in cash is advisable.
7:45 am
Good Morning!
NDX futures are lower this morning, but not to new lows…yet.   A decline beneath 12850.00 raises the probability of a reversal.  Conversely, a rally may go as far as 13350.00, should it not be complete.
In today's op-ex Max Pain is at 12975.00.  Long gamma starts at 13000.00 and runs to 13250.00.  Short gamma begins at 12900.00.
QQQ (319.17) options show Max Pain at 308.00.  Long gamma starts at 317.00 while short gamma begins at 300.00.
ZeroHedge comments, "Risk continues to be skewed to the upside
GS trading desk: "Negative sentiment and light positioning remain as steady mkt tailwinds (much to the chagrin of many HFs). Investors are bracing for the worst in regards to earnings (not exclusive to banks) which makes me believe risk is skewed to the upside as earnings really get going. At this point "OK prints" will be good enough"
SPX futures are flat, but leaning toward the upside.   There is a probable trendline at 4150.00 providing some resistance.  Today is day 241 of the Master Cycle.  The pivot window is now open for an early reversal.  An aggressive sell signal may reside beneath 4070.00.
In today's op-ex, the 4100.00 strike is hotly contested with puts dominant beneath it.  Long gamma begins at 4150.00.  Note that long gamma starts at the trendline.
ZeroHedge reports, "US stock futures were flat in yet another listless overnight session after Thursday's bear-vexing rally as traders braced for a slew of earnings from major banks like JPMorgan Chase and Citigroup Inc. Contracts on the S&P 500 dipped 0.1% by 7:45am ET largely as a result of a big drop in Boeing shares, partially offset by solid JPM gains following stellar earnings, while those on the Nasdaq 100 fell by 0.5% after the underlying index added 2% in the last session."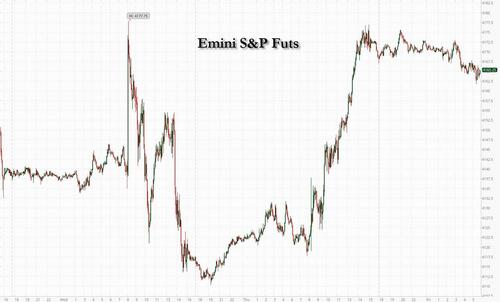 VIX futures may be bouncing after yesterday's deep Master Cycle low.  The Triangle formation is threatening to extend a normal 5-point reversal to a 7-point reversal, which is highly unusual.  The impact of bringing the MC low forward allows the subsequent rally in the VIX to extend to 43 days.  By comparison, the panic in 2020 went for 30 days.
Next Wednesday's op-ex shows Max Pain at 22.00.  Short gamma extends from 21.00 to 15.00.  Long gamma starts at 25.00 and runs hot to 60.00.
MarketWatch observes, "VIX sends a message
The CBOE Volatility Index VIX, 0.45%, on the other hand, remains a positive indicator for the stock market. While VIX has attempted to probe higher on several days recently, it has been repelled from the 20 level repeatedly. Thus the trend of VIX buy signal remains in place for the stock market. That signal would be canceled if VIX were to close above its 200-day moving average, which is currently slightly above 23 and declining. A "spike peak" buy signal has also been in effect since March 13th. The trading system that we built around "spike peak" buy signals calls for the position to be exited after 22 trading days, and that is now. So, the "spike peak" buy signal will expire today. "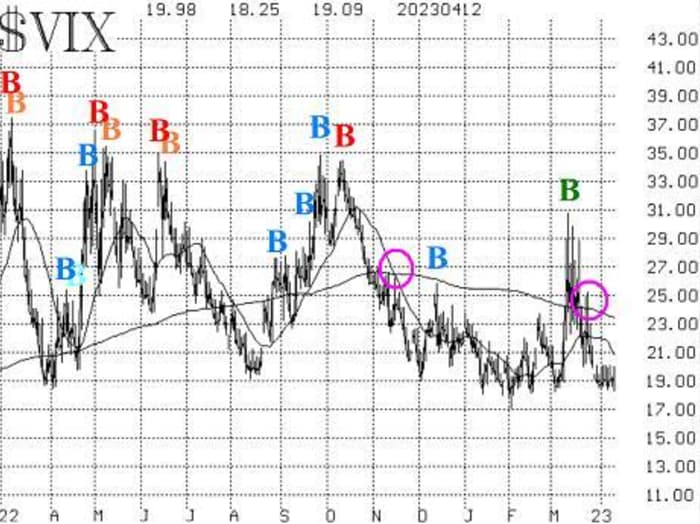 TNX rose above the 200-day Moving Average at 35.11 this morning, giving a(n) aggressive buy signal and aggressive sell signal for UST.    The signal is confirmed above the mid-Cycle resistance at 35.44.  The new Master Cycle may be short (1-3 weeks), but has the potential of a panic.  Note how interest rated did not rise until after the auction!
ZeroHedge reports, "After two mediocre (at best) coupon auctions, including a tailing 10Y benchmark reopening yesterday, moments ago the Treasury held the week's last auction when it sold $18BN in 30Y paper.
The auction was solid, if nothing to write home about: the high yield of 3.661% was well below last month's 3.877% (to be expected in light of the collapse in rates this month), and the lowest since January's 3.585%; it also closed on the screws with the When Issued which was also 3.661%, and followed two consecutive tailing auctions.
The Bid to Cover of 2.359 was virtually unchanged from 2.351, which was also the six-auction average."
USD futures made a marginal new low at 100.47 this morning, then bounced.  That places a possible Master Cycle low on day 247.  However,, should the MC low extend to the full complement of 258 days, USD may decline further to the Cycle Bottom support at 99.21.  Normally we would see the USD rally with higher interest rates.  However, Bank of China is selling Treasuries (at a loss) as they prepare for war.
Asia.Nikkei.com reports, "NEW YORK/BEIJING — China's U.S. government bond holdings hit the lowest in over 12 years at the end of December, while its gold trove grew against a backdrop of American interest rate hikes and bilateral tensions.
Chinese holdings of Treasury securities fell for the fifth straight month in December to $867 billion, data published Wednesday by the U.S. Treasury Department shows.
The figure fell $173.2 billion, or 17%, in 2022 — the biggest drop since 2016. China was not the only nation to sell down its Treasury holdings — all foreign holdings of Treasury securities fell 6% in 2022 — but its move was large."