10:53 am
BKX, our liquidity proxy, is heading lower this morning.  Should it reverse above the March 24 low at 76.20, it may bounce to retest the Cycle Bottom resistance at 85.47.  However, a breakdown beneath that low raises the likelihood that the decline may continue through the middle of June.
ZeroHedge reports, "Over a month before Silicon Valley Bank collapsed on March 9 sparking the deepest US banking crisis since the Lehman bankruptcy…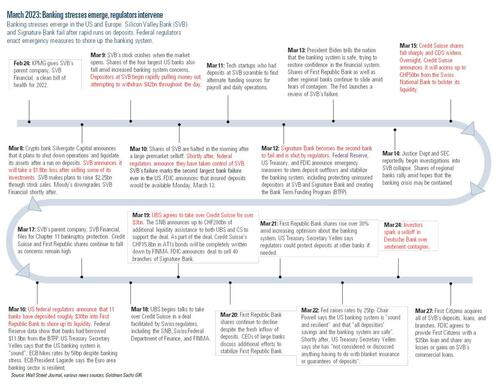 … we reported that loan demand was plunging while bank lending standards were approaching the tightest levels on record.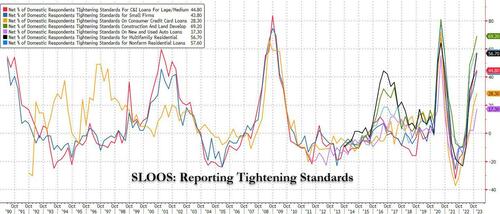 And as we have noted frequently over the past month, the great fear – one also shared by Jamie Dimon – is that the ongoing bank run and near death experience of regional banks will force small and mid-size banks to further tighten lending standards as they enter survival mode and hunker down, effectively grinding all new loan issuance to a halt."
TheEpochTimes reports, "JPMorgan CEO Jamie Dimon said in a letter to shareholders that the U.S. banking crisis is not over, and that even when it does end, its impact will linger for years, while warning that America seems to moving into a "vicious cycle."
"As I write this letter, the current crisis is not yet over, and even when it is behind us, there will be repercussions from it for years to come," Dimon wrote in the wide-ranging 43-page missive that included the ominous warning that storm clouds threaten the U.S. economy."
8:15 am
Good Morning!
NDX futures are consolidating near yesterday's high.  There may be an attempt to rally to the Cycle Top at 13407.37.  If so, it may be finished in the next week.  However, market strength is waning.  The NDX Hi-Lo Index has plummeted to -151.00 yesterday from -37.00 on Monday.  The four tech generals appear to be doing the heavy lifting, keeping the index from falling.
In today's op-ex, Maximum Pain for options investors is at 13080.00.  Long gamma begins at 13010.00 while short gamma lies at 1300.00.  Sentiment appears bullish.
ZeroHedge observes, "Yesterday we reported that JPM's Positioning Intel desk issued an alert of a possible marketwide squeeze should momentum accelerate to the upside and draw in more stopped-out shorts. Today, we turn our attention to another part of JPM's trading floor, the Delta-One crack trading team, which has published a note on how to hedge the biggest market risks today including "Squeeze, Mini Cycles, and recent Tech Rally."
We excerpt from the full note (available to pro subs in the usual place) below:
* * *
With the recent Tech rally & positive upgrade on economy, we analyzed the current potential risk to hedge in the market. Client inquiries about Growth vs Value and possible reversals of Mega-Cap rally suggest the fear in the market is about protecting recent Pnl with recovery in Tech. The changing market dynamics, in the short term, have become a pain for investors to protect PnL and require hedging emerging Short term risk."
SPX futures are lower after consolidating overnight within yesterday's trading range.  SPX is up against multiple resistances that may re-assert the downtrend after 21.5 days of rally following 39 days of decline.  We may see the decline begin to accelerate into a panic rout as early as next week.  Confirmation of the decline occurs at the 50-day Moving Average at 4024.39.  There is an aggressive sell signal currently in place.
Today's op-ex shows Max Pain at 4115.00.  Long gamma begins at 4150.00, while short gamma becomes painful for longs at 4050.00.
ZeroHedge reports, "US stock futures edged lower on Wednesday, extending Tuesday's post-JOLTs declines into a second day ahead of even more employment data including the ADP private payrolls report, as hawkish messages from New Zealand and Australian central banks signaled a prolonged fight against price pressures and revived concerns about a deeper economic slowdown. Gold extended a 13-month high. The two-year Treasury yield rose for the first time in four days and the dollar fluctuated.
Contracts on the Nasdaq 100 and the S&P 500 were both down by about 0.1% as of 7:30 a.m. in New York. The indexes had dropped on Tuesday following soft labor market data.  In Europe the FTSE100 is up 0.5%, boosted by AstraZeneca gains after positive drug trial results."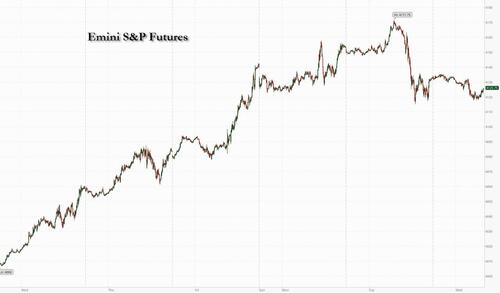 VIX futures are consolidating near the upper end of yesterday's trading range.  The Cycles Model suggests a dramatic surge in strength starting early next week and extending through the end of April.  VIX ETFs, futures and options appear to be in an accumulation stage prior to take-off.
TNX has made a new low on day 273 of the current Master Cycle.  Conditions are ripe for a massive reversal starting today and possibly extending to the end of the month…Consider the following:  While the 10-year bond yield went from 3.98 to 43.33, the UST declined from 140.36 to 109.48.  That's a loss of 7.85% in UST for every percent of rate increase.  Should rates rise another 2%, that's a further loss of 15.7% of principal in UST.  That may take 4.8 years to recover at today's rate.
ZeroHedge observes, "260 Fed meetings will occur between the issuance and maturity of a 30-year Treasury bond. There will be 260 times when the Fed raises, lowers, or does nothing with Fed Funds. In that perspective, why should a bondholder care what the Fed does or doesn't do at the next few meetings? We ask the question because we get many questions from potential bond investors on whether they should buy bills, notes, or bonds based solely on expected Fed policy.
Many inquiries are concerned about buying bonds too soon because they fear the Fed may still raise rates once or twice. While the Fed is an important variable in the performance of all bills, notes, and bonds, its actions significantly impact shorter-term bills and have less influence on longer-term notes and bonds. "
ZeroHedge remarks, "Lower for longer?
Yields are at massive levels. Charts showing the 10 and the 5 year, both trading at the lower part of the range that has been in place since September last year. A close slightly lower in yields and we could be looking at a powerful break down move. Note both charts are "well" below the 200 day moving average.
Source: Refinitiv
USD futures bounced off yesterday's low, suggesting a reversal may be at hand.  If correct, USD may end the month of April at a new high.
Investing.com reports, "The dollar held near two-month lows on Wednesday after weak data supported the view that the Federal Reserve may not need to raise rates much further, while the New Zealand dollar hit two-month highs after a larger-than-expected rate hike.
With the all-important U.S. monthly employment report just two days away, activity across the market was a little more subdued than it has been in recent weeks."
Crude oil traded lower this morning following a probable Master Cycle high on day 264.  The Cycles Model calls for an extended decline through the month of May, so we will be watching this decline carefully.
Gold futures rallied to a new high at 2048.90 on day 259 of the current Master Cycle.  This may be the top I have previously warned about.  The Cycles Model suggests the first phase of the ensuing decline may last until the end of April.  This phase of the decline has the potential of probing the Cycle Bottom at 1588.14.