8:00 am
Good Morning!
SPX futures rose to 3998.00, short of yesterday afternoon's high at 4000.47.  The 50-day Moving Average is at 3980.71, which must be broken to continue the decline.  Overhead resistance is at 4040.40.  Should the decline follow the Cycles structure, approximately 6 more days may be left to the Master Cycle low.  I had originally projected the low to be on Friday, March 3.   However, Cycles are organic and may be influenced (short-term) by periodic events.  This Friday is when the monthly jobs report comes out and it may snuff out investors hopes of a soft landing.
Today's options chain shows Maximum Pain for investors at 4020.00.  Short gamma lies at 4000.00 and is reinforced beneath 3980.00.  This becomes the focal point for today's activity.
ZeroHedge observes, "SPX – will it get "surprised"?
SPX has totally ignored the latest rise in Citi's US economic surprise index.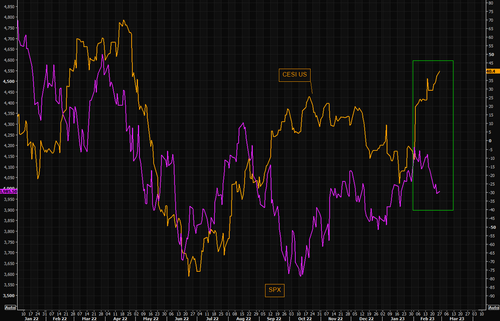 Source: Refinitiv
SPX – must hold approaching
SPX is down to the 200 day moving average again. 3950/3960 is basically the must hold area."  _______________________________________________________
ZeroHedge reports, "US stock futures rebounded on the last day of a turbulent month for stocks which saw much of the January gains wiped out, and even with S&P futures inching above 4000 the S&P 500 was on course to post a monthly decline as investor fears about a hawkish Fed response to sticky inflation prevailed. Contracts on the Nasdaq 100 and the S&P 500 rose 0.4% at 7:45 a.m. ET; the S&P 500 is set for a drop of more than 2% in February, trimming a sharp rally last month. Bonds sank in the wake of reports that showed accelerating inflation in France and Spain. The dollar reversed earlier gains and crypto rose.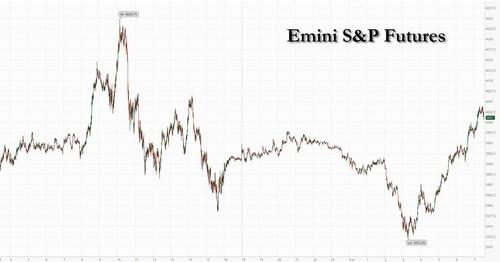 VIX futures are dancing inside yesterday's trading range.  The VIX Cycle is still unclear.  The February 18 low (day 252) may have been the end of the current/previous Master Cycle.  If so, VIX may be destined to continue rising through the end of April.  The alternate view is a possible (Master Cycle) high on Friday, followed by a 2-week consolidation.  The end result is the same.  After the consolidation, the VIX continues to rise until the end of April.  March and April are measuring up to be a potential panic period.    The VIX continues to be on a buy signal.
TNX may be resuming its rally.  The current Master Cycle may continue to the week of March 20, but may extend to March 27-28.  A rally back above 4.00 may provoke a panic in equities.
The USD is reaching the end of its current Master Cycle.  Normally this may mean a reversal to lower lows.  However, an alternative course may be a phase-shift, where after a brief consolidation of 1-2 weeks, the rally resumes with greater vigor to the end of April.  USD remains on a buy signal as long as it remains above the 50-day Moving Average.