9:45 am
Good Morning!
Tis is just a brief summary of what you may expect over the next week.  The options market seems to dictate price action, which is wedged between 4150.00 and 4050.00.  The current action suggests the upper range may be tested over the next two days, until VIX monthly op-ex on Wednesday.  However, a break beneath 4050.00 may set off a waterfall event.  The current Master Cycle is due for a probable low at the end of the month.  Short positions should e maintained for the duration.  The minimum downside target appears to be the December low.  the more likely event is a decline to the October low.
Today's options chain shows 4100.00 being hotly contested by both sides.  Long gamma rules above 4125.00-4150.00.  Short gamma starts at 4050.00.
ZeroHedge reports, "US index futures reversed an earlier drop and traded near session highs as traders braced for inflation data that will may support the Fed's commitment to further policy tightening (or it may not), and as the world was transfixed by a global UFO hullaballoo(n). S&P 500 futures were up 0.3% at 8:00am ET while Nasdaq 100 futures rose 0.6% after the underlying index suffered its first weekly loss of 2023. European stocks rose to trade near session highs, lifted by construction, industrial goods and consumer stocks while energy and real estate underperformed. The dollar pushed higher, Treasuries were little changed and oil slipped after Friday's jump; bitcoin slumped."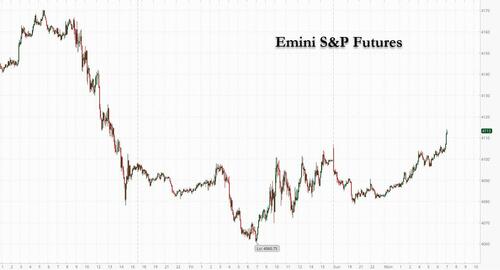 VIX is consolidating above the 50-day Moving Average at 20.73.  It rose above the 50-day On Friday, giving a buy signal.
Wednesday's options chain shows Maximum Pain at 21.00.  Short gamma starts at 20.00 while long gamma begins at 22.00.  Long conviction is high up to 80.00 with 189,244 contracts at that strike.  There is no assurance that VIX may reach that level.  However, long gamma exerts a "pull" on the dealers to cover those positions as VIX moves higher.
TNX made a new high this morning, but now appears to be consolidating.  The Cycles Model suggests a steady climb with retests of support to the week of March 20.  The Cycle top may be the intended target for this phase of the Cycle.