3:05 pm
Crude oil rose to 77.34, testing the50-day Moving Average.  It remains on a sell signal.  The Cycles Model suggests the decline may resume through the end of February.
ZeroHedge remarks, "My big trade has been long commodities, short treasuries. Part of this was driven by political change, which continues to be supportive. Another part of this trade was assuming that we would follow a typical commodity cycle.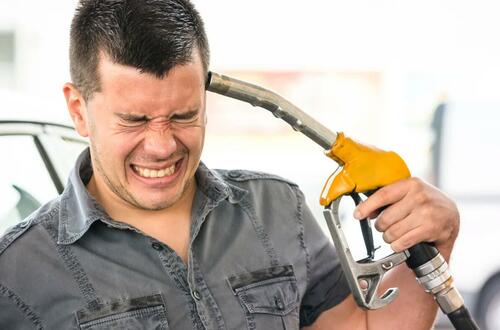 In a typical commodity cycle high prices attract capital and increased activity, this cause prices to fall and activity to fall as capital leaves, and then leaving a set up for higher prices again. In the energy space, and particularly natural gas, only the US has really seen a huge increase in activity, but even here we saw signs of capital discipline beginning to emerge. In 2019 purchase of Anadarko by Occidental was very bullish in my mind, as it further consolidate the all important Permian region. The idea is that a consolidated market would lead to more capex discipline.
1:40 pm
SPX spiked up to Cycle Top resistance, then plummeted to a new low.  Powell's comments were not what the market wanted to hear.  This may finally tamp down the bullish impulse.  The next three weeks may see new lows in the SPX.
ZeroHedge comments, "Hawkish… but not hawkish enough…
That's the initial message the market heard from Fed Chair Powell.
He confirmed his message from the post-FOMC presser message that disinflation has barely begun and there's still a long way to go.and that "financial conditions have tightened."
"Financial conditions are more well-aligned with that than they were before."
He also reiterated that more rate hikes are likely to be needed.
"This process is likely to take quite a bit of time," Powell says. It's not going to be smooth."
8:00 am
Good Morning!
SPX futures traded in a very narrow band as the market awaits Powell's press conference.  Powell is given too much credit, as circumstances do not allow him to ease on rates.  Remember, the Fed has always raised or lowered rates only after the market had already changed since 1949.  It is clearly in the records which are ignored.  The Cycles Model infers a decline in equities through the end of February.  The 50-day Moving Average has risen to 3960.00, where the current aggressive sell signal is confirmed.
Today's op-ex shows maximum pain for options investors at 4085.00.   Long gamma starts at 4125.00, while sort gamma begins at 4050.00.
ZeroHedge reports, "US equity futures rose, led by Nasdaq 100 contracts, setting up the tech-heavy index for a rebound as investors brace for Powell 2nd press conference in less than a week, in which he is widely expected to be more hawkish than he was during last week's FOMC. S&P 500 futures climbed 0.1% as of 7:45 a.m. ET while Nasdaq 100 contracts added 0.3%. The Bloomberg Dollar Spot Index retreated from the day's highs, boosting most Group-of-1o currencies. Treasury yields pulled back after two days of outsized gains. Oil climbed with gold, while Bitcoin advanced for a second day.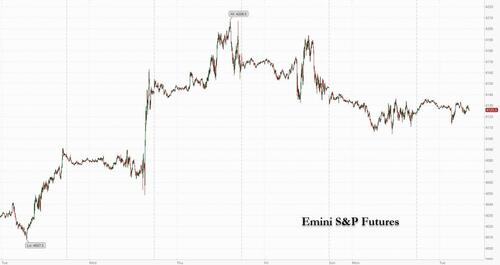 VIX futures are consolidating inside yesterday's trading range, awaiting Powell's press conference.  VIX awaits a breakout above the 50-day Moving Average at 20.83 for a confirmed buy signal.  Note that the VIX has been trading beneath the 50-day since mid-October.  Time for a change in trend?
ZeroHedge observes, "Since Fed Chair Powell's press conference last week, equity markets (and bond yields) have soared exuberantly on his apparently dovish lack of push-back against the dramatic decoupling between monetary policy tightening and market-driven easing of financial conditions.
Nasdaq is up 3.5% post-Powell (The Dow is unchanged though)…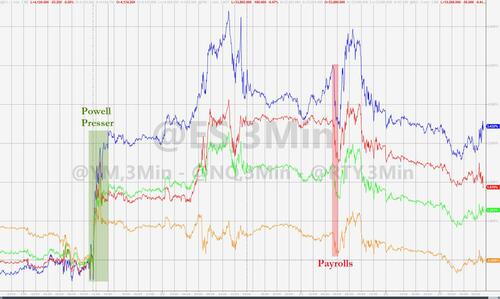 And that has smashed financial conditions to their 'loosest' since June (and suggesting (given a 90-day lead) that The Fed is done and the terminal rate is here now…
TNX rose to 36.69 this morning.  It may retest the 50-day Moving Average at 35.90 during the give-and-take around Powell's press conference.  The Cycles Model shows increasing strength as the new Cycle gains legs.  It appears that the new outbreak in rates may surprise the markets.
USD futures appear to be testing the 50–day Moving Average at 102.77 this morning.  Powell's press conference may boost it over an important benchmark as the Cycles Model suggests a rising USD through the end of February.