3:36 pm
BKX may have met its Master Cycle high today on day 259 of its Master Cycle.  The Cycles Model suggests a burst of negative energy early next week.  Banks are facing troubles on multiple fronts and the Cycles are primed for a strong reversal.
ZeroHedge observes, "We're at a fascinating juncture here in the markets.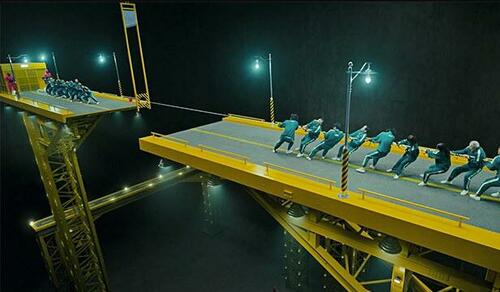 Stocks have sold off hard for a little over a year now but have rallied once again in the short run. The result is that the S&P 500 Index has formed a fairly tight coil or pennant pattern over the past several months. And, as my friend Peter Atwater points out, this coil is merely a visual representation of a fierce battle going on in the markets."
3:10 pm
VIX has extended its Master Cycle to day 270 today in a very confusing, corrective formation.  However, it, along with the SPX, has also completed a 12.9-month Cycle today.  There are multiple major indices at the point of reversal today.  This is no time to "short vol" behavior.  Goldman's biggest bear has capitulated.
ZeroHedge comments, "The "Buy Any Semblance of a Dip" mentality across markets is so evident right now as "risk" is being re-deployed to start 2023, after a year's worth of de-positioning in Assets and hiding in Cash, following the global central bank "FCI Tightening" macro regime of 2022 instructed you to do just that.
Last night's EPFR Fund Flows report captures that "re-risking", where we see an impulsive 92-93%ile rank almost across the board INFLOW in Global Equities, Global Bonds and Global IG Credit…alongside an actual (nascent) Money Markets OUTFLOW, following a +$222.5B of MM INFLOW over the past 1Y period as "Cash became an actual alternative"…
7:20 am
Good Morning!
I thought it would be appropriate to give a panoramic view of the markets, since they are approaching an important Pivot point.  SPX is approaching its 12.9-month Cycle Pivot point, technically due at the end of January.  Given the lateness in the month, We may safely infer that a major reversal may be made at any time, especially since Wave (C) of Primary Wave [2] is approaching the minimum requirement of making a higher high above 4100.96.  Looking at the chart, we can see that the 50% Fibonacci retracement may be reached at 4142.02 and the Weekly mid-Cycle resistance is just above it at 4162.60.  Should SPX continue its rally, either of these points may be the final reversal point.  However, once 4100.00 is reached, all bets are off.
Likewise, the VIX may have reached its 12.9-month pivotal low on January 13.  There is a lot of energy stored in the 12.9-month Triangle formation with a result of a target not seen since March 2020, a Cyclical 34-month (34.4) duration.  VIX has literally put market watchers asleep.  The message that there is no risk in the market is being swallowed hook, line and sinker.  The Cycles Model suggests trending strength may reappear early next week.
Note:  I am out of the office for the duration of the morning.  I will attempt to add short-term commentary later this afternoon.