1:09 pm
SPX has met its 38.2% Fibonacci resistance and daily mid-Cycle resistance (not shown) at 3935.00 and appears to be pulling back. The 50% retracement value is 3950.61.  It has met the required Cyclical time period of three days from the high at 4015.39.  Dealers want to avoid long gamma, so we may anticipate a decline back beneath the 50-day Moving Average at 3922.00.  I wouldn't be surprised to see SPX close near 3900.00 since that level is so hotly contested.
ZeroHedge remarks, "By now everyone, of course, knows that the Fed has broken what was once called "the market" beyond repair. Add to that zero liquidity, a still healthy army of HFT bots and the explosion in 0DTE option trading…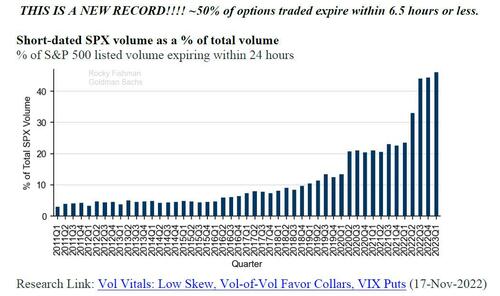 … and what you have is a market that looks like this on a daily basis.
Nowhere is this brutal swing more visible than in the furious ebb and flow of shorting and squeezing activity. "
9:38 am
BKX opened at the 50% retracement value of its 2-day decline.  Resistance is at mid-Cycle resistance at 105.37 and the 200-day Moving Average at 106.35.  The Cycles Model suggests the decline may intensify next week.  The trigger for the Head & Shoulders formation is at 96.50.  Rising rates, rising USD and mass layoffs are setting up a potential crisis in the banking sector.  The FTX implosion is creating a significant headwind.
ZeroHedge notes, "One week ago we looked at the latest consumer credit data where we found not one but two flashing red alerts:
First, the total amount of credit card debt hit a new all time high, which however was to be expected from one of the most consistently increasing series across all US economic data, and one which predictably is correlated to the US savings rate which is at all time lows.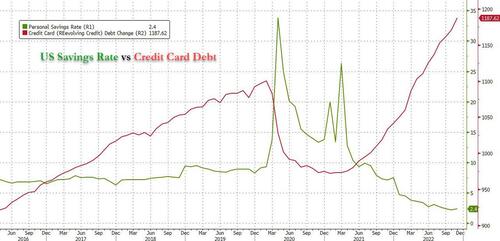 Second, thanks to the Fed's crusade to spark a great recession, the average rate across US credit cards just rose to an all time high 19%+"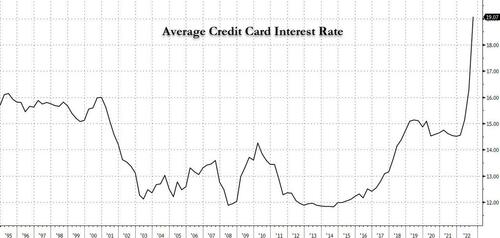 7:40 am
Good Morning!
SPX futures have been consolidating between 3895.00 and 3915.00 in the overnight session.  Both the 50-day and Intermediate-term resistance are at 3918.00.  The mid-Cycle resistance is at 3934.50.  Final support is the 100-day Moving Average at 3865.27.  All the technical indicators point downward.  Whether the decline starts today or after op-ex remains to be seen.
Today's op-ex shows 3900.00 being hotly contested by both 37,610 puts and 34,364 calls this morning.  Long gamma starts at 3950.00, while short gamma may begin at 3850.00 .  There may be intense pressure to keep SPX in its narrow range.  A breakout out of the current range may reinvigorate gamma in the prevailing direction.  Otherwise gamma falls off after today's expiration.  Nomura warns today is "Gonna Be Spicy."
ZeroHedge reports, "S&P futures are modestly higher this morning trading in a narrow range, with tech stocks leading on the back of solid earnings by Netflix. Contracts on the S&P 500 Index rose 0.3% while those on Nasdaq 100 were 0.6% higher even as the underlying gauges were poised for the biggest weekly losses since before Christmas.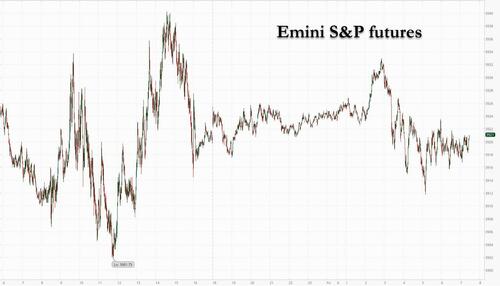 Today will be the last day before Fed's blackout period before the Feb 1 FOMC; today is also the largest non-quarterly option expiration day on record for indexes: according to Goldman, $797bn of single stock options will expire today, the largest since Jan-2022 and the fourth largest on record. From an index perspective, $1.3trn of options will roll today, the largest non-quarterly expiry on record."
VIX futures remain in a tight consolidation between 20.28 and 20.63.  The Cycles Model suggests a rising trend through the month of February.
The January 25 op-ex shows Max Pain at 21.00.  Puts volume has fallen off, while Calls volume is rising.  Long gamma begins at 26.00.
ZeroHedge remarks, "Yesterday saw a notable dynamic play out as VIX trended lower in the face of equity index weakness, which suggested that traders were 'less bearish' than the previous day…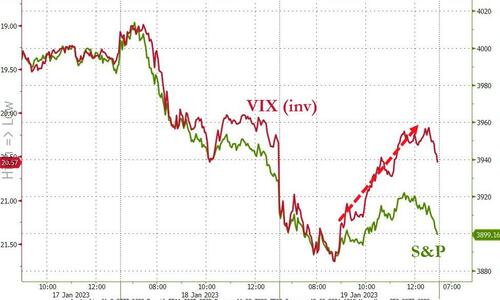 In fact, as SpotGamma detailed with their HIRO tool – measuring the real-time impact of options hedging – as the day progressed, traders bought the dip primarily through call options (i.e., bought call options)…"
USD futures are also consolidating after Wednesday's Master Cycle low on day 265.  The Cycles Model shows gathering strength by next week with a potential (new) high by the end of February.  A confirmation of the buy signal lies above the trendline at 103.50.  The next move has all the earmarks of a crisis in-the-making.  Many foreign governments and corporations have issued debt in USD.  Rising interest rates and USD may crush foreign economies, including Japan and Europe.
TNX appears to be rising sharply out of its Master Cycle low yesterday.  The Cycles Model suggested this move today and also infers a very strong three-week rally out of the low.  The reversal from mid-Cycle support at 33.56 gives us an aggressive buy signal (UST sell).  Confirmation comes above Intermediate-term resistance at 35.93.