6:40 am
Good Morning!
I have a breakfast appointment and ay not return until after the open.
SPX futures have continued their decline overnight, reaching a low thus far at 3888.00.  The 50-day Moving Average has been breached at 3916.00, confirming the sell signal after a month-long rally.  Should a bounce occur, the 50-day May provide overhead resistance.  This may prove to be a nasty decline, since most investors are now long.  SPX is deep into short gamma which may compound the intensity of the decline.  A Goldman analyst insists there was no apparent reason for the meltdown.
9:46 am
SPX gapped down at the open beneath the 50-day Moving Average at 3918.36 and may be aimed toward Short-term support at 3887.79 where a bounce may be generated.    While short gamma begins at 3910.00, it intensifies beneath 3880.00, where over 5,000 contracts were bought since the open.
ZeroHedge reports, "One day after the S&P had its worst day since Dec 15, failing to hold the 200dma, US equity futures entered Thursday extending recent losses with a third straight session in the red as renewed recession fears and the start of the earnings season weighed on risk appetite, sparking a risk-off tone that spread across global markets, from Japanese shares to oil contracts, sent bond yields lower and hit commodities. Pre-market Mega Caps and Metals/Miners were the biggest laggards. The dollar was flat, the VIX jumped above 21, and 10Y yields reversed earlier losses. The macro focus for today includes housing data, Philly Fed, and 3x Fedspeakers. Plus, there is a 10Y TIPS auction and NFLX kicks off MegaCap Tech earnings.
Contracts on the S&P 500 edged down 0.8% as of 7:30 a.m. ET and contracts for the Nasdaq 100 lost 0.7%.Stoxx 600 gauge halted a six-day rally. Most Treasuries erased gains, and the euro advanced, as hawkish remarks by ECB Governing Council member Klaas Knot reaffirmed the central bank's aggressive stance.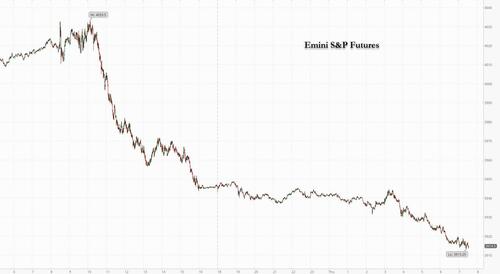 VIX rallied up to the Triangle trendline and 50-day Moving Average at 21.97 this morning.  A confirmed buy signal lies above that level.  The Cycles Model calls for a 5-week rally from the Master Cycle low that may break through all overhead resistance.
The January 25th op-ex shows short gamma beginning at 20.00, while long gamma starts at 25.00.  However, Long gamma trails off above 32.00, as it appears there is little conviction of rising volatility.  This is where opportunities may abound.
TNX futures made a morning low at 33.21, challenging mid-Cycle support at 33.53.  The cash market has opened above that level and is rising, giving us at Master Cycle low on day 273.  A new Maser Cycle High may be due in three weeks.
USD may have put in its Master Cycle low yesterday, as today's futures have stopped declining.  A possible buy signal exists at the trendline near 103.80.  The Cycles Model calls for a rally extending through the end of February.