8:00 am
Good Morning!  I have an abbreviated session due to outside appointments.  I may comment in more detain later in the day.
SPX futures consolidated in a narrow range during the overnight session.   Resistance is now at 3860.00 from the Short-term support/resistance line (not shown).   A breakthrough may allow the SPX to retest the 50-day Moving Average at 3895.00.  The Christmas low at 3764.69 may offer support i a decline.  Otherwise the next support may be at the Cycle Bottom at 3569.57.  The Cycles Model suggests the decline may gather strength through the end of the week.
In today's op-ex Maximum Pain for options investors is at 3845.00.  Long gamma appears at 3850.00, while short gamma may begin at 3825.00.  Little wonder that the SPX is caught in such a narrow range.
ZeroHedge reports, "US stock-index futures were steady on Thursday, recovering from earlier losses as investors brushed off mostly hawkish commentary from the latest Fed minutes amid further signs of reopening and stimulus in China. Contracts on the S&P 500 and the Nasdaq 100 were both up 0.2% as of 7:15 a.m. ET following a positive session in Asia, driven by a rally in Chinese mainland and Hong Kong equity gauges on news the border with China will gradually reopen. Cautious Fed minutes on Wednesday evening failed to stem optimism, while investors await a private US jobs report later today. Europe's Stoxx Index was also positive, erasing earlier losses, with retailers leading gains after Next Plc raised its profit forecast. Oil snapped a two-day drop, while the dollar was flat and 10Y TSY yields erased earlier gains."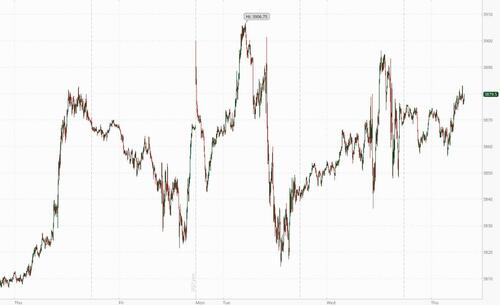 VIX futures continue to consolidate between the lower Triangle trendline and the 50-day Moving Average.  It has challenged the 50-day and may be on a buy signal, to be confirmed with a close above it.   The Cycles Model indicates a period of strength starting tomorrow and lasting through mid-January.  It appears to be significant.
Investing.com comments, "2023 started the same way 2022 ended, volatile and directionless. The S&P 500 opened Tuesday's session with nice gains, but minutes later the index retreated into the red and quickly retested 3,800 support.
As dramatic as that 80-point collapse felt, rather than trigger a bigger wave of follow-on selling, supply dried up and prices bounced, which wasn't a surprise because that's exactly what we've seen every time the market tested 3,800 support over the last couple of weeks.
Big money is still on vacation, and that means retail investors are still in control. And in typical retail fashion, these impulsive traders overreact to every little bump in the road. Lucky for us, their accounts are so small they run out of money long before they can do any real damage."
TNX bounced off Intermediate-term support at 36.66, just above the tendline.  The Cycles Model suggests another month of Cyclical decline before the rally resumes.  A breakdown at the trendline suggests a further decline to the Cycle Bottom at 24.10.
USD futures rose to a new high at 104.56 in the overnight session.  It is eligible for an aggressive buy signal as it has bounced off the trendline after a possible Master Cycle low (day 250).   Caution may be warranted for a few more days, due to the early low.  The new Master Cycle may last through the end of February.