1:06 pm
SPX challenged the 3800.00 put wall, but traders did not take the bait.  A higher low suggests a retest of the upper resistance at 3883.00 to 3910.00 over the next two or more days.
11:25 am
NDX is leading the indexes lower tis morning.  The next level of support is at 11632.40.  It has been on a sell signal since December 13.  The Cycles Model suggests the sell signal may continue through the month of January.  It as suffered an 11.75% loss since the peak.
While NDX options are light, QQQ (price: $261.03) options expiring today are in short gamma beneath 266.00.
ZeroHedge observes, "An initial excited bid in US equities this morning ignited hopes that the Santa Claus rally could indeed make an appearance… but that's all been decimated now as Nasdaq and Small Caps lead the puke lower…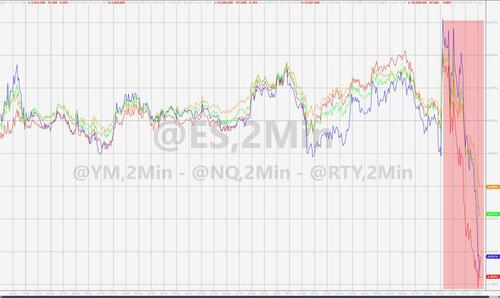 Source: Bloomberg
The S&P is back below the critical JPM Collar 3835 level…"
8:15 am
Good Morning!
SPX futures had a slight positive tilt during the overnight session, but did not exceed yesterday's high.  The structural pattern is to the downside, so we may see 3700.00 being tested before a bounce.  Overhead resistance remains at the 50-day at 3880.52.
Today's op-ex shows Maximum Pain for options investors at 3835.00.  Long gamma sets in at 3850.00, while short gamma begins at 3825.00.  This is a very narrow "neutral' band.
ZeroHedge reports, "US stock futures edged higher on Wednesday alongside European bourses, as a selloff in tech was set to pause following a drop on the Nasdaq in the previous session, with Tesla shares erasing earlier declines as dip-buyers returned to the stock after a seven-day losing streak. Nasdaq 100 futures rose 0.3% at 7:45 a.m. in New York, reversing earlier losses, while S&P eminis were up 0.3%. Treasury yields ticked lower as a global bond selloff eased, and a gauge of the dollar slipped."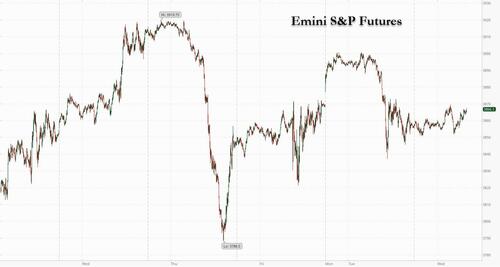 VIX futures consolidated above the Triangle trendline at 21.40 this morning.  This kind of (in)activity puts investors to sleep, as they have lowered their expectations over the holidays.  The Cycles Model suggests that trending strength may pick up after the New Year.  However, stay on the alert for breakout, especially after op-ex.
Today's op-ex shows Max Pain at 22.00.  Short gamma begins at 22.00, but watch out for long gamma at 25.00 with 16,552 call contracts.  The January 18 (monthly) op-ex is loaded with big money calls up to 75.00.
TNX has pulled back, testing the 50-day Moving Average at 38.23 this morning.  The Cycles Model suggests that TNX may surge higher, starting today and lasting into the first week of January.  The probable target may be the Cycle Top resistance at 42.10.
ZeroHedge reports, "In a day bond yields moved sharply higher on expectations that China's upcoming reopening will spark a powerful reflationary impulse across global markets, and which sent the 10Y up from the low 3.70% last week to 3.85% a little after 12pm ET today, moments ago the US sold $42BN in 2Y paper in an impressively strong auction, one which saw a surge in foreign demand and the biggest stop through since May 2016.
Starting at the top, the High Yield of 4.373% was a drop from last month's 4.505%, and the first sequential yield decline since July 2022. More importantly, the yield stopped through the 4.390% When Issued by 1.7bps, the biggest stop through gap since March 2016, showing just how much pent up primary demand there was for today's issuance (which is now trading about 60bps below where the Fed sees the terminal rate in 2023 as nobody believes the Fed any more).
USD futures are creeping along the trading channel trendline, despite the Master Cycle low on December 14.  The current Master Cycle may have about two weeks left to run its course.  Trending strength does not appear until after the current Master Cycle may terminate, suggesting the trendline creep may continue.
WTIC futures are easing lower after yesterday's probable Master Cycle peak on day 260.  The outlook is not good for crude, as the Cycles Model suggests a possible two months of decline.  The 61.8% Fibonacci retracement is at 53.07, so the Broadening Wedge target may be realistic.
OilPrice.com comments, "Mild winter weather in many parts of Europe, rising wind power generation, and lower electricity consumption were dragging European natural gas and power prices lower on Tuesday.
Prices at the Title Transfer Facility (TTF), Europe's key gas benchmark, were down to a six-month low at midday on Tuesday due to milder winter compared to early December and still comfortable gas storage levels across Europe."