1:00 pm
VIX has dropped beneath the Triangle trendline again and challenging the December 2 (day 242) low.  Today is day 261 of the Master Cycle and VIX may challenge the prior low.  The EW structure suggests a low above 19.00, but there are no assurances of that since structural constructs are guidelines and not rules.  Either way, the reversal out of this low will be significant.  Trending strength comes back after the first of the new year.
ZeroHedge remarks, "Welcome to inverse panic
European "VIX", V2X, is moving sharply below the "magical" 20 level, last trading at 19.8. Do we see VIX print sub 20 today as well?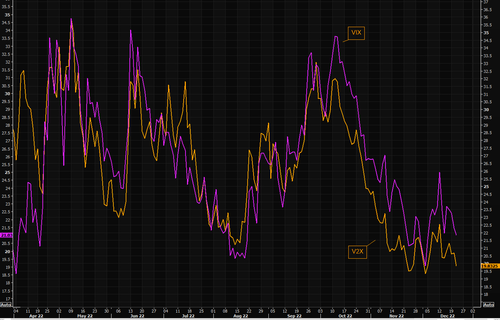 Source: Refinitiv
Exuberant VIX
Our logic on volatility moving lower into year end stays intact. Regular readers of TME are familiar with the fact volatility is about pace and not direction. The gap between SPX and VIX is very wide, and although VIX is not a "predictor" of SPX direction, the crowd will soon start pointing out this gap. Last time it got SPX moving higher…
10:42 am
The Ag Index is challenging the 50-day Moving Average /buy signal.  The next Master Cycle pivot is due the week of January 23.
ZeroHedge reports, "Lack of snow cover on fields and a cold blast down through the Great Plains and into Texas and the South could result in damage and even death of winter wheat crops.
The coldest air of the season is about to pour down from Canada, bringing dangerously cold temperatures where parts of Kansas could reach as low as -15F. The state is one of the top growers of red winter wheat.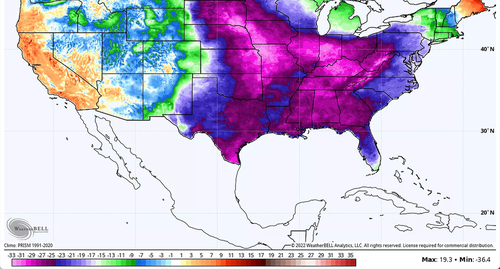 8:15 am
Good Morning!
SPX futures are higher, reaching 3853.50 this morning, still beneath the 50-day Moving Average at 3862.12.   It may be due for a bounce, provided it can rise above the 50-day,as trending strength may come back for the balance of this week.  The most likely target for a retracement above the 50-day is the double resistance at 3933.07, the 50% retracement value.
In today's op-ex, Max Pain is at 3840.00.  Calls predominate above 3850.00, while puts are the majority beneath 3830.00.  While there doesn't appear to be long gamma, short gamma begins at 3800.00.
ZeroHedge reports, "US stocks were set to rise for a second straight day on Wednesday with risk appetite staging a modest comeback amid dismal trading volumes as investors digested the hawkish turn from major central banks over the past week. S&P 500 futures were up 0.5% at 7:30 am ET, while Nasdaq futures gained 0.2%. The dollar reversed earlier losses, while global bonds steadied from the previous day's selloff as some of the shock following the Bank of Japan's unexpected increase in its yield trading band ebbed; the US 10Y yield held steady around 3.67%."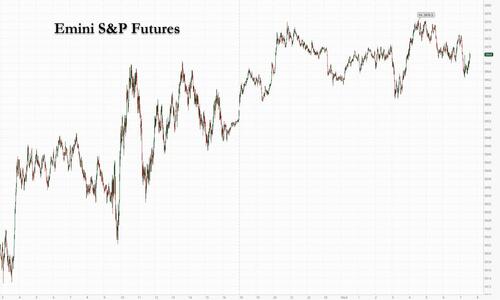 VIX futures fell beneath the Triangle trendline to 20.49.  The debate is whether the VIX may extend its Master Cycle to a new low.  Thus far there is no indication, although the MC window is still open.
Today's op-ex shows Maximum Pain for investors at 23-24.00.  Short gamma starts at 23.00, while long gamma begins at 25.00.
ZeroHedge remarks, "Do we see a proper vol puke from here?
VVIX is moving sharply lower again. Will it drag VIX to retest sub 20 soon (again)?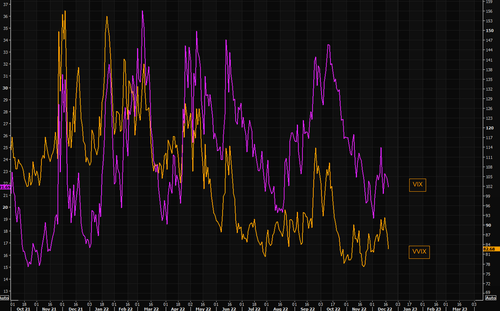 TNX eased back from its recent high, possible testing the trendline near 36.00.  Trending strength may come back tomorrow and extend through the following week.  The current Master Cycle may continue higher until mid-January.