11:30 am
Crude oil futures plummeted to a new 2022 low at 71.14 this morning.  The Cycles Model suggests the current decline may last until the last week of December.  The Cup with Handle formation is still in play.  The decline in crude may be a leading indicator for the equities market.
ZeroHedge remarks, "Update (1115ET): It appears the potential loss of 600k b/d in oil supply to Cushing is nothing to worry about as the initial price spike that sent WTI crude prices up to $75.50 has been completely erased and then some (after hitting stops it seems)…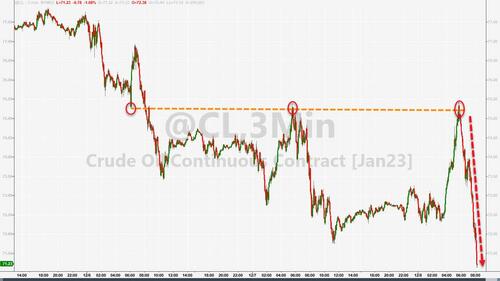 11:05 am
The SPX bounce to 3974.19 off the 100-day Moving Average made a 30.8% retracement thus far.  Should it go further, the short-term resistance at 3985.44 is nearly a 38.2% Fibonacci retracement.  However, the trend is down. Once beneath the 100-day, the 50-day at 3825.14 may be the next target.  However, short gamma may induce a limit down day, where the target may be the 2-hour Cycle Bottom at 3682.76.
ZeroHedge (TME) comments, "Computers are ready to sell
The CTA crowd has been busy loading up on global equities over the past weeks. According to GS they have bought around $175bn in the past month which is one of the biggest buying ever and they are currently long around $80bn. In a poor liquidity market this flow has magnified the squeeze.
Now things are rolling over as equities have traded lower over past sessions and the models switch to sell. The investment bank projects: In a flat market over the coming m month there is l$23bn to sell and in a "down big" market (here defined as a 2.5 sigma move) they need to sell $155bn. Short term threshold level is at 3914, medium term 3975 and long term 4071."
7:05 am
Good Morning!
I have an appointment between 8:00 and 9:00 am.  This is an abbreviated report until I return.
SPX futures have bounced to a morning high of 3946.30, but have subsided since then.  It is now in the second segment of the decline and may see acceleration to the downside.  Should it break through the 100-day Moving Average at 3920.00, the 50-day Moving Average at 3822..77 is the next target.
Today's op-ex shows Max Pain at 3950.00.  Long gamma is at 4000.00, while short gamma starts at 3900.00.  A break beneath the 100-day may set off momentum to the downside.
ZeroHedge reports, "A blistering rout in US stocks, which saw US markets drop on 8 of the past 9 days and when the S&P 500 lost about $1.3 trillion in market capitalization in the past five days on fears of a staunchly hawkish Federal Reserve amid signs of a resilient economy, was set to pause on Thursday. Contracts on the S&P 500 were up 0.3% by 7:45 a.m. ET following the longest daily losing streak for the index in nearly two months. Nasdaq 100 futures were up 0.2%. Treasuries halted a rally that had sent the 10-year yield to an almost three-month low as investors braced for an economic downturn. The benchmark added three basis points to yield 3.44%, while a gauge of the dollar was little changed.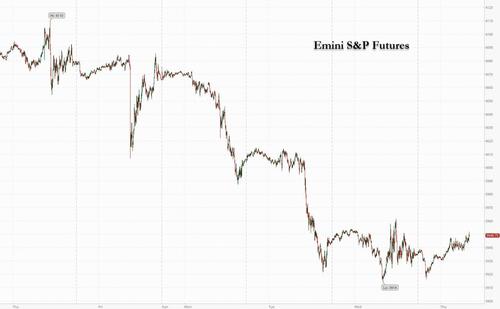 VIX futures are positive but range-bound beneath yesterday's high.  There is little recognition of the rising VIX and may not be commented on until it rises over 25.00.