9:47 am
TNX extended its Master Cycle low this morning to day 276.  However, it has reversed to a higher level.  This may be considered an aggressive buy signal, but not confirmed until TNX rises above the 50-day Moving Average at 38.87.  Once confirmed, we may see the 10-year yield rise through the first week of January.
9:42 am
VIX rose, but still within yesterday's trading zone.  A rally above 22.63 may create a buy signal.
9:35 am
SPX opened at the mid-Cycle support at 4026.21 and has bounced.  Futures declined to 4003.00 before the open.  While a sell signal may be confirmed beneath the mid-Cycle, I would classify it as aggressive until the Intermediate-term support is crossed at 3881.31.
ZeroHedge reports, "We're gonna need another 'dovish' Powell speech to calm this market down.
This morning's hotter than expected payrolls print (and reaccelerating wage growth) is not what the market or The Fed wanted to see to keep the 'pause/pivot' dream alive and rate-hike expectations are spiking and rate-cut hopes are tumbling…"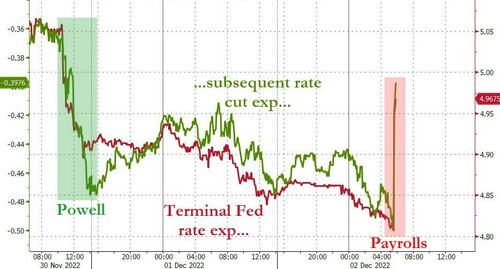 7:30 am
I have an early appointment and won't be back until after the monthly jobs report.
SPX futures were flat in the overnight session.  As you can see in the chart, SPX has entered the pivot window for its Master Cycle.  Today's jobs report may be the catalyst that reverses this very strong retracement.  Should we see a stronger than expected jobs report, we may see a reversal that leads to a possible 60-day sell-off.  That is my original view.  However, a weaker jobs report may raise the hopes of investors, causing a choppy market through the first week of February.  That may cause me to re-assess the Wave structure.  This market is not letting us in on its secrets yet.
VIX futures are consolidating within yesterday's trading range.  It also has entered its Pivot window for a possible Master Cycle low.  Today is day 248 of the current Master Cycle.  Again, two possibilities are available.  First, the VIX begins Wave 3of (C), rising above the neckline toward its indicated target.  Second, the VIX may remain trapped beneath the neckline in a choppy market, extending the day of breakout into 2023.