8:00 am
Good Morning!
SPX futures are flat this morning after reaching a morning high of 4099.20.  At 279 days, the current Master Cycle is very long in the tooth.  As I had mentioned, SPX is in a (B), E, [e] Wave.  An extremely rare and unpredictable combination.  The next Master Cycle low, due in mid-December, may validate the current Wave structure which anticipates a Wave (C) decline of about 2 months.  This is still a bear market with the mid-Cycle resistance and declining trendline defining the tops.
In today's op-ex Maximum Pain for options investors is at 4035.00.  Long gamma begins at 4100.00, while short gamma starts at 4000.00.
ZeroHedge reports, "Global stocks climbed and the dollar slipped to a three-month low this morning amid early signs of a softer stance on Covid restrictions from China and after Federal Reserve Chair Jerome Powell confirmed that the pace of interest rate hikes was set to slow. S&P futures were little changed, pausing a rally that added $1.1 trillion to the market value of S&P 500 companies. Nasdaq contracts dropped 0.2% following sharp gains in the previous session. "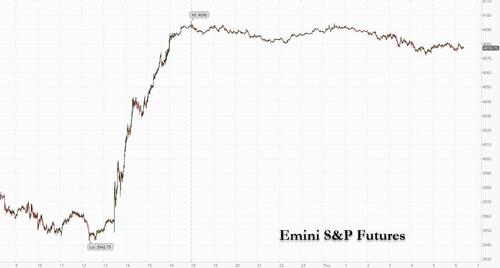 VIX futures consolidated above yesterday's new Primary Cycle low.  A year ago I would not have anticipated the VIX in a sideways move between 18.00 and 40.00 for the entire year.  This may be about to change if the current Wave structure is correct.  Thus far, Wave 1 of (C) of [3] is 15.76 points, nearly double the size of Wave 1 of (C) of [1].  In March 2020, Wave 3 of (C) of [1] was 41 points.  That may be the minimum rally from here.  However, it we believe in proportionality, Wave 3 of (C) of [3] may take the VIX to or over 100.00.  The rule of thumb is that Wave 3 can never be the smallest in an impulsive series (1-2-3-4-5) and is often the largest.
CNBC airs Josh Brown's take on the VIX.
TNX reached a new low at 35.69 (futures are lower) this morning on day 275 of an extended Master Cycle.  The average length of Master Cycles is 258 days.  However, Cycles may be stretched or shortened, depending on many variables.  Currently we see longer-term treasuries being bought, while short-term treasuries are sold, causing an inversion and lengthening the current Master Cycle.
ZeroHedge remarks, "Among The Fed's favorite inflation indicators – it has apparently got many and picks and chooses as it pleases – is the Core PCE Deflator. Both the headline and core deflators dropped from September's levels (+6.0% vs +6.3% prior and +5.0% vs +5.2% prior respectively)…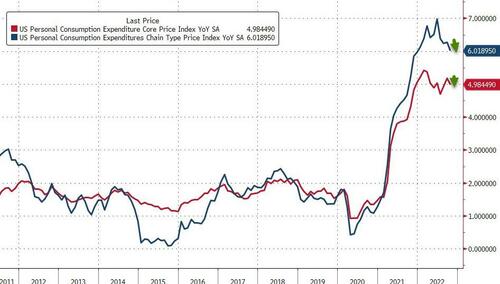 Source: Bloomberg
Of course, while this will be greeted with euphoria – 'peak inflation' – we do note that it is still the highest levels since 1983…"