2:55 pm
SPX bounced off Short-term support at 3936.50 and attempted a retracement which may have failed.  While it may have avoided short gamma at 3940.00 the first time, it may be revisiting it into the close.
ZeroHedge advises, "In the data-packed week, it is tomorrow's speech by Fed chair Powell at Brookings titled "Economic Outlook and the Labor Market" (at 1:30pm) that is captivating markets.
As Goldman notes, it is the risk that Powell will once again unleash a market beatdown that is keeping sentiment depressed. As Goldman puts it "keep an eye on Powell speech wed for more verbal Financial Conditions tightening". The Fed chair will discuss the economy and labor market; echoing the language in the post-meeting statement, FOMC participants argued that the level of the policy rate, the uncertain lags with which monetary policy affects activity, and the incoming data would all be important factors for the future path of monetary policy."
7:45 am
Good Morning!
SPX futures rose to an overnight high of 3985.10, 37.2% of yesterday's decline.  Since then it has fallen lower.  There are two potential outcomes.  The first is to complete a shallow impulse to 3925.00, then bounce.  The second is a much deeper impulse to the 50-day Moving Average at 3787.98.  Today is day 2 of a potential 12.9-day decline.  A potential target for Wave 1 of (C) may be the Cycle Bottom at 3521.34, or possibly lower by mid-December.
Today's op-ex shows Maximum Pain for options investors at 3970.00.  Long gamma begins at 4000.00, while short gamma starts near 3940.00.  Interest in puts are rising.  Two things appear to be happening.  The first is that investors are buying same day options or next day options, forcing dealers to whipsaw their long or short positions on a daily basis.  The second is that, contrary to popular opinion, investors think they are buying "protection" or "insurance" against a decline.  However, this is not insurance.  They are simply transferring risk to the dealers.  One bad call could lead to losses by the dealers who may have to buy high and sell low in a whipsaw.
ZeroHedge reports, "And just like that, sentiment has turned on a dime… or rather a yuan.
One day after global stocks and commodities tanked following a weekend of violent protests swept across China, Beijing appears to have learned its lesson and overnight Chinese government health experts made an unscheduled overnight announcement in which they not only vowed to speed up Covid shots for the elderly – a move regarded as crucial to the reopening  – but to avoid excessive restrictions, fueling a new round of bets that Beijing is bending to the pressure of an economic reopening. A spokesman for the National Health Commission also said local officials must avoid excessive restrictions.
As a result, contracts on the Nasdaq 100 were up 0.4% at 7:30 a.m. in New York, while S&P 500 futures rose 0.2%, erasing earlier gains which pushed spoos as high as 3990. Both underlying indexes tumbled about 1.5% on Monday amid fears that protests in China about Covid restrictions would affect the pace of the reopening."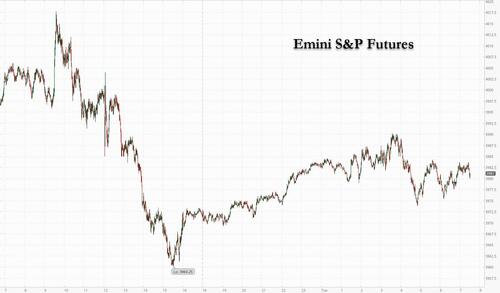 VIX futures traded in a narrow range overnight as it consolidates its gains from yesterdays stock market rout.  The Primary Cycle low last Wednesday sets up the VIX for an approximate 17.2-day rally that may aim for one or both of the Head & Shoulders targets on the chart over the next three weeks.
Tomorrow's op-ex shows Max Pain  at 25.00.  Short gamma starts at 24.00 while long gamma begins at 27.00.  The December monthly op-ex on 12/21 shows massive holdings on the options screen with Max Pain at  the 25 strike.
TNX has lift-off as it rises above its Master Cycle low put in on Monday.  The Cycles Model suggests rising yields through the end of the year.  The long-term target of 53.16 may take several months to accomplish.
ZeroHedge remarks, "Sometimes, just sometimes, the markets want to hear what they want to and discard what seems discordant — even if policymakers keep hammering home the same message.
And so it was on Monday when Federal Reserve speakers let traders know that they were underestimating their intent on how far rates may climb in this cycle. Fed St. Louis President James Bullard, who has often been an accurate bellwether for where benchmark rates are headed, put it bluntly:
The Fed needs to get to the bottom end of the 5%-7% range;
Markets are underpricing the risk that the policy committee may be more aggressive; and
The Fed needs to move farther into restrictive territory"
USD futures made a nominal new high at 106.76 in the overnight session.  The dollar may continue to rise through mid-December, per the Cycles Model.
WTI futures rose to a morning high of 79.56 as it performs a bounce.  A likely target may be 82.00, but a reversal to lower values may be quick to follow, as the Master Cycle may not be over for another week.  The 50% retracement value of the rally from April 2020 lies at 68.50 and may be a likely target for the current decline.  The Cycles Model also indicates possible tax loss selling into the year-end.
CharlesHughSmith observes, "It's not just the price of oil that matters: how much disposable income consumers have left to buy more goods and services matters, too.
The Oil Curse (a.k.a. The Resource Curse) refers to the compelling ease of those blessed with an abundance of oil/resources to depend on that gift for the majority of state/national revenues. The risks and demands of developing a diverse, globally competitive economy don't seem worth the effort when the single-source wealth of oil offers such a low-risk bounty of revenues.
This dependence becomes a curse when the market value of the oil/resources plummets. Having come to depend on that seemingly inexhaustible source of massive revenues, even states that have set aside prudent reserves soon find their expenses cannot align down to diminished oil revenues without unbearable political/social pain."
ZeroHedge reports, "With oil tumbling ahead of the grueling 2023 recession, the last thing OPEC+ and (bullish) oil traders wanted to see is even more supply coming on line, and yet that's precisely what the a core gulf hub is proposing. According to Bloomberg, the United Arab Emirates – which in recent years has aggressively sought to diversify away from oil and to become the world's crypto hub – will look to revert back to its core competency and plans to expand its global energy – and especially energy spending – to boost oil and natural gas production capacity.
Abu Dhabi National Oil Co., also known as Adnoc, will invest $150 billion in the five years through 2027, it said in a statement Monday. That's an increase on the previous spending plan of $127 billion over five years that was announced a year ago."