8:15 am
Good Morning!
SPX futures rose to a morning high of 3983.60, a 62% retracement of the prior decline.  Yesterday I had mentioned that the "normal" retracement would go to 4000.00.  The top of Wave [iv] appears to be 4002.00.  This retracement may be used to cover longs/go short.   The retracement may run out of steam in the first couple hours of the day.
Today's monthly op-ex shows Maximum Pain for options investors at 3930.00.  Long gamma begins at 3950, but an equally weighted mass (~58,000 contracts each) of puts and calls reside at 4000.00 in the AM strike.
ZeroHedge reports, "Yesterday when previewing today's sizable, $2.1 trillion option expiration…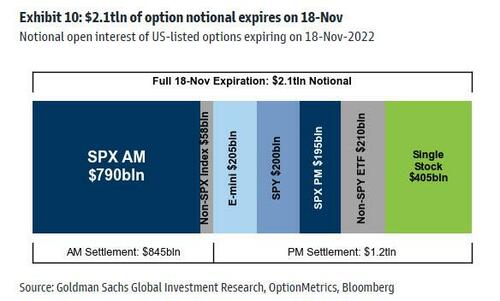 … we said that following the record put-to-call spike…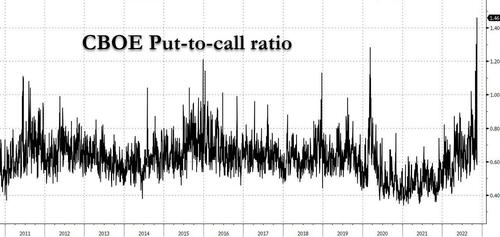 … and amid continued pressure on implied vol, the most likely outcome was for a drop in the VIX and another bounce."
VIX futures declined to a low of 23.46 this morning.  The November 11 low remains intact and an aggressive buy may be considered here.  However, the reversal is not confirmed until the VIX rises above its mid-cycle resistance at 26.52.  a Head & Shoulders formation may be activated above the neck/Cycle Top at 34.57.
Wednesday's op-ex shows Max Pain at 26.00  Short gamma begins at 23.00 while long gamma starts at 27.00.
ZeroHedge explains, "The market's recent swings have become so violent, so powerful and so unexpected, leading to bone-crushing whiplash and a near record loss for trend-following CTA funds during last Thursday's CPI  shock…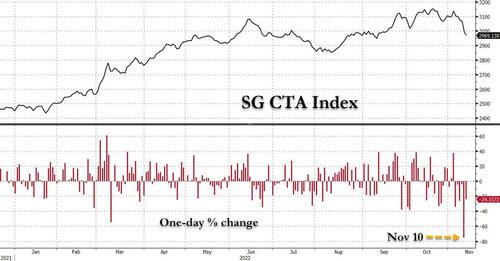 … that even the otherwise bullish JPM trading desk has been trying to talk the market lower (see "We See More Selling Into Strength Here": Why JPM's Trading Desk Isn't Buying This Rally", and "JPMorgan: "This Is Another Unloved Rally For Clients"; Watch For These Key Technicals") simply because not even JPMorgan is positioned bullishly enough to take advantage of what was a record short squeeze."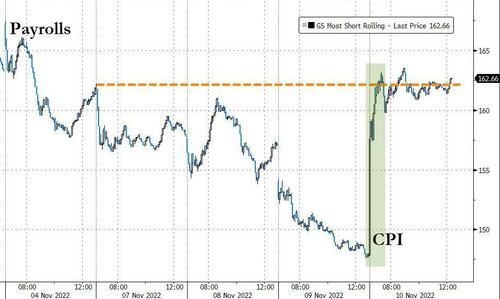 TNX is on the rise again, but still beneath the 50-day Moving Average at 38.39.  The Cycles Model suggests that trending strength may come roaring back next week.  However, I would not be surprised that today's volatility may be reflected in the TNX challenging the 50-day.
USD futures appear to be consolidating within Yesterday's trading range.  Today is day 256 of the Master Cycle.  It appears that the low may have been made on day 249, last Friday, but there is an outside chance of another probe to a lower low (at the 200-day Moving Average at 104.72).
WTI futures plummeted to a morning low of 77.33 as the decline gathers steam.  Crude oil has been on a sell signal since early this week.    The decline may continue until mid-December.
ZeroHedge reports, "Oil prices are plunging this morning as futures contracts roll with the Jan 23 WTI contract price trading with a $77 handle.
There's little fresh news, but analysts say the rise in COVID-19 cases in China has renewed worries about energy demand.
China's State Council warned cities to avoid "irresponsible loosening" of COVID-19 measures, according to the South China Morning Post.
"Commodity markets have been under pressure as China's zero-COVID strategy has strangled economic growth. Without any signs of softening, commodity markets had factored-in that status quo for the foreseeable future. Looser quarantine rules suggest an end to the restrictions are closer than we thought," ANZ Bank said in a note.
Additionally, recession concerns have dominated recent oil market trading even with the European Union's ban on Russian crude approaching and OPEC's efforts to tighten supply.:
Gold futures are edging lower this morning after Tuesday's Master Cycle high on day 252.  The Cycles Model suggests the new decline may last through the end of January.