1:44 pm
WTI futures plummeted to a morning low of 85.69, beneath the 50-day Moving Average at 86.01.  It has since bounced back to retest Intermediate-term support/resistance at 86.65 and is declining again.  This creates a sell signal off the November 7 Master Cycle high.  Crude often leads stocks, since it is considered a leading indicator of economic health or a supply/demand imbalance.
ZeroHedge observes, "Now Bloomberg reports Freeport LNG told customers that outages at its Texas terminal, which has been closed since June and was scheduled to reopen by mid-November, could be delayed further.
People with direct knowledge of the situation said LNG shipments for November and December are likely to be canceled as maintenance work continues on the liquefaction plant. Also, regulatory approvals could prolong the start date.
This comes as heating demand is set to surge across the Northern Hemisphere. The LNG export facility in Freeport, Texas, accounted for 15% of all US LNG exports, most of which were sent to Europe."
8:35 am
Good Morning!
SPX futures have eased lower this morning after coming within 7 points of the 61.8% retracement level.  The rally took 21.5 market days from the low on October 13.  This emotionally-charged rally lends itself to a heavy reliance on rumors and speculation that soon fade and give way to a panic decline.  The Cycles Model suggests the next Master Cycle low may be in mid-December, but the total decline may last until early February, 12.9 months since the inception of the decline.
Today's op-ex shows Maximum Pain for options investors at 3945.00.  Long gamma may begin at 3950.00 while sort gamma starts at 3875.00.
ZeroHedge reports, "The rally in US index futures paused after Wall Street stocks posted their best week in several months, following comments from a Federal Reserve official that the fight against inflation has further to run. Contracts on the S&P 500 were down 0.3% at 7:30 a.m. ET…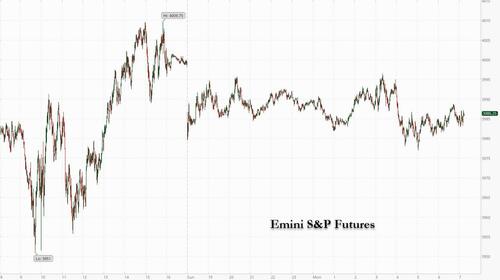 VIX futures rose to a morning high of 24.33 as it breaks away from its decline at a half-Cycle low.  A Master Cycle high may be due in mid-December.
Wednesday's op-ex shows the overwhelming sentiment is bearish under 30.00 with put contracts in excess of 100,000 at each strike between 22.00 and 27.00.
ZeroHedge remarks, "What's the biggest fear out there?
Goldman's Scott Rubner asks himself: "Is the biggest fear for global wall street now a flat on the year S&P 500 by 12/31?"
1. we have suddenly entered a positive feedback loop: inflation down, China re opening and a potential war de-escalation
2. FOMU is huge – fear of materially underperforming
3. Pain trade is higher…positioning is simply not long enough"
TNX is higher this morning, leaving a potential Master Cycle low on Friday, day 255.   The 50-day Moving Average at 38.00 was tested on Friday.  However, the correction may not be complete.  Look for either a retest of the 50-day or a rally above Intermediate-term resistance at 39.71 for confirmation.
USD futures bounced to a weekend high of 107.15 after a potential Master Cycle low on Friday.  A strong reversal may be developing.  However, we await a clear sign of a reversal.