1:46 pm
The question "Who's on first?"  is being answered today.  I had previously commented about the unusual flow of liquidity in the markets.  But the behavior of the market tells us some big player was (or soon to be) at work.  That something or somebody was Janet Yellen who, in a panic took the reins of "operation twist" from the Fed to buy back treasuries, flooding the market with liquidity.  According to the Cycles Model, this may continue to November 15.  As a result, the 10-year yield took a dive beneath its Cycle Top support at 40.70.  No doubt this was done to support the incumbents in the upcoming election.
ZeroHedge comments, "Three weeks ago, when the topic of collapsing Treasury liquidity was only barely making the rounds, despite relentless coverage on this website which flagged lack of TSY liquidity as the most likely driver of a wholesale market crash, we quoted BofA's iconic rates strategist Mark Cabana who warned that the ongoing liquidity collapse meant a "Treasury Market Breakdown Was At Risk."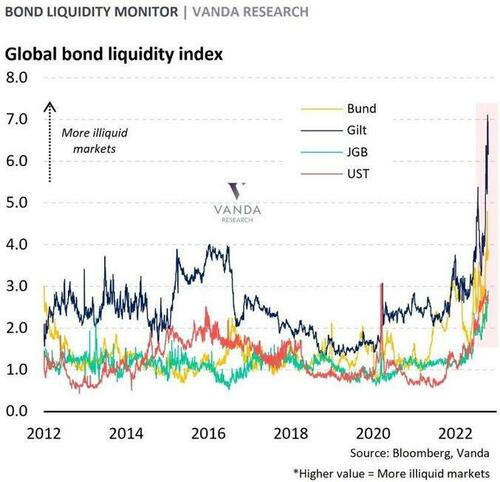 But there are "knock on" effects, such as a lower demand for treasuries from foreign buyers.  ZeroHedge reports, "With yields tumbling all day tracking the collapse in the dollar, investors hoping to get some concession out of today's $42BN 2Y auction could kiss said hope goodbye. It may be why when all was said and done, today's sale of Cusip FQ9 maturing on Halloween 2024 with a cash coupon of 4.375%, was a bust."
10:18 am
SPX has completed 13 days from the low at 3491.58.  Yesterday's comments were in anticipation of 12.9 days which ended at yesterday's close.  This may be the close of a double zigzag Minor Wave E of Intermediate Wave (B).  Both Waves have a tendency to be rogues and can be manipulated by outside forces.  Should this be the apex, a 12.9-day decline may begin into the next Master Cycle low in stocks.  Otherwise, an inversion may occur, with new targets at 3885.70, the 50-day Moving Average, 3908.00, the 50% retracement value, or 3918.00, the 100-day Moving Average.  In the end, the decline may re-assert itself.
8:20 am
Good Morning!
SPX futures sank to a morning low of 3779.80 and remains near the low.  This may be the beginning of a 17.2 calendar day decline to new lows.  There is an alternate view of an inversion that may cause a high instead of a low.  We may know more later this week.  Thus far, the retracement went to the 38.2% level at 3806.20 and pulled back, but the chatter from analysts is bullish.  A new high after today is likely to support the alternate view.  I wonder if this has anything t do with the election?
In today's op-ex, Max Pain is at 3795.00.  Long gamma may begin at 3820.00, while short gamma may start at 3750.00.  Today's option queue is lightly populated, but tomorrow gets heavier, with long gamma starting at 3750.00 and short gamma at 3700.00.
ZeroHedge reports, "US equity futures erased modest earlier gains and traded modestly in the red, after rebounding from session lows as they struggled for direction while investors awaited major earnings reports and weighed last week's conflicting comments from central bankers who are now in a blackout period. As of 7:30am, contracts on the S&P 500 dropped 0.1% to 3,803 after positive corporate results boosted the underlying index on Monday; on Tuesday, Coca-Cola, General Motors and United Parcel Service all beat analysts' earnings estimates, while 3M and General Electric fell short.  Alphabet Inc. and Microsoft Corp. are among major companies still reporting after the close. Nasdaq 100 futures were flat, with traders awaiting earnings after market hours from tech giants including Microsoft, Texas Instruments and Alphabet. Treasury yields tumbled for a second day and the dollar was steady even as the Yuan plunged to the lowest on record after the weakest PBOC fix since 2008.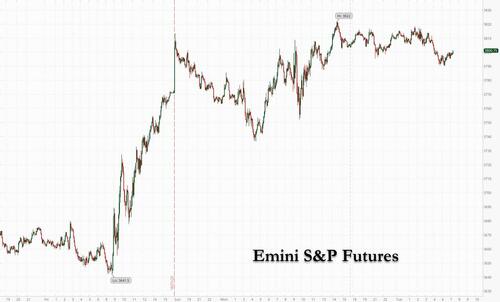 VIX futures are holding steady, but near the low.  The Cycles Model does not anticipate a new low.  However, the next Master Cycle high is not due until mid December, where it may sync up with a new low in the SPX.  .
In tomorrow's op-ex, the 30.00 strike is hotly contested, with 4,795 call contracts and 5,170 put contracts.  Short gamma begins at 30.00, while long gamma starts at 32.50.
TNX is making a new low, possibly aiming for the Cycle Top support at 40.70.  The Cycles Model suggests a Master Cycle low in mid-November, supporting the thesis that stocks may sell off, rerouting money into treasuries.  The target may be the 50-day Moving Average at 35.21.