8:20 am
Good Morning!
SPX futures are now beneath the Lip of the Cup with Handle formation at 3650.00, having reached a low of 3632.40 thus far.  The probability is that the formation is being activated with the anticipation of meeting its target in the next few weeks.  According to the Cycles Model, the decline may be about to intensify with a possible "limit down" as early as Monday.
In today's op-ex, the puts have the upper hand all the way to 3800.00.  Short gamma becomes intense at 3750.00.  Today may be shaping up to be a bloodbath for the longs.
ZeroHedge reports, "US equities extended their recent slump, set to trim their modest weekly advance even further as soaring bonds yields and poor earnings renewed the gloom that's sent stocks into a bear market this year. Contracts on the S&P 500 dipped 0.4% at 7:30 a.m. ET, putting the underlying index on track to sharply pare this week's 2.3% gain…"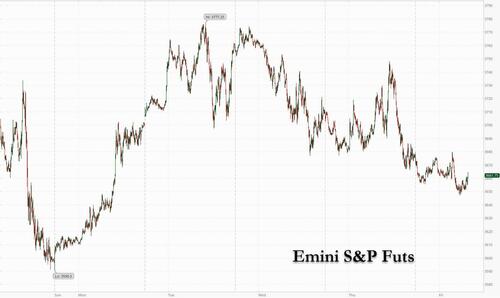 VIX rose out of its decline this morning at 30.40.  On the surface, this appears to be another short squeeze developing.  However, the gamma-induced volatility may end up catching some large players flat-footed.
In Wednesday's op-ex, Maximum Pain for options speculators is at 32.50.  Short gamma begins at 30.00, while long gamma starts at 35.00 and is well populated to 70.00.
ZeroHedge notes Goldman's expectations, "With $1.8 trillion in OpEx on deck Friday, here are some "quick" thoughts from Goldman star trader Brian Garrett on what to expect.
Option expiry, open interest, second order greeks, positioning, etc: we continue to monitor all of these heading into an "oddly" large expiry tomorrow … this bear market has teeth, but there have been some tactical opportunities along the way. Here is a rundown of things on our dashboard:
in short, index option usage is at the highs with conviction at the lows
open interest is at the highs while net exposure is a the low
tomorrow's SQ looks "fine"
market calls for a(nother) bear market rally are getting louder
October SPX expiry is shaping up to be quite large, as these levels of option open interest are generally reserved for quarterly expiration (chart 1 of SPX option OI – largest non-quarterly in over 2y)."
TNX continues to rise strongly, while the Cycles Model suggests even greater strength by mid-week.  Indications are that TNX may rise to 45.00 before finishing its correction.  The Cycles Model indicates that the uptrend may continue to mid-November.
Investing.com explains, "The effective overnight interbank lending rate is now 3.08%. It was just 0% a little over six months ago. According to the Fed's current plans, the Fed Funds Rate (FFR) is heading to at least 4% by the end of this year; and perhaps all the way to 4.5-5% by early 2023. Is that going to cause a problem, you ask? Well, rising rates have already caused stocks, bonds, gold, crypto—and just about everything else—to plunge. Even the commodity sector, which worked well in the first half of this year, has fallen sharply. Indeed, virtually nothing has worked on the long side except for cash and the US dollar. Sadly, for most, the carnage isn't over yet, and the pace of the decline is only going to intensify. Here's why that should be the case."
USD futures continued their climb to 113.92 this morning before a consolidation.  This rally is anticipated to continue to mid-December.  The stronger USD is causing other currencies to go into "waterfall" declines.
ZeroHedge remarks, "Despite intervention chatter overnight, the Japanese Yen is puking hard this morning, crashing above 151/USD just hours after breaching 150/USD for the first time in 32 years…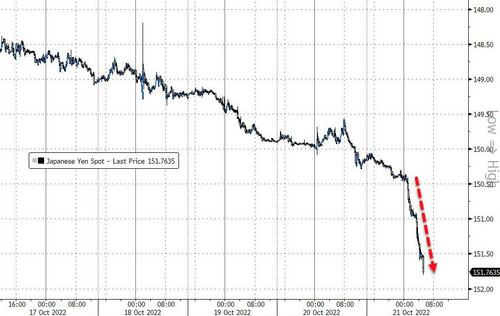 That Finance Minister Shunichi Suzuki reiterated Friday that Japan was ready to act, saying that the recent sudden, one-sided yen weakness was undesirable and he was watching markets with a high sense of urgency.
160/USD (from April 1990) looks like the next support…"
Gold futures broke down this morning to 1621.10, crashing through the Cycle Bottom support at 1626.60 and exceeding its prior low.  The Cup with Handle formation is activated and its target has a high likelihood of being met.  There are about five weeks left to the bottom of this Cycle.  No one seems to be talking positively about gold lately.