10:18 am
BKX, our liquidity proxy, dipped lower this morning before a small bounce.  The current Master Cycle is due to extend to mid-November, indicative of the Panic Cycle due or taking place in other markets, including our own stock market.
ZeroHedge comments, "BofA Chief Investment Strategist Michael Hartnett has a favorite markets phrase that may be the only one a trader in this day and age needs: "Markets stop panicking when central banks start panicking."
Well, in what may be the best news to shellshocked bulls after the worst September and worst Q3 in generations, in a harrowing year for markets, central banks are starting to panic. First it was the BOJ, then the BOE and now, it's Switzerland's turn.
Two weeks ago after the (first) panicked pivot by the BOE, when global markets were in freefall, we said that markets desperately needed some words of encouragement from the Fed, or failing that – and with the dollar soaring to new all time highs every day – the Fed had to make some pre-emptive announcement on USD Fx swap lines, if only to reassure global markets that amid this historic, US dollar short squeeze, at least someone can and will print as many as are needed to avoid systemic collapse."
8:10 am
Good Morning!
SPX futures rose to an overnight high of 3623.30, well beneath the 38.2% retracement of Friday's decline.  The reason this is important is this:  Should the decline be the beginning (Wave 1) of Intermediate Wave (C) as illustrated, the retracements may fall within one of the lesser Fibonacci retracements, or possibly lower.  The 38.2% retracement is at 3658.96.  The 50% Fibonacci retracement is 3687.58.  Any rally to or beneath these levels tells us that this is a retracement of Minor Wave 1 of Intermediate Wave (C).  The implication is that the Panic Cycle may have already begun.  Thus, my reluctance to take short profits.  Many other analysts are calling this decline a "Wave 5" and taking profits.  Unfortunately they may be caught wrong-footed, since a Primary Wave [3] may be 1000 to 1500 points in length and may already be underway.  Should they be correct, there is stiff resistance at 3807.00 for the retracement.
In today's op-ex, Maximum Pain for options holders is at 3605.00.  Long gamma begins at 3650.00.  Short gamma may begin as high at 3600.00, but certainly kicks in at 3575.00.  As you can see, the options market holds sway over the cash market.
ZeroHedge reports, "US stocks were set to bounce, ending a brutal five-day losing streak, amid confusion over what the BOE will do in two days, amid hope that tomorrow's CPI print will come in lower than expected, and as Treasury yields eased off multi-year highs – at least initially – and investors put aside concerns that overheating inflation could offer more fodder to hawkish Federal Reserve policy makers amid speculation that things are breaking in far too many markets after it emerged that the Fed had sent a substantial amount of dollars to Switzerland this week in the first material use of the dollar swap facility in 2022. Nasdaq futures gained 0.9% by 7:30 a.m. in New York while S&P 500 futures rose 0.7% a day after the benchmark index nearly erased its October gains, while UK bonds tumbled and the pound rose amid UK policy confusion. While global risk sentiment earlier received a boost from a report suggesting the Bank of England could extend its emergency bond repurchases, a bank spokesperson quashed that speculation and said the program would still end on Friday, leaving traders in the dark as to what will happen."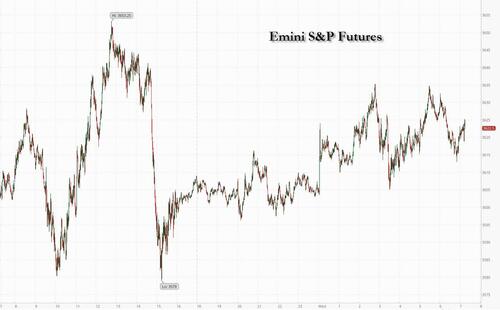 One telling indicator is that the VIX futures remained well within yesterday's trading range and has become positive this morning as it may be prepared for a breakout.
In today's op-ex, Maximum Pain moved up from 29.00 to 32.5o in the last 24 hours, showing a heightened concern for risk.  Puts and calls are both equally high at 30.00.  Short gamma begins there, while long gamma may begin at 35.00.  Long gamma may extend to 60.00 with 6197 calls at that strike.
ZeroHedge observes,"VIX panic is here
VIX 2/8 months futures spread continues moving sharply higher. This "under the hood" VIX measure is basically in panic mode."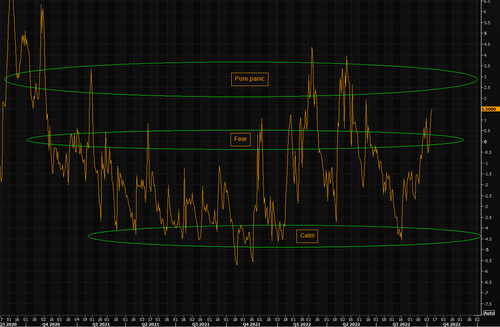 TNX rose to 39.74 this morning with a jolt from the hotter-than-expected PPI print.  This trend may continue to mid-November.  Today's 10-year auction may provide some fireworks.  Banks must purchase Treasuries unsold to the open market…
ZeroHedge reports, "PPI is the under-card ahead of tomorrow's main event CPI print, but nevertheless will offer some insights into how the inflation picture is evolving in the US and is expected to slow at the headline level but flat at the core level.
The headline PPI printed +8.5% YoY (which was hotter than the expected +8.4% YoY) but down from August's 8.7% (jumping 0.4% MoM after 2 straight months lower)…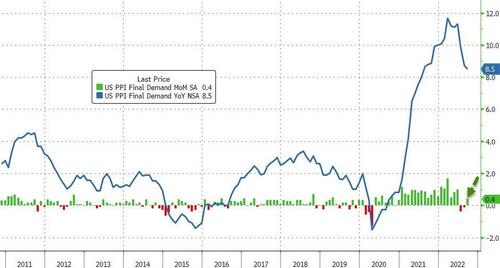 Source: Bloomberg
Ex-Food, Energy, & Trade, PPI rose 0.4% MoM (double the expected +0.2%)."
Yesterday ZeroHedge reported, "With Treasury prices and yields gyrating like high-beta penny stocks now that liquidity in the world's "deepest" bond market is practically gone, bond traders were casting nervous eyes at the results of today's 3Y auction results, the first coupon offering of the week and one month after the ugliest 3Y auction of 2022. Luckily, there were no fireworks this time even if the auction was decidedly of the subpar variety: pricing at a high yield of 4.318%, the highest yield going back to pre-Lehman levels, today's sale of $40BN in 3Y paper tailed the When Issued 4.310% by 0.8bps, which while hardly good, was better than last month's 1.4bps tail."
USD futures were marginally higher this morning, at 113.49.  It remains above Cycle Top support at 113.36.  The Cycles Model suggests a triple dose of trending strength next week as the current Master Cycle comes to a close.