2:04 pm
BKX is challenging the neckline of the Head & Shoulders neckline.  A close beneath 97.00 triggers the formation.  The next Master Cycle pivot occurs at the end of October.  A probable target for October may be 89.00.  A retest (from the low) may ensue prior to the plunge described by the Head & Shoulders formation.
8:40 am
Good Morning!
SPX futures bounced off the Lip of the Cup with Handle formation at 3607.50 last night and is desperately attempting a comeback this morning.  However, it is very deep in short gamma territory beneath 3700.00.  It may attempt a rally to 3700.00 where there is short term resistance before moving lower.  The downside target appears to be near 3400.00.
Today's op-ex shows calls gaining the upper hand above 3700.00, but long gamma may not start until 3750.00.
ZeroHedge reports, "US equity futures extended last week's post-payrolls slump, and as of 730am ET traded -0.2% at 3,646, having bounced off the session's worst levels down as much as -1%, while European stocks fell for the fourth straight day as concerns mounted that central bank policy-tightening would send the global economy into a hard landing (as Michael Hartnett warned) taking a heavy toll on the global economy and company earnings. The dollar extended its gains while bonds were closed for trading on the Columbus Day bond market holiday; cryptos were flat."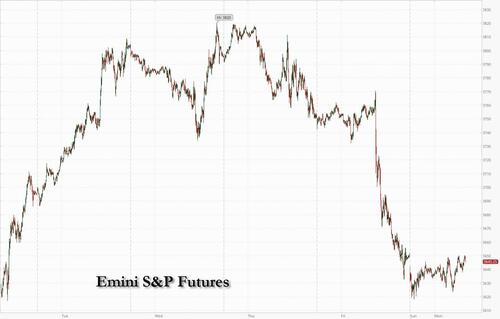 VIX futures advanced to 33.39 over the weekend, but have eased back.  They remain above Friday's close, suggesting strength.  Today is day 259 in the current Master Cycle.  While it is possible that last Wednesday's low (day 254) may have been the end of that Cycle, it is just as likely that the Master Cycle may have been delayed until Tuesday/Wednesday.
In Wednesday's op-ex, Maximum Pain is at 29.00.  Short gamma starts at 28.00.  Long gamma begins at 32.50 and extends to 70.00.
ZeroHedge observes, "How are interest rate hikes and quantitative tightening affecting markets?
The Federal Reserve's fast-paced rate hikes and initial reductions of its balance sheet have resulted in liquidity drying up across markets, amplifying volatility and uncertainty."
TNX climbed above its Cycle Top support/resistance at 38.79 on Friday and remains there this morning.  Today is a day of trending strength, according to the Cycles Model.  However, should it slip beneath the Cycle Top, it may decline to test the 50-day Moving Average at 32.40.
ZeroHedge comments, "With the 30 Year mortgage now (un)comfortably into 7% territory, the US housing market is already suffering the "sharpest turn since the 2008 crash", according to Redfin…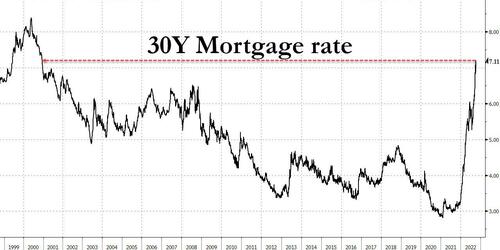 … pushing the average mortgage payment almost 50% to $2,500 from around $1,700 at the start of the year."
USD futures have advanced beyond the Cycle Top resistance at 113.10, reaching a weekend high at 113.22.  Should it manage to stay above the Cycle Top, it may continue advancing higher.  There are two weeks left in the current Master Cycle where a pivot may be anticipated.