2:31 pm
Since this morning, investors have sold thousands of expiring calls and bought puts instead.  Since this morning, over 33,000 SPX puts contracts came into-the-money.  Now its time for the CTAs and hedge funds to start selling, as well.  The aftermath may last into next week.  The Cycles Model suggests more weakness over the  weekend.
11:50 am
SPX has declined through the neckline of a small Head & Shoulders formation after a brief attempt at Short-term resistance at 4201.87.  This formation gives the impression that the SPX is simply "walking back down" its August rally.  However, SPX is now in short gamma and the decline may take on the force of a runaway train.
ZeroHedge comments, "While reactions to Fed Chair Powell's 8 minute message are varied, the markets' response seems sure – hawkish-er than expected…
The odds of a 75bps hike in September are back above 60%…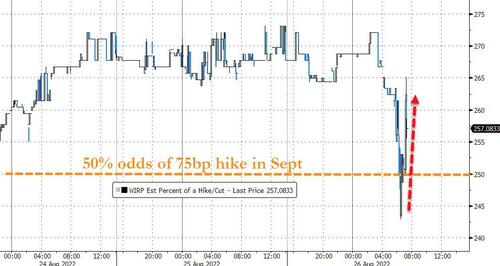 The short-end of the yield curve is spiking relative to the long-end…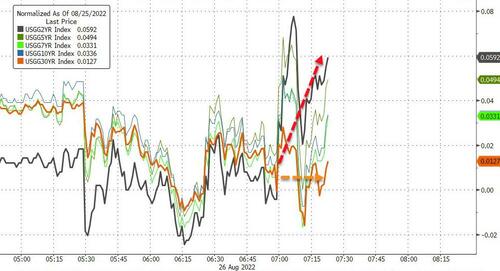 The yield curve is flattening/inverting even further…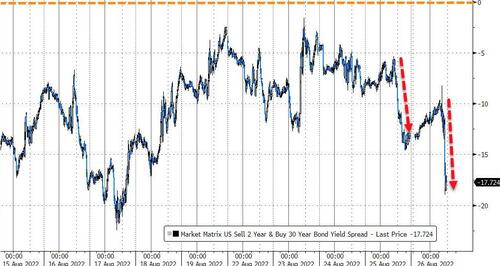 And stocks are sliding fast on the not-dovish-enough message…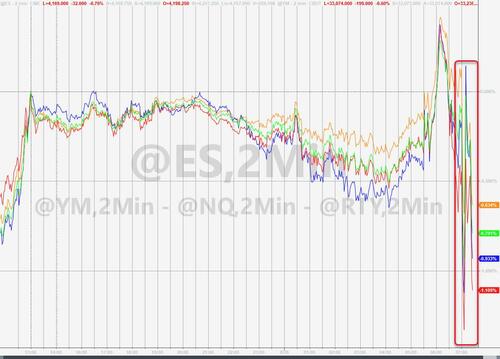 The dollar is higher post-Powell…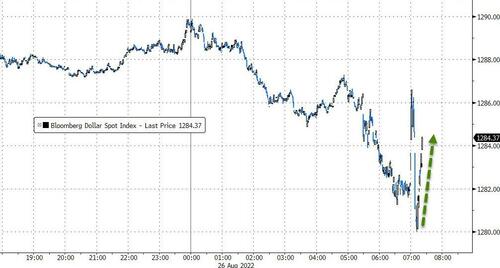 But the question is – will this hawkish/recession-implying reaction hold in these illiquid markets?"
9:35 am
Good Morning!
SPX futures attempted a rise above 4200.00 (4215.20) before easing back, opening in the negative.  The 50% retracement value is 4222.62 with the trendline not far above it.  Today's op-ex shows Max Pain at 4175.00 with long gamma beginning at 4200.00 and short gamma starting at 4150.00.
ZeroHedge reports, "The day we've all been waiting for has finally arrived as Jerome Powell prepares for his keynote hawknado speech at the
"Action Jackson" Hole.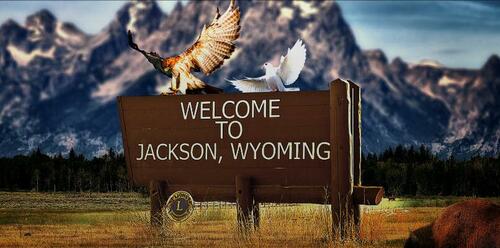 After yesterday's unexpected last hour rally, US stock futures dropped and interest rates rose as jittery investor nerves took hold before Federal Reserve Chair Jerome Powell's much-anticipated (hawkish) speech at the Jackson Hole symposium. S&P futures dropped 0.4% in a subdued session, while Nasdaq 100 futures fell 0.5% as of 7:15 a.m. ET. Both underlying indexes jumped Thursday, paring losses from earlier in the week, as bond yields dropped. Still, the benchmark S&P 500 is set for its second straight weekly decline as Fed policy makers sounded more hawkish about their outlook on rate hikes, even amid growing fears of a recession."
VIX futures rose to a morning high of 22.48 as it awaits the final pronouncement fro Jackson Hole.
Wednesday's op-ex shows Max Pain at 22.00 with long gamma starting at 23.00 and short gamma at 21.00.
ZeroHedge comments, "Almost nothing Powell can say will have the Equities market "hear" anything less than a "de facto dovish" message, versus an impossible "balancing act" expectation that he cannot fulfill without likely easing FCI (re-iterating focus on inflation but unable to 'Forward guide' tighter, while also acknowledging slowing growth and fading Commods / Inflation Expectations Surveys as tailwinds to 'past peak'story)…
Remember, financial conditions are now EASIER than they were when The Fed STARTED TIGHTENING…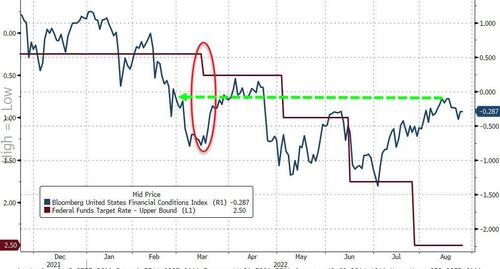 … all of which is why Nomura's Charlie McElligott believes Powell's speech is largely being viewed as a "nothing-burger"."
TNX futures bounced off a morning low at 30.17, leaving yesterday's high as the terminus for the Master Cycle at day 265.
USD futures pulled back beneath the trading channel trendline to a low of 107.66.  The Cycles Model suggests weakness down to Intermediate-term support at 106.86 during the next week.  Strength may return in the  ifrst week of September. as the USD probes higher.