8:30 am
Good Morning!
SPX futures inched higher, to 4170.70 this morning.  Today is day 255 of the Master Cycle. This is the final phase of the rally where we may see a pullback, then the final probe to 4200.00.The 50% retracement value is 4225.00, but that target is fading.  Friday we may see a final move in strength, but a reversal may happen imminently afterward.
In today's op-ex, Max Pain is at 4155.00, with calls dominating above 4160.00 and puts showing strength at 4150.00.  Long gamma may begin at 4165.00, so moves both up or down may be exacerbated.  Friday's Max Pain is at 4145.00 with much heavier population of options.  Friday's long gamma is at 4170.00 and short gamma beneath 4100.00.
ZeroHedge reports, "US futures are mixed on Thursday, first trading in the red, then turning green before moving unchanged, as investors shrugged off growth warnings from the bond market while Taiwan war fears faded further despite drills launched by China overnight. Oil bounced back from the lowest level in almost six months. Contracts on the S&P 500 were flat while Nasdaq futures were modestly green, suggesting the tech-heavy Nasdaq will extend an advance of 19% from its June 16 low on the back of a massive CTA, buyback and retail-driven buying frenzy."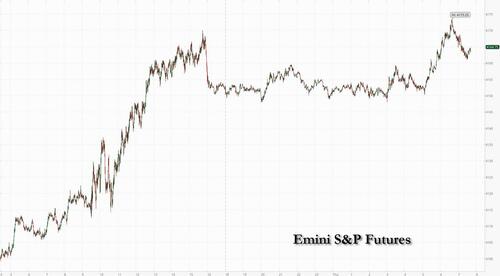 VIX futures consolidated near 22.00 as investors doze off with only modest fear of a decline in equities.
Investing comments, "Wall Street's most closely watched gauge of market anxiety shows expectations of choppy trading ahead despite a recent snapback in U.S. stocks, though institutional investors' low exposure to equities may help curb gyrations.
The Cboe Volatility Index, an options-based indicator that reflects demand for protection against drops in the stock market, recently stood at 23, following a sharp rally in stocks that has taken the S&P 500 index up 12% from its mid-June low on expectations that the Federal Reserve may be less hawkish than anticipated in its fight against inflation.
VIX readings above 20 are generally associated with an elevated sense of investor anxiety about the near-term outlook for stocks, while readings north of 30 or 35 point to acute fear."
TNX has bulled back this morning.  Investors' fear of a conflict with China has subsided.  However, China keep selling its US Treasuries, adding pressure on the yield.  The Cycles Model indicates the next Master Cycle only has two weeks left, but it may rally in strength.  However, an extension of the decline may alter the Wave structure, allowing for a much higher target (TNX over 50.00).
ZeroHedge remarks, "The Federal Reserve may have to go further than what the markets are factoring in to quell inflation in the current cycle.
Treasuries and stocks rallied after the Fed suggested last week that the monetary authority had reached the neutral rate, signaling that increases down the line may be more measured.
However, the Fed's suggestion about the neutral rate — when the policy benchmark is neither contractionary nor expansionary — is likely flawed.
In its latest summary of economic projections made in June, the median of the longer-run Fed funds rate was 2.50%, alongside an inflation projection of 2%. In other words, the Fed is willing to set its benchmark at a real rate of 50 basis points.
However, with headline inflation running at 9.1%, it can scarcely be argued that the neutral rate would be less than where it was back in December 2018, when the Fed ended its hiking campaign in the previous cycle. It then projected a neutral rate of 2.75%, while inflation was comfortably around 2%."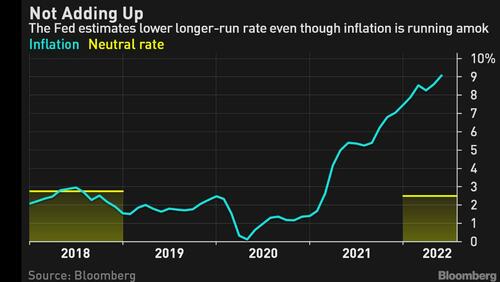 USD may be consolidating above Intermediate-term support at 105.94 as it hovers in no-man's land.  It only has a week until its next Master Cycle pivot and, unless there is a terrific boost to the USD, it may end up lower by mid-week.  An MC low next week gives the USD the ability to rally through the entire months of August and September while equities sell off.