10:14 am
The Ag Index may be finishing a late Master Cycle low on day 272 of its Master Cycle.  It may be obvious that the lower liquidity is having an impact on ag prices as well, but nowhere near the influence that lower liquidity is having on stocks and bonds.  I have been urging investors to consider the Ag Index in the accumulation phase just before the breakout above the Neckline of the proposed Head & Shoulders formation.  The Cycles Model suggests the next Master Cycle high may be in mid-August.
Avocado prices are higher.
Fuel, groceries and power are rising at double digit rates.
Soaring fertilizer prices unleash chaos and starvation worldwide.
Mike Shedlock comments, "Talks between Turkey and Russia aimed at providing safe passage for Ukraine's harvest ended in failure…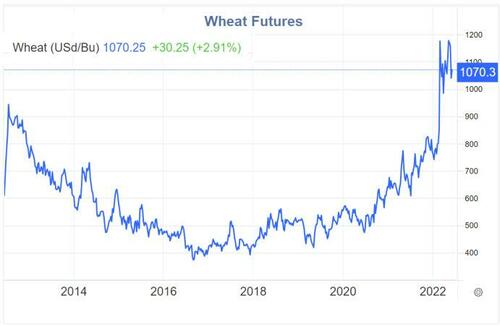 Wheat futures courtesy of Trading Economics
Talks End in Failure
Turkey attempted to mediate safe passage in the Black Sea for Ukraine's grain harvest, but objected to the Black Sea proposal in a statement on Tuesday before the talks in Turkey.
9:47 am
BKX, our liquidity proxy, has gapped down beneath the Cycle Bottom at 107.81 this morning.  While there is no outstanding news on the bank index, earnings season is about to begin.
8:50 am
Good Morning!
SPX futures have gapped down beneath the Cycle Bottom at 3998.96 and then some.  The next support is the prior Master Cycle low at 3810.32.  The real decline has begun.
Today's op-ex shows SPX deep in short gamma beneath 4050.00 (10,739 put contracts) with massive puts positioned every 25 points beneath it.  For example, the 4000.00 strike has 13069 open contracts.  The dominoes are lined up and falling.
ZeroHedge reported earlier, "After a furious late-day selloff on Thursday as markets digested the probability of another red hot inflation number, S&P Futures traded in a narrow range on Friday ahead of the crucial May CPI Print which will dictate the path of Federal Reserve policy (it means the difference between a 25bps and 50bps Sept rate hike… or 0bps), and which is expected to come in 8.3% Y/Y and 0.7% M/M for headline and 5.9% Y/Y and 0.5% M/M for core. S&P 500 contracts fluctuated between modest gains and losses, while Nasdaq 100 futures rose about 0.4% as of 7:30 a.m. ET. The dollar rose slightly, although it has been trading largely flat throughout the session. The yield on the 10-year Treasury is unchanged at 3.04%, while the 2-year Treasury yield rose about 3.4 basis points to 2.8455%. Gold and bitcoin fell. Oil rose."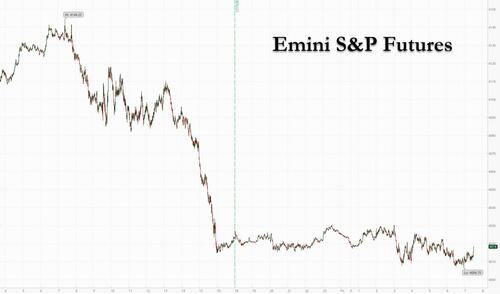 NDX futures gapped from a slight gain to 12337.00 to a loss beneath its Cycle Bottom at 12061.85 this morning.  Today's op-ex shows NDX deep into short gamma territory.  Although the contracts are fewer in number, they represent a huge cash short position.
Today's expiring QQQ (299.40) options are positive over 305.00, but turn massively negative beneath 300.00.  Short gamma is certain beneath 296.00.
ZeroHedge comments, "Well that's not what the market wanted to see…
The hotter than expected CPI print has sparked turmoil in markets with the Treasury curve inverting once again (now its most inverted in over 2 months)…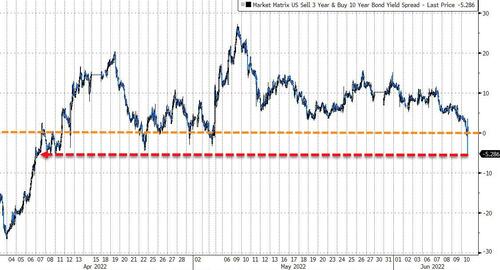 Stocks are accelerating their losses from yesterday. almost completely erasing the post-Bostic-Pause short-squeeze ramp…"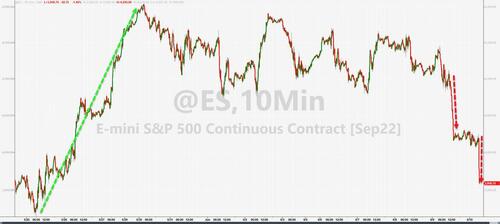 VIX futures rose to a high of 27.75 this morning leaping above the 50-day Moving Average at 26.40 and confirming the buy signal.  While the SPX may suffer a panic decline to 2542.00 in the next week-an-a-half,   VIX may not stop rising until the third week of August in Minor Wave 3 of Intermediate-term Wave (3) of Primary Wave [3] of Cycle Wave III.   The massive consolidation we have seen since last December is not indicative of the moves we are about to see in the next 4-6 months.
The NYSE Hi-Lo Index opened at -107.00 and is falling.  It has been aon a sell signal since yesterday morning.
TNX leaped to 31.11 this morning, edging closer to the Cycle Top at 31.34.  TNX is now in its trending strength mode through the weekend.  The Cycles Model suggests a continued rally through early July.