11:48 am
VIX is on the rise after making a potential Master Cycle low this morning on day 254.  Should that be correct, tomorrow's period of strength may propel the VIX to or above its neckline in a possible "limit down" day.  June monthly options expiration is two weeks away and is very highly populated on both sides.
ZeroHedge observes, "Mark June 15th (VIX exp.) & June 17th (options exp. OPEX) as a key turning point due to very large expirations and the FOMC (6/15).
Until then, SpotGamma warns, rallies should be categorized as "short covering" and subject to failure.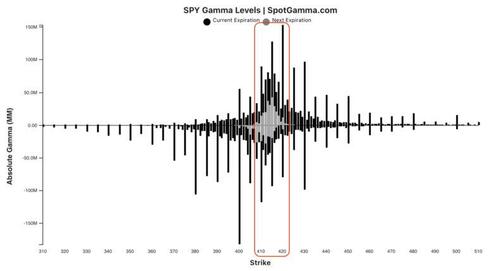 It turns out, as Bloomberg reports, that distrust of any tentative rebound in global stocks is at the highest in a decade."
11:42 am
The Ag Index extended its decline to day 263 of the Master Cycle.  This action may lead investors to believe that it is also participating in the decline.  Not so.  The lack of news about our food supply may lead investors to look elsewhere, but this may be the most critical component of our economy going forward.
11:27 am
TNX has exceeded its Intermediate-term resistance at 28.78 and is now on track to breach its Cycle Top at 30.29.  The question of "How far?" is on everyone's minds.  The next resistance is the November 2018 high at 32.48, but it may go even higher.  Wave relationship guidelines suggest a possible high near 34.30.  The Cycles Model suggest the next Master Cycle high may occur during the first week of July.
11:16 am
BKX has ended its retracement at the 50-day Moving Average at 116.60 and the nearby Lip of its Cup with Handle formation at 116.00.  This proxy for liquidity is looking seriously downward and may confirm the reversal in equities and bonds.
11:10 am
SPX has breached the Lip of the Cup with Handle formation and declined beneath 4100.00, giving a probable sell signal.   It may decline to 4070.00 or lower before a bounce that may remain beneath the Lip.  The period of strength anticipated for tomorrow may invert, giving us a possible limit down day.
ZeroHedge remarks, "US equity and bond markets just lurched lower (in price) and the dollar spiked higher as a combination of headlines hit.
Put all that together and equities tumbled…"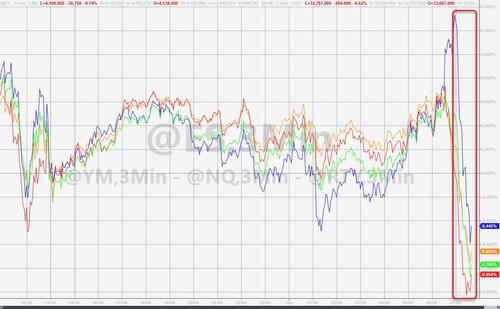 8:30 am
Good Morning!
NDX futures appear to be consolidating beneath yesterday's high.  While the retracement appears complete, it may extend until Thursday, per the Cycles Model.  Today's expiring options show Max Pain at 12650.00.  Calls dominate above 1270.000, while puts dominate beneath 12600.00, with short gamma at 12500.00.
QQQ (308.28) is also in the Mas Pain zone, with calls dominating above 309.00 and long gamma at 310.00.  Puts dominate beneath 303.00, where short gamma appears.
SPX futures have risen modestly, but no new high.  We may expect equities to linger near the top, at least until the last bit of trending strength is past.  A sell signal appears beneath the Lip of the Cup with Handle near 4120.00, with confirmation beneath 4100.00.  The 38.2% Fibonacci retratement lies at 4126.00, while the 50% retracement value is 4223.84.
Today's expiring options show that puts dominate beneath 4100.00 with short gamma at 4050.00.  Calls dominate above 4140.00 with long gamma at 4175.00.  The Cycles Model suggests a top may yet be made near 4175.00 to 4195.00.
ZeroHedge reports, "Stocks traded off session highs as weaker-than-average volumes mark the beginning of summer, and as traders awaited the jobs report later this week and eyed the official start of the Fed's second Quantitative Tightening program (which will end as "gloriously" as the first one) which will drain the Fed's balance sheet by $95BN per month.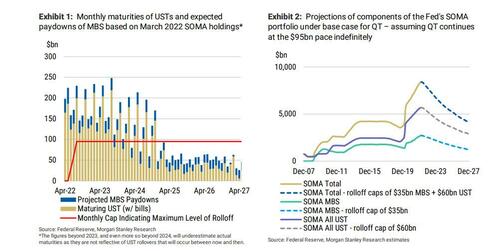 Contracts on the S&P 500 were 0.2% higher by 730 a.m. in New York, after the underlying index finished May up exactly 0.1%;  Nasdaq 100 futures were up 0.1%. European bourses and Asian stocks were modestly in the red to stgart the new quarter. The latest drop in Treasuries pushed 10-year yields closer to 2.9% as traders raised bets on Federal Reserve interest-rate hikes. The dollar advanced against major peers, and bitcoin traded around $31,500. Oil rose as investors assessed the future of OPEC+ unity, just as ministers from the group prepare to meet on Thursday to discuss its supply policy for July. Crude advanced about 10% in May, stoking more inflation worries."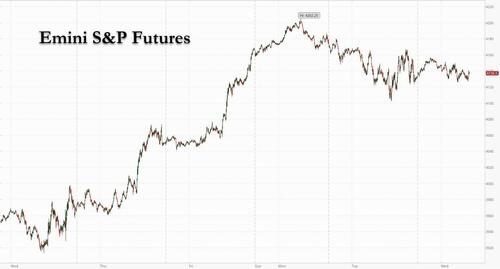 The NYSE Hi-Lo Index may have made its Master Cycle high yesterday at day 253.  However, the Hi-Lo may go higher in the next day or two.  Note that the deeper low made on May 23 did not register as strongly as the May 12 low.
VIX futures made a new low at 25.85 this morning and is now "in the zone" for a Master Cycle low.  The Cycles Model also shows a possible low-reversal on Thursday.   This new low may be the Master Cycle low on day 254.  We may know for certain by the end of the week.
TNX futures challenged Intermediate-term resistance at 28.78 this morning, then eased back beneath the line.  The Cycles Model suggests the correction may be over and TNX awaits the impulse that may send it through resistance.
ZeroHedge notes, "It appears that not even progressive democrats are dumb enough to believe Biden's glorious lie that Putin is to blame for the explosive inflation of the past year, best encapsulated by the farce that is this quote…"
USD futures consolidated overnight, remaining within yesterday's trading range.  USD is being supported above the 50-day Moving Average at 101.24, but may beak through soon, as the current Master Cycle may yet decline to mid-June.  The trendline and mid-Cycle support at 97.05 may be the target for this decline.