3:05 pm
SPX appears to be crossing its Ending Diagonal trendline at or near 4595.00.  It's time to start put on short positions.
Good luck and good trading!
8:05 am
Good Morning!
SPX futures dipped to a morning low of 4610.20 before a small bounce beneath yesterday's close.  Today is day 34 (34.4) of a rally after a 51-day (51.6) decline, totaling 86 days in a potentially completed top-to-top Cycle.  The Cycles Model suggests a possible final burst of strength today before a reversal that may occur yet by the close.  Retail investors and hedge funds may finally be getting up the courage to go long again as the Hi-Lo Index closed at 43.00, second highest only to March 21 at 57.00.  Most of the rally until then has been short covering, which kept the Hi-Lo Index in the negative.
Today's options expiration shows Max Pain at 4575.00 with options positive over 4585.00 and negative beneath 4570.00.  This leaves room for the decline to begin today, all else being equal.
ZeroHedge reports, "S&P 500 futures edged lower along with European shares, as the "peace in our time" optimism that pushed stocks on a history bear market short and gamma squeeze rally in the past two weeks fizzled and was instead replaced with the far less pleasant reality that de-escalation of the war in Ukraine is exaggerated as the Kremlin said that talks with Ukraine in Istanbul Tuesday yielded no breakthroughs and refused to discuss the status of Crimea as part of a peace deal, as the Russian constitution prohibits anyone discussing the fate of Russian regions. The S&P futures were 0.3% lower while Nasdaq futures declined 0.4%. Commodities climbed, fueling renewed concerns about inflation's impact on profits and economic growth while the inversion of the 2s10s yield curve that started the clock on the next recession did not help investor mood. Europe's Stoxx 600 snapped a three-day winning streak after surging to the highest level in five weeks and oil futures gained over 2%. The dollar slipped, the euro climbed and the yen bounced from a six-year low after the Bank of Japan pledged to buy more securities than planned and include longer-dated debt."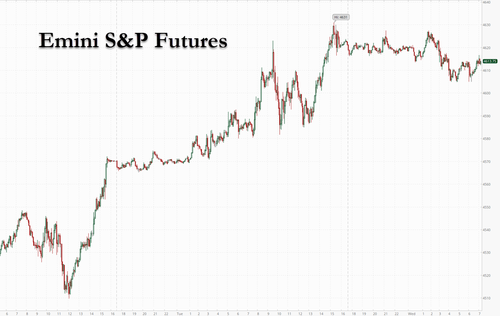 VIX futures rose to 19.80 this morning and appear to remain buoyant throughout the morning.  Today's expiring options are positive above 18.00 and long gamma takes effect at 25.00.  The VIX Cycle may be complete with an 84-day bottom-to-bottom cycle as of yesterday.
ZeroHedge observes, "Having soared on optimism yesterday amid chatter of Russian forces retreating, Ukrainian President Zelenskiy poured some cold water on that hope by noting that Russia is sending new forces during a speech to the Norwegian parliament. He also warned that he sees risk in the Black Sea from Russian mines.
That headline triggered selling in futures and the algos too stocks to overnight lows…"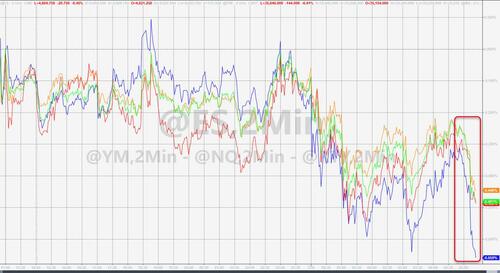 TNX hesitated this morning, but has not changed its corrective stance.  The Cycles Model suggests a corrective mode into next week before another surge of trending strength reappears.  A probable decline to the Cycle Top support at 21.89 may still be in the works.
ZeroHedge comments, "The Federal Reserve and other central banks took ownership of the bond markets during the pandemic with zero-bound rates. Now they are busy breaking them.
The bleak reality for investors is that bonds are at risk of turning into just another speculative asset, and a particularly focused area for speculation — what the Fed will do next is becoming almost the only question that matters, rather than one of the key questions.
The fallout from all these central bank maneuverings is degrading the haven qualities of fixed-income securities and threatens to turn yield curves into mere noise, rather than reliable signals about real-world economics."
USD futures turned lower, declining to a low of 97.85 this morning.  There is a new Master Cycle which is due to end in mid-April.  Should the USD not decline beneath the Wave [iv] low at 97.71. it is possible that the final surge to 100.00 or higher may yet occur in the next two weeks.
Crude oil futures advanced above the Cycle Top at 105.72 in a corrective bounce which may last until the weekend, per the Cycles Model.  The current Master Cycle ends in mid-April, suggesting a further decline.
ZeroHedge informs, "Pipelines are the primary method of transporting crude oil around the world, delivering oil and its derivative products swiftly to refineries and empowering reliant businesses.
And, as Visual Capitalist's Christina Kostandi and Niccolo Conte detail below, North America is a major oil hub, with the U.S. and Canada alone are home to more than 90,000 miles of crude oil and petroleum product pipelines, along with more than 140 refineries that can process around 20 million barrels of oil every day.
This interactive graphic uses data from Rextag to map out crude oil pipelines and refineries across the U.S. and Canada, showcasing individual pipeline diameter and daily refinery throughput."