4:40 pm
The Cycles Model has been a puzzle to me until today.  It had projected a Master Cycle Pivot on Thursday, March 3.  I had anticipated a low on that day.  However, the VIX and Hi-Lo don't agree.  Today's marginal new high suggests a MC high is more likely.  Waves (1)-(2) took 21 days.  The current Waves 1-2  have thus far taken 19 days.  This suggests that tomorrow or Friday may be a Master Cycle high (instead of a low).  The target for that high may be the 200-day Moving Average at 4463.11.
Until today, I just didn't see this coming.  I can repeat Charlie McElligott's sentiment, "This is getting exhausting."
11:36 am
Dealers struggled to move SPX higher for the close of today's options.  The bounce missed making a new high by 6 basis points.  Anything can happen now.  Traders are getting sick and tired (and squeezed) by all the hijinks.
ZeroHedge explains, "After yesterday's epic rollercoaster in rates, where we first a dual VaR shock, first in the front-end of the curve as eurodollar exploded higher sending rate hike expectations plunging, and then moved to the long end with coupon bond yields crashing, especially in Germany, where the 10Y bund saw the biggest one day drop in yields in a decade…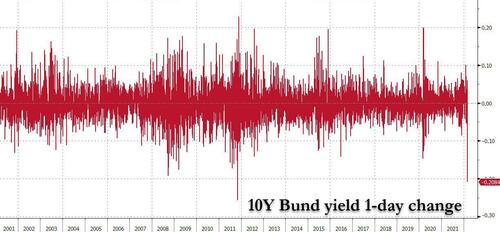 … today we are seeing a sharp reversal in much of yesterday's move – to be expected after Biden's SOTU address yesterday when he again tasked Powell with easing inflation (even if it means an even sharper economic slowdown, although Biden's speechwriter was unfamiliar with the trade-offs of monetary policy and so this particular part wasn't mentioned) with Dec 22 Eurodollars sinking, and leading to one of the sharpest one day drops in the past year, although we are still nowhere near where we were just last week when absolutely everyone on Wall Street was convinced the Fed would hike as much as 7 times this year alone, and who knows how much in 2023."
11:31 am
TNX ripped higher after making its Master Cycle low yesterday.  Powell's comments did not raise the confidence level.  The next Wave higher will have legs.
ZeroHedge remarks, "Rest in Peace 50bps March rate hike.
Moments ago, Fed Chair Powell said that he is "inclined to support a 25 basis point rate hike" in March, which immediately killed any market expectation of a 1+ rate hike in two weeks.
However, in the very next sentence, Powell said that if inflation stays hot, he could move more than 25 basis points at upcoming meetings, which in turn pushed the full year rate hike expectations sharply higher, from 5.2 to 5.6.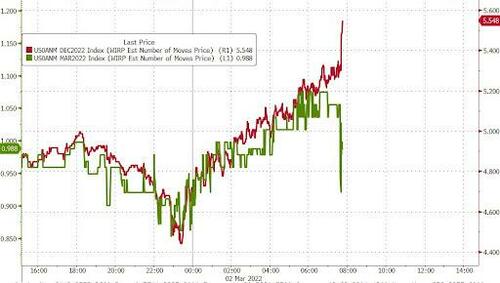 Of course, this is not the end of this story, and should oil continue to surge – and it will – unleashing inflationary shockwaves and crippling global growth, expect this hawkish consensus to once again unwind… but not yet, because as noted earlier, the VaR shock in the STIR space is now in full-blown reverse mode, with Dec 2022 ED futs collapsing and undoing their entire Tuesday move…"
8:15 am
Good Morning!
SPX futures rose to 4346.30 in an attempt to achieve Max Pain at 4350.00 during today's options expiration.  However, that level could not be sustained and SPX slipped back lower.  Today we may see a challenge of the Lip and Cycle Bottom at 4182.03 as the panic Cycle evolves.  Wave (1) and Wave 1 each took 12.9 days to complete, so if we use that same algorithm, Wave (3) may not be complete until March 16, where the VIX and Hi-Lo are proposed to have their Master Cycle low.   However, we cannot rule out a panic decline of 4.3 to 6.45 days for Wave 3, leaving the Completion of Primary Wave [1] by mid-March.  Much of this has yet to be sorted out.
ZeroHedge reports, "U.S. futures and European stocks rose on Wednesday after the Kremlin said Russia was ready to resume negotiations with Ukraine. Nasdaq 100 contracts were up 0.7% by 730 a.m. ET reversing earlier declines of as much as 0.8%. S&P 500 futures rose 0.5%, while Dow futures gained 0.7%. Oil soared with Brent trading above $111 as traders realized that Russian oil output will be substantially reduced despite sanction loopholes. The dollar rose and 10Y yields rose."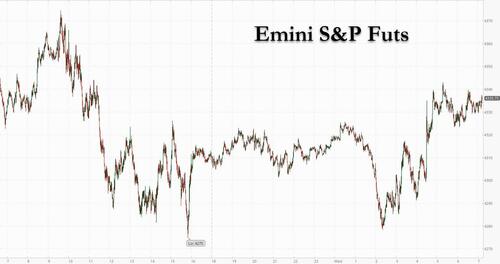 VIX futures pulled back to 32.31 early this morning, but have bounced pack to positive territory. VIX has a massive open interest at 25.00 with 15,098 call contracts expiring today.  That position alone has a $12.6 million liability at the end of the day at current prices.
The NYSE Hi-Lo Index closed at -24.00 after ranging as high as 102 at mid-day yesterday.
TNX leaped above the 50-day Moving Average at 17.65 this morning after Jerome Powell's prepared remarks were released.  This puts TNX on a buy signal (UST on a sell signal).  Having made its Master Cycle low yesterday, the new Master Cycle appears to be active until late April.
ZeroHedge reports, "Fed Chairman Jerome Powell will testify before the House Financial Services Committee on Wednesday, part of the Fed chair's semiannual testimony to Congress about the state of the economy. Most analysts expect Powell's interlocutors to focus on his outlook for inflation as expectations for Q1 GDP growth continue to slide, stoking fears of stagflation.
Oil prices in the US have climbed to levels unseen since 2011 in the wake of Russia's invasion of Ukraine, and global equity markets have been whipsawed as a result. Faced with this, investors have abandoned bets on the likelihood of a 50 basis point hike in March as the Fed struggles to balance geopolitical concerns with its domestic mandates to guarantee stable prices and strong job market."
USD futures rose to 97.83 this morning, before easing back down to the Cycle Top support at 97.69.  The current Master Cycle may continue its run to the week of March 21 before it pivots.
WTI futures reached an overnight high at 112.47 as the upward trend continues in oil.  The Cycles Model suggests the current Master Cycle may not end until the week of March 21.
ZeroHedge reports, "In what one observer called "the fastest one yet" – the meeting lasted just 13 minutes, beating last month's record for brevity – OPEC+ 23-nation coalition led by Saudi Arabia ratified an increase of 400,000 barrels a day on Wednesday, continuing the gradual restoration of output halted during the pandemic, according to delegate sources.
This was merely ratifying the plan – as expected – and notably gives no deference to President Biden's urgings for the cartel to raise production to rescue his approval ratings at home."