1:15 pm
NDX has declined through the double support between 13720.00 and 13750.00.  Now it gets serious, due to the short gamma accumulation.  The Cycles Model suggests two more impulses down with two or more "limit down" days.  Keep your hats on.  It may be a wild ride.
ZeroHedge informs, "Nomura's Charlie McElligott notes that equities 'short gamma, extreme short delta' just points to the regime shift with Fed in "Financial Conditions Tightening" mode…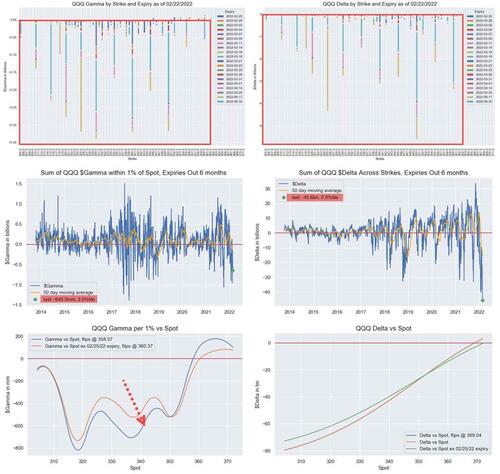 …where strength is sold into / short-dated Puts are bought to press into selloffs then closed same day; but institutional traders are also 'day trading' rallies with call buying and closing – perpetuating intraday swings and new world order of range-trading."
8:15 am
Good Morning!
SPX futures rose to 4350.40, just 2 points shy of the 38.2% Fib retracement of the decline from 4489.55.    Should the decline follow the existing hourly pattern, we may see a Master Cycle low on March 3 (day 258).   Today's options expiration shows calls dominating above 4375.00 with long gamma at 4400.00 while puts dominate at 4350.00 and below.  Short gamma begins at 4310.00.  The bounce cannot last in this environment.
ZeroHedge reports, "US equity futures – which on Tuesday tumbled into a technical correction, down 10% from January's all time highs – rebounded led by tech companies as investor fears over the standoff in Ukraine eased following the limited initial Western sanctions against Russia. As of 7:15am, eminis pared some gains but were still up 0.7% or 28 points on the day; Nasdaq futures were up 0.9% and Dow futures were up 0.54%. The VIX remained elevated, last seen around 28 after trading above 30 yesterday. Treasuries extended declines after the yield curve flattened in the Wall Street session, with the 10Y yield rising to 1.97% after tumbling as low as 1.85% on Tuesday. Crude oil fluctuated, while gold dipped as haven demand eased. The dollar slipped and cryptos reversed some of their recent losses."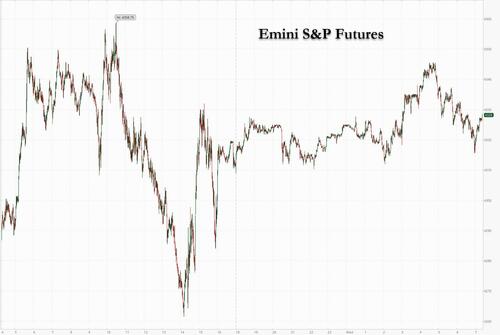 VIX futures bottomed at 27.20, challenging the Cycle Top support, then bounced back above 28.00 this morning.  VIX is on the brink of a breakout with the neckline of the Head & shoulders next to fall.  The Cycles Model suggests that the VIX may continue to rise in strength this week and through the week of March 14.
The NYSE Hi-Lo Index closed at -307.00 on Tuesday and may have begun its next descent.  The decline in the Hi-Lo may gather strength as early as tomorrow and increase in trending strength through mid-March.
TNX appears to be in mid-correction with a possible target near 18.34 by the end of the week.
ZeroHedge reports, " In a day when risk assets have been sliding and safe havens were generally bid, only to see a sharp reversal earlier in the session which pushed Treasury yields sharply higher with 2Y yields spiking 12bps from session lows, there was quite a generous concession ahead of today's $52 billion 2Y auction.
And sure enough, the just concluded auction maturing on "leap" February 29, 2024 priced with stellar metrics all around, starting with the high yield which at 1.553 (the highest since Dec 2019) and sharply higher from last month's 0.990%, stopped through the When Issued 1.559% by 0.6bps.
The bid to cover of 2.638 was also impressive, and while not nearly as high as last month's 2.811, was well above the six-auction average of 2.56."
Gold futures have pulled back from its the high yesterday at 1918.30, short of the June 1 high at 1919.20 and making a Master cycle high in the process.  The Cycles Model calls for a 2-month decline from here.  It could easily decline to the Lip of the Cup with Handle formation.  I have been gettin numerous calls about buying gold and have done my best to discourage them.