10:15 am
BKX, our liquidity proxy, has dropped beneath its 50-day Moving Average at 137.44.  Currently it is challenging that resistance, but may not last above it very long.  The Cycles Model suggests a Master Cycle low on or around March 4, indicating the "Fed Put" may be employed.  However, there are indicators that it could be extended another week.  In other words, the first attempt at market stabilization may fail.
RealInvestmentAdvice analyses, "The "Fed put?" Exactly, what is it, and where does this mythical support reside?
It isn't surprising with the rough start to 2022, investors are hoping the Fed will look to stabilize financial markets. Of course, after more than a decade of monetary interventions, investors developed a "Pavlovian" response.
Classical conditioning (also known as Pavlovian or respondent conditioning) refers to a learning procedure in which a potent stimulus (e.g. food) is paired with a previously neutral stimulus (e.g. a bell). What Pavlov discovered is that when the neutral stimulus was introduced, the dogs would begin to salivate in anticipation of the potent stimulus, even though it was not currently present. This learning process results from the psychological "pairing" of the stimuli.

Importantly, for conditioning to work, the "neutral stimulus," when introduced, must be followed by the "potent stimulus," for the "pairing" to be completed. For investors, as each round of "Quantitative Easing" was introduced, the "neutral stimulus," the stock market rose, the "potent stimulus." 
As shown, each time a more substantial market correction occurred, Central Banks acted to provide the "neutral stimulus."
8:00 am
Good Morning!
NDX futures have made new (bear market) lows, declining to 13591.90 before bouncing above the Lip of the Cup with Handle and Cycle Bottom at 13710.67.  Odds are better than even that the decline may continue beneath the Lip, causing a cascade of selling due to the short gamma that the NDX finds itself in for today's options expiration.
ZeroHedge observes, "Global stocks and US futures have staged a remarkable recovery and erased overnight losses of as much as 2.2% as investors bet that the surge in geopolitical tensions will mean a less hawkish Fed and as investors clung to hopes that Moscow's deployment of troops to two breakaway regions in eastern Ukraine will be as far Russia goes. S&P 500 futures were fractionally in the green at 715am ET after earlier sinking 2.2% and eyeing correction territory; European stocks trimmed losses as investors weighed the risk of geopolitical tensions in Ukraine. Benchmark Treasury yields pared their decline to trade at 1.92% and gold slipped."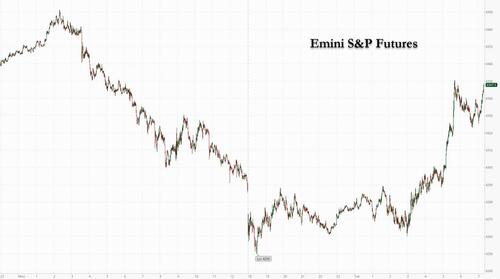 The spectre of war on Europe's eastern flank had flared on Monday, sending oil prices to a seven-year high, less than a $1 away from $100, after Russian President Vladimir Putin ordered troops into the Donetsk and Luhansk regions of Ukraine.
SPX futures declined to 4255.50, just above the January 24 low and the Lip of the Cup with Handle/Cycle Bottom at 4169.00.  The Cycles Model suggests 8.6 days are left to the Master Cycle low.  Today's options expiration shown calls prevailing at 4400.00 and above.  Puts have the majority beneath that with short gamma beginning at 4300.00.  At the very least, dealers and hedge funds must keep the SPX above 4300.00.  Wednesday's options expiration show short gamma beginning at 4350.00.  A close today beneath 4300.00 may bring a meltdown on Wednesday.
The-market-ear observes, "SPX – is this it?
We have not closed here or lower since last summer, but we did trade slightly lower during the January sell off. 4250 is the huge level to watch. RSI is oversold, but we have seen even more oversold conditions during more extreme sell offs. 4250 breaks and we risk the huge head and shoulders formation triggering, or 4250 holds and we put in a double bottom. Why not a bounce in order to frustrate people just in time for when every analyst has become an expert on wars…"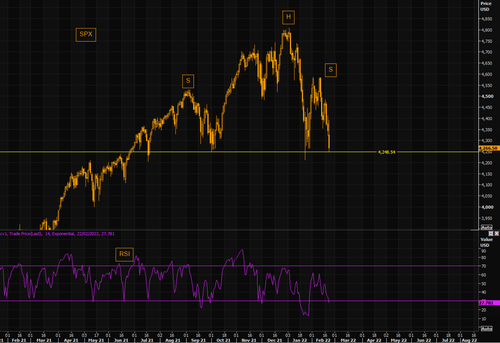 VIX futures reached an overnight high of 32.02 before settling back on the "good news."  Today's expiring options are long above 25.00 and long gamma kicks in at 30.00.  Once the VIX clears the previous high at 32.04, it may be unstoppable.  The Cycles Model calls for a Master Cycle high on March 14, 10 days beyond the Possible March 4 Master Cycle low in the SPX.  Considering that the Master Cycle low in the NYSE Hi-Lo Index is proposed on March 16, I would venture that the SPX (extended)low may be closer to mid-March, as well.
TNX bounced after a low of 19.18 last Friday, day 252 of its Master Cycle.  The Cycles Model suggests a Master Cycle low on Thursday and the Elliott Wave guidelines suggest a low near 18.00 at this time.  I had suggested earlier that TNX may decline to the Lip of the Cup with Handle.  It is still possible, but time is running out on this Cycle.  Depending on how fast it rises, the 50-day Moving Average ma be an appropriate target.
USD futures rose to 96.24 before easing back near Friday's close.  The Cycles MOdel indicates the uptrend may continue through late March.  A 61.8% retracement of the 2020 decline gives a probable target of 98.30.
Gold futures made an overnight high of 1918.30, just shy of the 1919.20 made last June 1.  Today is day 266 of the current Master Cycle, so despite the week-long extension, gold has not been able to make a new high.  This does not bode well for the precious metal.  Despite the fact that gold reacts positively to political crises, liquidity may soon run out.
WTIC futures appear to be correcting an impulsive decline beneath its Cycle Top at 90.04.  The Cycles Model suggests it may raise though the end of the week, but not to new highs.  Instead, we may see a decline to the week of March 21.   While the reversal from the trendline high gave us an aggressive sell signal, the re-crossing of the Cycle Top confirms the sell signal.  The fundamentals say  "higher prices," but the Cycles suggest that smart money may be making its exit.
ZeroHedge comments, "As Bloomberg's Jake Lloyd-Smith wrote last night, oil markets are so bullish at present that forecasts for $100/bbl crude have become par for the course, which suggests that the threshold will be tested in 1H, "even if tensions over Ukraine cool," which now appears improbably and is why $100 oil may come as soon as tomorrow.
As the BBG reporter notes, "the three-digit-barrel forecast surfaced at least a year ago and used to turn heads given it was bold, and prices were way, way lower back then. It's founded principally on the case that energy consumption returning to normal as the pandemic ebbs will underpin gains".
Goldman Sachs added its voice to the chorus not so long ago, when its chief commodity strategist and one of the closest-followed analysts on Wall Street, said he's never seen commodity markets pricing in the shortages they are right now."