7:55 am
NDX futures reached an overnight high of 14397.50 in a possible attempt to rise above the negative gamma beginning at 14400.00.  While NDX options are sparse due to the price, the QQQs (closing price $344.57) are a different story.  Tomorrow's options expiration start with a massive put position at 350.00 and large positions every 5 points down to 300.00.  The inference here is that, should a short gamma panic ensue, the NDX may decline as far as 12000.00.
ZeroHedge reports, "After a rollercoaster overnight session, which saw S&P futures tumble as much as 2%, dropping as low as 4,260 following Powell's hawkish comments, futures have recovered and briefly traded in the green while European stocks are still red though trading near session highs as traders spooked by the Fed's comments started digging for bargains. At 7:20am ET (incredibly illiquid) emini S&P futures were flat at 4,341, Dow futures were up 0.1% or 36 points and Nasdaq futures swung the most and after dropping as much as 2.2% turned green some 0.5% higher or 75 points after Bill Ackman revealed late on Wednesday he had purchased 3.1 million Netflix shares.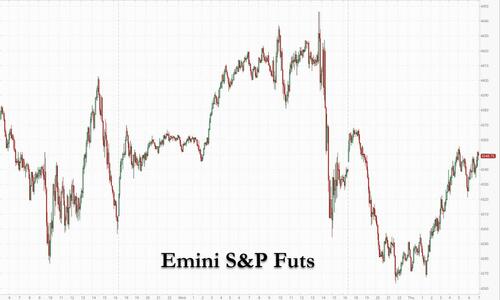 SPX futures rose as high as 4376.00 in early morning trading.  Overhead resistance is at 4400.00.  In tomorrow's options expiration, Max Pain is at 4415.00, while options gamma turns short at 4360.00.  This market is still ruled by the options market and the slightest accident may set off a chain reaction decline.  The SPX turns positive above yesterday's high at 4453.23.
VIX futures remained range-bound inside yesterday's trading range in the overnight session.  The Feb 2 options expiration shows calls dominating at 25.00 and above, while gamma turns positive at 27.00.  The bias is to go higher and positive gamma may propel it to 60.00.
CityIndex observes, "Stock markets have been volatile since the start of the year and it doesn't appear to be letting up anytime soon.  There are 3 ongoing issues that are primarily causing the volatility in the markets.  They are as follows:
The end of monetary policy easing and the ensuing interest rate hikes.Most major central banks have their first meetings of the year within the next 2 weeks
The ongoing drama surrounding Russia's buildup of troops on the border of Ukraine (presumably getting ready to invade)
Earnings season and forward guidance. NFLX did little to inspire confidence last week as they said they only see 2.5 million new net subscribers in Q1 vs analyst's average estimate of 5.8 million. Could this be the beginning of the end for "Stay-at-Home" stocks?
TNX is hesitant after bursting above Cycle Top resistance at 17.99.  It may retest the Cycle Top before moving higher, as trending strength improves next week.
ZeroHedge observes, "With attention increasingly turning to how fast the economic slowdown will hit the US economy in 2022, growth cheerleaders will have a favorable, if brief, diversion today courtesy of the Bureau of Economic Analysis which moments ago revealed that in Q4, US GDP grew at a remarkable 6.9% annualized Q/Q clip, nearly three times faster than the 2.3% growth recorded in Q3 and well above the 5.5% expectation, even if the components of GDP are an ominous confirmation that the US is engaging in aggressive restocking which could soon lead to a deflationary liquidation wave.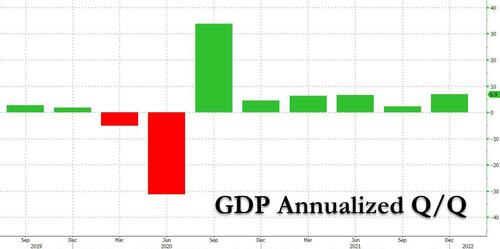 USD futures continued their rise this morning to a morning high of 97.26.  The Cycles Model suggests that USD may rise in strength until the second week of February.  The potential target may be 98.30, the 61.8% Fibonacci retracement of the 2020 decline.