4:1o pm
ZeroHedge examines the entrails…
4:05 pm
How do the dealers do it???  The VIX closed at 31.16, neatly at its Max Pain expiration between 30.00 and 32.50.  SPX closed just 10 points beneath its "logjam" of puts…a potential  $80 million loss cut by three quarters.
SPX just crossed beneath the short-gamma line where there are 20,630 put contracts for tonight's expiration.  This may be bigger than Monday.
2:32 pm
TNX vaulted above the Cycle Top resistance at 17.95.  This is starting to get serious.
ZeroHedge remarks, "Since the last FOMC meeting, on December 15th, Gold is the lone asset-class that is higher while bonds and stocks have been monkey-hammered and the dollar is weaker…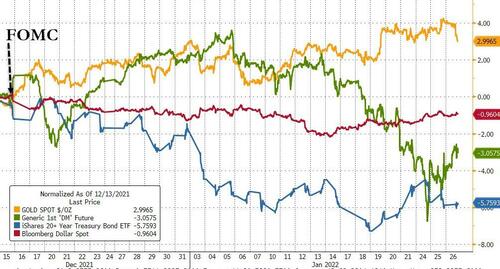 Source: Bloomberg
All US equity markets are lower since the last Fed meeting with Tech/hyper-growth hammered and all the bubble-markets blowing up.
Financial Conditions have tightened significantly since the last Fed meeting (after easing dramatically into the Santa Claus rally)…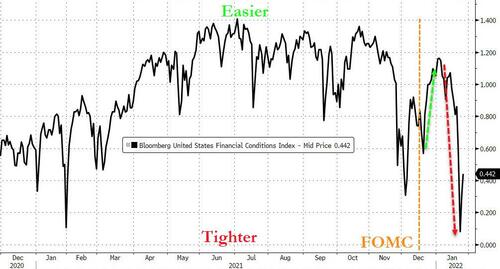 1:45 pm
BKX has bounced from its trading channel trendline and made a 45% retracement of its decline from the peak made on January 13.  The retracement was resisted by the 50–day Moving Average at 136.14 and creates a potential confirmed sell signal.  The current Master Cycle may last through mid-February.  However, there may be another Master Cycle ending in late March that shows us the bottom of the coming decline.
ZeroHedge remarks, "While traders are mostly focused on what the Fed will say about the coming rate liftoff, with markets today expecting just over 4 rate hikes by the end of 2022…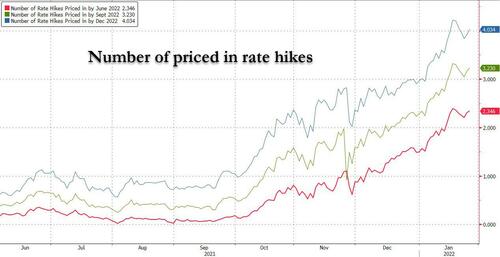 … a much more relevant question is what the Fed's balance sheet runoff – i.e., Quantitative Tightening (QT) – will look like both strategically and tactically.
As a reminder, two weeks ago Deutsche Bank predicted some $3 trillion in balance sheet normalization as the Fed undoes the emergency actions from the covid crisis which doubled the Fed's asset holdings from 20% to almost 40% of GDP.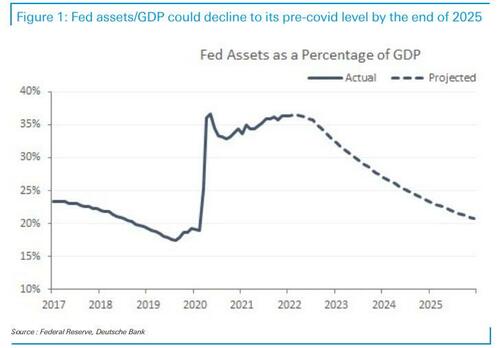 1:27 pm
The DJIA is challenging its perch above the trendline of the 40-month old Orthodox Broadening Top.  This is a very serious support near 34400.00.  Should it close beneath this level at the end of the month, it would be considered a monthly bearish reversal and have some serious long-term implications for equities.
9:45 am
NDX was turned away at 4th Wave resistance at 14500.00.  It is well beneath the 200-day Moving Average at 15010.00.  Should the decline continue, the minimal target may be beneath 13000.00.  The Cyclical Model suggests it may go as low as 12200.00.
8:35 am
Good Morning!
SPX futures rose overnight to 4431.40.  There is a rule of thumb that Wave 4 may not rise above the top of Wave [iv] near 4500.00.  Should the bounce go higher, we may have to review the Wave pattern.  The daily Cycles Model tells us today is day 259.  However, the hourly Cycles Model allows 2.5 more days to play out the decline.  There are possibly 2 more hours in this hourly segment to complete the bounce.
Todays options expiration show negative gamma beginning at 4360.00, so the dealers and hedge funds have an incentive to stay above that level.  The distribution of calls vs puts is pretty even to 4400.00, although I cannot presume to say where gamma turns positive, since the positions are light, compared to last week.  The NYSE Hi-Lo Index closed at -141.00.
ZeroHedge reports, "Yesterday, after Microsoft stock initially slumped despite beating across the board as the skeptical market latched on to even the smallest weakness to hammer the stock, dragging down both the Nasdaq and S&P futures close to session lows, we said that the reaction was premature and would reverse, as the earnings release did not include guidance and would promptly reverse once the company revealed its cloud guidance in its conference call a little over an hour later. Well, that's precisely what happened and after first tumbling as much as 5% after hours, the 2nd largest US company (MSFT has $2.2 trillion in market cap) reversed all losses and is now trading solidly in the green, sparking broader tech momentum, lifting the Nasdaq as much as 2.1% this morning and (briefly) helping traders forget that today at 2pm the Fed is expected to unveil a March rate hike and balance sheet runoff a few months later.
Indeed, contracts on the Nasdaq 100 led broad-based gains – which would have been gaping losses had MSFT failed to reverse late on Tuesday – as U.S. stock futures rallied, with investors bracing for the Federal Reserve's decision and preparing for a slew of earnings from companies including Tesla, Intel and Boeing. Nasdaq 100 futures jumped as much as 2.1% while S&P 500 and Dow Jones futures also rallied. The VIX fell from a one-year high, snapping six days of gains. Elsewhere, the Stoxx Europe 600 rose 2% in the biggest jump in seven weeks. 10Y TSY yields rose to 1.79% with the Fed's policy announcement in the limelight; the dollar was slightly higher, as was Bitcoin while Brent oil traded just shy of $90 on its way to triple digits."
VIX futures dipped to a low of 28.14 this morning.  Should VIX move back above the neckline, we may see it reach a high of 60.00.  The reason is that no one is expecting it, so this is the point where panic begins.  What analysts fail to recognize is the breakout of the VIX is a signal for more (higher) to come.
ZeroHedge calmly advises, "(interim) peak FED fear
Yes, the recent sell-off is very FED related and the uncertainties for how QT will be received are enormous and will not go away over-night. But we also know the "Miss Market's" fantastic ability to quickly switch her view from "glass half empty" to "glass half full". There are many signs out there that show that we have sold off too hard, that volatility is too high and maybe the meeting (without FED basically saying anything new) will be the improbable catalyst that will serve as a slightly more risk-on green-light for a few sessions."
(There are many hoping they are right!)
TNX is consolidating just beneath the Cycle Top resistance at 17.92.  It may continue that sideways motion through the end of the week, as trending strength comes back next week.  However, there's no telling what the Fed will announce, so stay tuned for some possible fireworks above 18.00.
ZeroHedge remarks, "Pre-FOMC drift" – but this time, thanks to a massive "kick-save" from Microsoft guidance which turned the entirety of global risk-assets from cratering lower in the after-hours trade last night to now, spasming higher into Fed later today (NQ +4.4% low to high) and with still substantial "short Gamma vs spot" out there for Dealer hedging purposes, as well as sharply "netted-down" exposure from Fundemental investors and outright "shorts" in CTA Trend….while conversely, we currently see a quiet Rates trade (we did see a buyer FVH2 in 5k / $254k / 01 of UST belly, as well as UPSIDE protection against a "dovish surprise," e.g. FVH2 120C ppr pays 14-1.5 on 4k…although later see more of the same "momentum" reloading back into large downside FVH2 119.5 / 119 PS ppr pays 13.5 on 25k…and also a fairly largly "buy" of ED$ May Put Fly)
However, the meat of the note today into the FOMC will touch-upon the "potential" that a "no hawkish surprise" or even "dovish hawk" Fed commentary (vs well-managed expectations) in-and-of-itself could see some of that recent "downside Crash" hedge buying get unwound, which then could set-off a +++ "virtuous feedback loop" spiral from Vol –space into the Equities –space, where exposure has been netted-down with violence on the fundamental / discretionary side, is at a historically "low" allocation from the Vol Control side, and of course is outright "Short" on CTA Trend."