11:00 am
VIX may be making a shallower retracement than normal.  We may be seeing a reversal higher in the next hour or so.  The next VIX options expiration is Wednesday, January 26.  VIX guy may be right this time.
ZeroHedge comments, "VIX guy just called us…
Regular readers of TME are familiar with the "VIX guy". He is our contra indicator when it comes to VIX as well as short term market directions. Let us remind you of what we wrote about his latest VIX call on Dec 31: "…his latest logic is basically the inverse of what he said in late November. He has also managed picking up the January effect logic and argues for this market to remain trending higher with diminishing volatility. We did not plan to get excited on the last day of the year, but given his perfect track record, executing the first part of the planned long volatility trade suddenly seems like a good idea." We suggested to look at hedges and pointed out: "…exploring put spreads as a hedge (skew is high)."
This was only twenty days ago and since then a lot of things have changed. The VIX guy called us today outlining his bearish thesis and is basically telling us VIX must go higher: "have you seen the pricing of the rate hikes, tech is going much lower bro, Fed is behind the curve, ARKK is crashing etc". Given his perfect track record (inversely speaking), we find closing out those put spreads and any long vol trades very attractive (would even consider shorting some vols to fit direction trades).
10:50 am
SPX has hit its round number resistance at 4600.00 and an important hourly pivot.  We may see a reversal here that takes SPX down for the next two days.  Good Luck and good trading.
8:45 am
Good Morning!
I apologize for the delay.  The website server went down this morning and has just been restored.
NDX futures declined to 15010.00 this morning, just above the 200-day Moving Average at 14995.00.  The bounce has taken it over 15200.00.  Natural resistance lies at 15382.00 and the 38.2% Fibonacci retracement is at 15444.00.  The Cycles Model suggests a sort retracement this morning with a resumption of the decline by this afternoon.  The NASDAQ Hi-Lo Index closed at -731.00.  Those going short late in the day may be forced to cover.
SPX futures declined to 4523.50 before bouncing.  Straight line support lies at 4531.10 and may form the neckline of a Head & Shoulders formation.  The minimum H&S target appears to be 4242.00.  This may be in line with the Cycle Bottom at 4077.97 which often provides support for the bounce of a Wave (1).  The Cycles Model suggests that target range may be met by the close on Friday.  The Master Cycle may not be complete until later next week.
The NYSE Hi-Lo Index closed at -262.00.  That suggests short covering may be the impetus for the bounce.  Natural resistance for the bounce lies at the 100-day Moving Average at 4577.00 and round number resistance at 4600.00.  The 38.2% Fib retracement is at 4631.00.
ZeroHedge reports, "Whereas the stock plunge on Tuesday could be blamed on surging rates, the repeat tumble on Wednesday took place as Treasury yields dropped sharply, so with markets at a loss how to read rate signals, so far this morning S&P e-mini futures have rebounded by 23 points ot 0.5% from yesterday's low just above 4,500 – a key support level according to JPMorgan – as volatility eased and global bond yields appear to have stabilize for now, and hours after China's latest easing measure when Beijing lowered mortgage lending benchmark rates on Thursday as monetary authorities step up efforts to prop up the slowing economy. 10Y Treasuries rose from session lows, last trading at 1.84%, European stocks fluctuated as the dollar index was little changed and crude oil slipped after a three-day rally as gold held around a two-month high."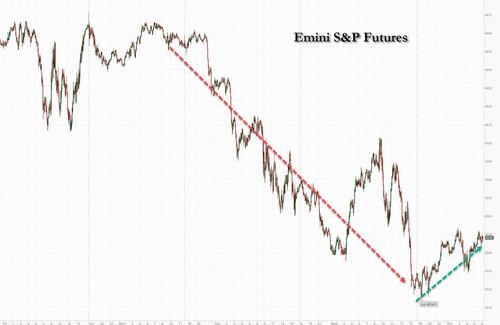 VIX futures declined to a low of 22.83 in the overnight session after testing the Cycle Top resistance at 24.53 yesterday.  The VIX may retest its 50-day Moving Average today, but should be higher by the end of the day.  Yesterday's monthly options expiration took much of the downward pressure from the VIX as short gamma resided beneath 22.00 in spades.  Long gamma takes over at 25.00 and above, with a self-reinforcing drive higher that may  surprise the experts.
TNX sits at the bottom of its two day trading range, unlikely to fill  the gap beneath it.  The Cycles Model suggests that trending strength returns by tomorrow and may heighten over the weekend.
ZeroHedge reports, "After a furious rout in bonds, rates traders were carefully looking at today's 20Y auction to see if the recent blowout in yields meant less demand for US paper at auction, or inversely, if the drop in prices had sparked a hunt for bargains. And if the 20 year reopening auction which just closed with the sale of $20BN in 19-year 10-month cusip TC2 is any indication, the answer is resoundingly the latter.
While yields had dropped sharply on the day (granted after yesterday's surge), some were worried that the lack of a concession would lead to a tail in today's sale. However, not only did that not happen, but the auction – which priced at a high yield of 2.210% – stopped through the When Issued 2.225% by 1.5bps, the second biggest stop through since June 2021. That said, with a yield some 27bps above the December auction, today's auction cleared at the highest yield since June.
The bid to cover was solid, and while it was below last month's stellar 2.59, at 2.48 it was well above the six-auction average of 2.39%."