7:30 am
NDX futures continued to rise after closing but peaked at 15745.90 at 5:30 pm as options were settled.  The Max Pain zone for Wednesday is 15650.00 while gamma turns positive at 15700.00.  However, at its peak retracement, NDX only retraced 40.8% of its decline.  The NDX is pivoting on 5-day Cycles (34.4 hours) and may reach its second Cyclical pivot this morning in the cash market.
The NDX Hi-Lo Index shows the internal weakness as the negative close merely shows the bounce was due to short covering in stocks that are already deeply in the red. This is not a sign of recovery, since new 52-week lows were being made.
SPX futures bounced to a retracement high of 4697.10, jut shy of the 50% Fibonacci retracement value at 4699.35 after closing at the 38.2% Fib value at 4671.28 on Monday.  It was also able to neutralize the lion's share of Monday's negative gamma starting at 4700.00.  It peaked 5 days later than the NDX, but now shares the second 5-day (34.4 hour) Cycle due to end this morning.  The Cycles Model calls for a Master Cycle pivot (low) on or around January 28.
ZeroHedge reports, "After yesterday's miraculous tech recovery which saw gigacaps drop as much as 4% before recovering all losses and closing green, Nasdaq futures led gains among U.S. stock-index futures, hinting at further relief for technology stocks as Treasury yields retreated in early trading but have since steadied around 1.75%, unchanged from Monday. Nasdaq futures rose as much as 0.7%, while S&P 500 and Dow Jones contracts were also higher by about 0.4% ahead of Powell's Senate confirmation hearing for second term as Fed chair which begins at 10am and where the Fed chair is expected to put on a dovish mask and walk back some of the recent hawkish commentary.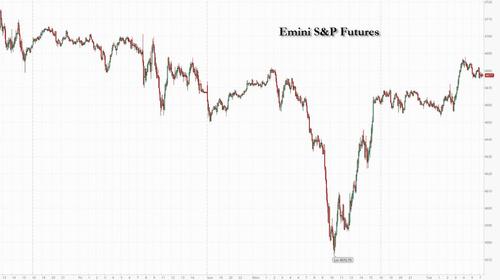 Dip-buyers rescued the Nasdaq from a fifth session of declines on Monday after Marko Kolanovic urged JPM clients to buy the dip, writing that yields aren't too high and the Fed's won't derail the economy's rebound. "We view the recent equity volatility as an adjustment to the Fed's incrementally more hawkish stance, rather than a sign that the Fed is about to bring the recovery and the equity rally abruptly to an end," Mark Haefele, chief investment officer at UBS Global Wealth Management, said in a note. "We now expect three Fed rate hikes this year, starting as soon as March."
The NYS Hi-Lo Index fell while the SPX bounced, showing that short covering was the greater (maybe the only) impetus to the bounce.
TNX futures pulled back to 17.37 early this morning, challenging the Cycle Top support at 17.55.  It may pull back as far as the Lip of the Cup with Handle at 16.93, but a triple dose of strength is due for the remainder of the week and may last about two weeks.  Be prepared for some fireworks to come out of the Fed meeting tomorrow.  In the meantime, pundits are downplaying the rate hikes.
ZeroHedge opines, " The Fed FOMC minutes came out last week, signaling tighter monetary policy. Peter Schiff talked about the minutes in his podcast, arguing that the Fed can't do what it says it's going to do. If it does, it will crash the markets and the economy. And it won't lower inflation.
The Fed minutes were widely viewed as even more hawkish than the messaging coming out of the December meeting. Peter said the minutes even surprised him a bit. But he reminded us that when he's talking about a "hawkish" Fed, he's not really talking about hawks.
They're extinct. They may as well be the dodo bird at the Federal Reserve. Everybody is a dove. We're just talking about degrees of dovishness. And so, the Fed was less dovish than the markets had expected."