7:50 am
Good Morning!
SPX futures rose to an overnight high of 4689.60 before settling down somewhat near 485.00.  SPX may have completed its first impulsive decline from the top at the close and is now in a corrective phase.  The 61.8% Fibonacci retracement is at 4690.00, but keep in mind that a Wave two may retrace up to the entire decline of Wave one.  Those that have opted out of their short positions may consider re-shorting at or near the 61.8% level.  Of course, the "safer" option may be to wait until SPX re-crosses its support at 4665.00-4675.00.
9:00 am:  The Cycles Model suggests this morning may be the end of a 4.3 day rally off last Friday's low.  We'll know more in the first two hours of trading today.  Could we see a new high?
Viewing the options market, 4685.00 to 4725.00 appears to be the gamma neutral zone, while there is a plethora of open interest in puts (59,375) vs a lack of interest in calls (7358) between 4670.00 and 4685.00.  Market makers and hedge funds have a keen financial interest in keeping the SPX above 4685.00 today.  A slip here would create a self-reinforcing decline into next week and beyond.
ZeroHedge reports, "US futures rebounded on Friday from Thursday's selloff as traders waited with bated breath for an inflation report that could strengthen the case for an aggressive policy tightening by the Federal Reserve, while Oracle Corp jumped on an upbeat third-quarter outlook. At 730 a.m. ET, Dow e-minis were up 109 points, or 0.30%, S&P 500 e-minis were up 16.25 points, or 0.35%, and Nasdaq 100 e-minis were up 53.50 points, or 0.4%. Europe's Stoxx 600 Index pared an earlier decline, while a Bloomberg gauge of Asian airlines fell. In China, Evergrande chairman Hui Ka Yan sold just over a 2% stake in the company, in the same week the property developer was officially labeled a defaulter for the first time. The dollar, Treasury yields and oil advanced."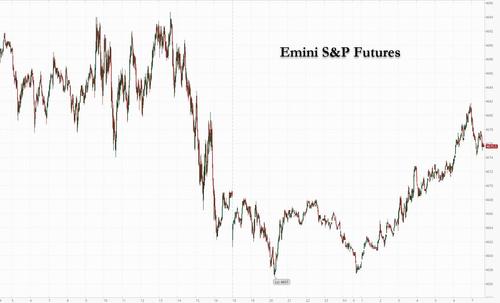 VIX futures declined to an overnight low of 20.54 in what appears to be a consolidation inside yesterday's trading range.  Wednesday's low may be considered a half Trading Cycle low.  That trading Cycle completes at the Master Cycle interval in the last week of December.
Investing opines, "I am flabbergasted at the collapse of the fear index. In the span of just a few days, it was crushed to almost half its level, collapsing from the mid-30s back into the teens.
We see plainly that buy the dip rules the human mind. My view is that this will be recognized as an error in judgment. I hate to put so much weight on one report, but I again point to tomorrow morning's CPI data as a potential inflection point."
The NYSE Hi-Lo Index closed at -4.00 yesterday, giving investors a sell signal.  That, with the VIX above the 50-day Moving Average, is a reliable indicator of a pending reversal in equities.  Of course, we will watch the index today, which may open positive due to last night's correction.  Staying beneath yesterday's high at 30.00 may be a neutral reading, at worst.
TNX is rising above mid-Cycle support at 14.84.  Today begins a period of high trending strength in the Cycles Model.  There is a strong likelihood of a breakout above the 50-day Moving Average at 15.48.  That trend may last through the third week of February.
ZeroHedge announced, "Having surged faster than expected in 7 of the last 8 months, all eyes are on this morning's Consumer Price Index as this is the last big release ahead of next Wednesday's Federal Reserve decision, where Deutsche Bank economists (among many others) are expecting they'll double the pace of tapering. Chair Powell himself reinforced those expectations in recent testimony, stopping just shy of unilaterally announcing the faster taper. Crucially, he noted this CPI print and the evolution of the virus were potential roadblocks to a faster taper next week.
And sure enough, CPI printed +6.8% YoY – right as expected and the fastest rate of increase since 1982…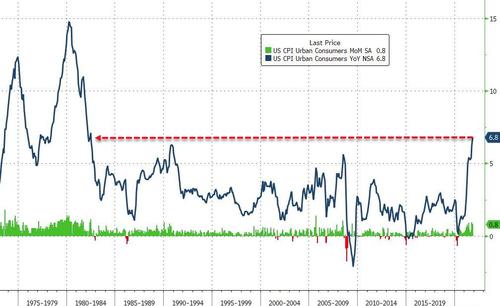 USD futures declined to 96.10 this morning, testing the Cycle Top support at 96.08.  We may see the uptrend continue as resumes its rally into next week.