2:47 pm
TNX rose to 15.37 this morning until short covering came in before the 10-year Treasury auction.  The Cycles Model shows strength of trend continuing through the weekend, suggesting TNX may breakout above the 50-day Moving Average at 15.9 in the next few days.
ZeroHedge remarks, "Similar to yesterday's 3Y TSY action, the 10Y note was trading special in repo overnight ahead of today's $36BN auction.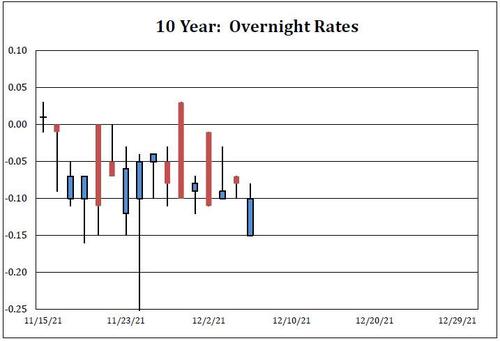 However, unlike yesterday's 3Y auction, which stopped through generously, today's 10Y auction did not do as expected and tailed modestly, as yields dropping sharply seconds after our tweet…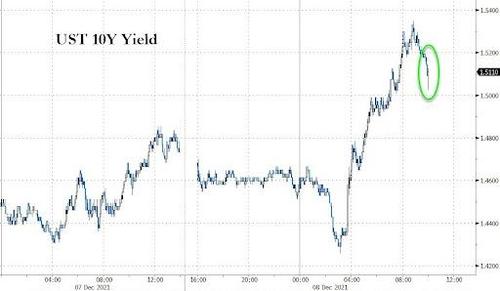 … expecting a big stop through did not help."
10:00 am
Good Morning!
SPX futures may have taken another stab at the resistance at 4700.00 this morning, altering the structure of the correction.  Corrective moves are often hard to follow, since they can morph into different structures.  There is still a chance of attempting to overcome round number resistance as it completes its course.  The next hourly Cyclical interval is due shortly, so we may not have long to wait.  Should it do so, a new high may be in the offing.
ZeroHedge reports, "Much of the overnight session was a snooze fest with stocks drifting first higher then lower after surging on Tuesday, as the narrative meandered from "omicron fears ease" optimism to "vaccines won't work" pessimism, before futures took a sudden leg lower, dropping into the red just after 530am ET, following news that UK's Boris Johnson would introduce new restrictions in England to curb Omicron spread, sparking fears that Omicron is more dangerous that expected (and than futures reflected). However, this episode of pessimism proved short-lived because just an hour later, the WSJ confirmed that Omicron is really just a pitch for covid booster shots when it reported that even though the covid vaccine loses significant effectiveness against Omicron in an early study, this is miraculously reversed with a booster shot as three doses of the vaccine were able to neutralize the variant in an initial laboratory study, and the companies said two doses may still protect against severe disease.
Futures quickly shot up on the news, spiking above the gamma "all clear" level of 4,700 in a move best summarized with the following chart."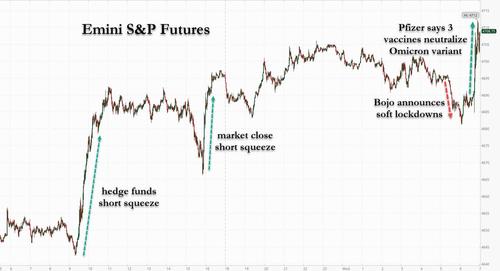 VIX has made a 68% retracement of Wave 1.  Its Cycle matches that of the SPX, so a turn may be imminent.  The open gap poses an obstacle for traders who anticipate the VIX declining further.  However, the VIX remains on a buy signal.  A reversal (higher) here may be very chaotic.
The NYSE Hi-Lo Index closed above its 50-day Moving Average yesterday and continues to trade in that area this morning.  This may be a buy signal, but not one we can put a lot of confidence in.
TNX is trading above its mid-Cycle support at 14.87.  The Cycles Model puts TNX on a buy signal to the third week of February.  It suggests that TNX may be well over 20.00 by then.  In fact, the weekly charts show the next major resistance near 33.00.  In the meantime, rising rates pout more pressure on equities.
ZeroHedge reports, "Update (2010ET): Senate Minority Leader Mitch McConnell (R-KY) is hitting friction within his own party over Tuesday's debt deal announcement – which would essentially hand Democrats a blank check to continue raising the debt ceiling in exchange for 'owning' whatever negative effects it may have.
"There are always very diverse points of view within our conference on these types of issues," said Sen. John Thune (R-SD), the #2 Senate Republican.
Republicans were describing the measure Tuesday as setting up a one-time exception to the filibuster. Though a GOP aide noted that the Senate routinely has a fast-track process for other issues like arms sales and trade deals, the debt agreement was drawing criticism from conservatives who don't want to lift a finger to help Democrats extend the nation's borrowing limit. –The Hill."
USD futures have pulled back to the Cycle Top support at 95.97 this morning as prepares for the next move higher.  The Cycles Model suggests the uptrend may last to the second week of January.