10:55 am
SPX has spent 10 hours in the short squeeze rally instead of the 8.6 that I had proposed.  The reason is that the structure of the rally is an A-B-C correction, which generally does not follow Cycle structure as closely.  However, it has its own structure.  C equals A near 4700.00.  That, plus round number resistance, may put an end to the squeeze.  You can see that most investors and hedge funds wend short between 4675.00 and 4700.00.  f this is indeed a squeeze, the rally may run out of steam imminently.
ZeroHedge observes, "The massive short-squeeze continues with "Most Shorted" stocks now up almost 9% from yesterday's post-open plunge lows…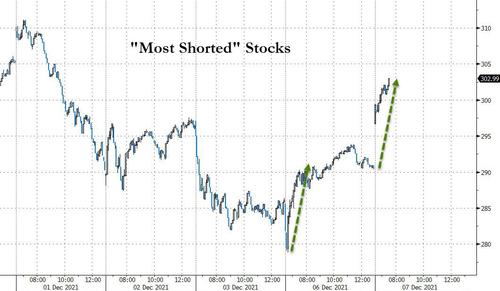 Source: Bloomberg
That sparked a near-vertical ramp at the cash open today…"
8:45 am
SPX futures rose to an overnight high of 4657.90, just above the 61.8% Fibonacci level of 4648.82 and a complete retracement of Minor Wave C.  The Wave C of (B) rally may take 8.6 hours should it complete in the first hour of the morning after an 8.6 day decline from the top.  The overlapping Waves gave away the structure, although Leading Diagonal first waves may also overlap.
ZeroHedge reports, "U.S. index futures rallied, led by gains for Nasdaq 100 contracts, amid waning omicron worries and a booster shot of Chinese stimulus lifted world stock markets and oil on Tuesday and left traders offloading safe-haven currencies and bonds for the second day in a row. Emini S&P futures were up 61 point to 4,650.75 or about 120 points higher then where Gartman said "stocks are headed lower" some 24 hours ago. Nasdaq futures were up 1.8% and Dow futures rose 1% in premarket trading. In fact, futures are now just 50 points away from where they were below the Black Friday Omicron panic plunge."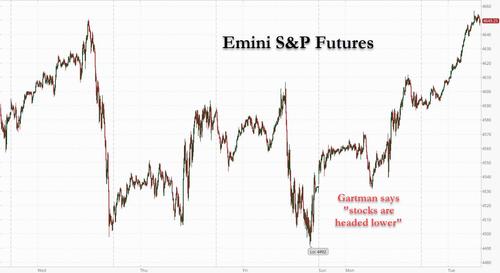 VIX futures declined to a low of 23.49 this morning, very near the 50% retracement level at 25.03.  A possible further retracement may be to the 61.8% Fib level at 22.60.  Note that the gap may remain unfilled.
ZeroHedge remarks, "When looking at the latest Goldman Prime Broker data, our collective jaws fell to the floor: while perhaps not a huge surprise, Goldman writes that the last two weeks saw that "largest 10-day net selling in US equities since Apr '20 led by Macro Products as well as Info Tech/Consumer Disc stocks" with the bank elaborating that "North America and to a lesser extent EM regions were the most net sold, while DM Asia was net bought driven by short covers."
But what was stunning was Goldman's drilldown into the flow, where GS Prime found that the selling of US stocks – which made up more than 85% of the global $ net selling (-1.4 SDs) – was driven almost entirely by short sales and to a lesser extent long sales (9 to 1)."
The NYSE Hi-Lo closed above its Cycle Bottom support/resistance  at -116.00.  The Hi-Lo may open positive this morning, but there is no confirmation of a rally in the SPX or the VIX.
TNX opened higher this morning, having crossed above the 100-day Moving Average at 14.23 yesterday.  It may have made a buy signal and appears to confirm the early (day 247) Master Cycle low made on Friday.  Confirmation of the buy signal comes above the mid-Cycle resistance at 14.98.
USD futures rose to 96.59 this mornig, approaching a breakout above the prior peak.  The Wave structure is complex and the Cycles Model suggests a continued uptrend through mid-January.