11:42 am
SPX fell beneath Intermediate-term support at 4599.82 and is back-testing that support/resistance area.  Nearby higher resistance is at 4620.00 -4625.00.  Should the SPX fail to exceed that level, the decline may resume shortly.   VIX is still beneath the neckline at 28.79.  However, the NYSE Hi-Lo has fallen to -118.00, a new low.
ZeroHedge adds commentary, "It's pretty clear that markets are not having a good day today, and all else equal, it's likely they will only get worse for the simple fact that gamma is now broadly negative, and more put buying (and selling) will lead to more selling (and put buying).
As our friends at SpotGamma note, for those looking at market support (and resistance), the main levels remain similar to that of Wednesday: support at 4600 and resistance at that 4650 area which is also the gamma flip point. The bulk of positive gamma is positioned up into the 4675-4700 which is where we see major resistance. As gamma is negative we anticipate large directional swings in todays shortened session."
See you on Monday.
10:50 am
Welcome to "Red Friday."  I had expected this move on Monday, not today, due to light after-holiday trading.
ZeroHedge reports, "The Friday after thanksgiving is called black Friday because that's when retailers finally turn profitable for the year. Not so much for market, however, because this morning it's red as far as the eye can see. The culprit: the same one we discussed late last night – the emergence of a new coronavirus strain detected in South Africa, known as B.1.1.529, which reportedly carries an "extremely high number" of mutations and is "clearly very different" from previous incarnations, which may drive further waves of disease by evading the body's defenses according to South African scientists, and soon, Anthony Fauci."
VIX made nearly a 51% spike this morning on the news of the Nu Covid variant.  It appears that the Head & Shoulders neckline may be the next target to fall.  Note that, should the neckline be exceeded, a more likely target may be 48.00-50.00.
ZeroHedge warns, "
Welcome to pure panic
We haven't seen Eurostoxx 50 "VIX", V2X, spike by almost 50% in a long time. This is pure panic. Having much view on volatility here is naive, but if you ever felt like buying when there is blood on the streets, this could be one of those days…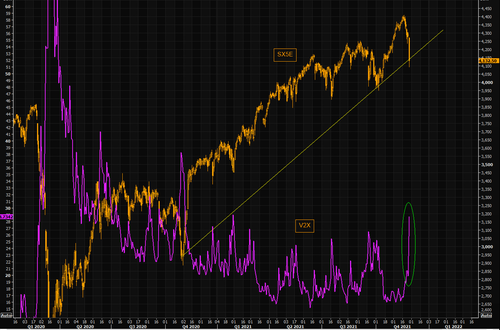 Source: Refinitiv
VIXplosion
Haven't seen VIX up by almost 50% in a long time. The situation remains extremely fluid. For now it looks like the big bond guys were right."
The NYSE Hi-Lo Index may be on its way to a new low today, even on shortened trading hours.
BKX sliced through its 50-day Moving Average at 136.30, confirming its sell signal.
ZeroHedge interviews the bankers, ""Black Friday" has quickly mutated into red Friday for markets, where panicking traders sell first and only ask questions later if at all. So for those who are too pressed for time to read out primer on the "Scared Nu World", but want to catch up to speed on consensus, here is a snapshot of analyst kneejrek reactions to the market's latest obsession."
WTIC futures, which had back-tested the 50-day Moving Average on Wednesday to confirm its sell signal, plunged below 70.00 this morning.
ZeroHedge observes, "The emergence of 'nu' has sparked demand anxiety in the crude complex and oil prices are collapsing.
WTI is down 12% testing below a $70 handle, the lowest in almost months as the smell of liquidation is in the air….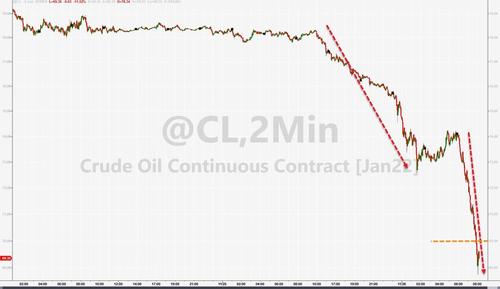 That is the biggest single-day drop since the day WTI traded in negative territory and is near 3 month low, and has broken a key technical level – the 200DMA…"