10:33 am
SPX is  in a tug-of-war between the bulls and the bears with the dealers attempting to keep it near Max Pain at 4685.00.  However, the Cycles Model implies a swift decline in the next week, which affords the least amount of pain and greatest profit for the dealers.   Stocks are approaching their next hourly turn by noon today.  A break of Short-term support at 4657.61 offers the 50-day Moving Average at 4495.55 as the next possible support, should a break take place.
8:15 am
Good Morning!
SPX futures rose to a morning high of 4692.40 before easing down.  The Max Pain zone in the SPX is between 4680.00 and 4685.00.  Index options for Wednesday and Friday are on the light side, suggesting little interest in puts or calls by institutions.  However, SPY (467.23) options are monstrous.  Max Pain in Wednesday's options is at 467.00 with an abundance of puts at 466.00 (and below) and calls at 468.00 (and above).  So at day 257 of the Master Cycle dealers are walking the tightrope to stay at a limited payout at options expiration.  Friday's options show Max Pain at 467.00 but with 20,000 net put contracts at 466.00 and 465.00 each.   There are 45,000 more put contractss than calls at 468.00, 17,000 more calls at 469.00 and an open interest at 101,802 calls and 34,597 puts at 470.00.  This is one for the record books.  A slip in either direction may engender massive losses.  Although tomorrow is day 258, it appears that the Master Cycle may not be completely over until the aftermath of options expiration is washed out early next week.
ZeroHedge reports, "US equity futures reversed earlier losses, trading slightly in the green, while bonds were lifted as traders awaited a decision from the White House on who the next Federal Reserve head will be amid speculation Fed policy tightening could be slowed down under Elizabeth Warren's favorite progressive, Lael Brainard. At 730am, S&P futures were up 1.75 of 0.04%, Nasdaq futures were up 2.75 or 0.02% and Dow Jones futures traded 58 points higher or 0.161%. 10-year Treasury yield retreats back toward the 1.6% level after climbing for three days in a row; the dollar was flat and bitcoin tumbled, briefly sliding below $60,000 on no news, before reversing modestly."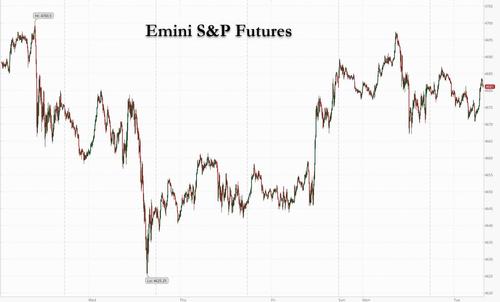 VIX futures consolidated inside yesterday's range in the overnight futures.  It has already made a 72% retracement and may be ready for a move up.  The VIX has the same Master Cycle as the SPX, so we may see a high in the next 2-6 days.
TNX is moving higher in what may be one of the strongest rallies of the year.  The Wave structure suggests a minimum move to 19/71, its next overhead resistance.  TNX has 10 weeks left in its current Master Cycle, giving it plent of time to accomplish its goal.
ZeroHedge comments, "For all the kerfuffle in the bond markets last week, valuations are still astronomical.
Last Wednesday, we had a double whammy in the U.S. with inflation soaring and an auction of 30-year bonds seeing the ugliest tail in a decade.
Those factors led to a scrum in rates, but like a flop Broadway musical, it seems to have been a short-run performance."
[ZH: yields extended today, with 30Y topping 2.00% and tagging stops on the FOMC Taper spike, before fading back below 2.00% into Asian trading.]