9:20 am
Good Morning!
SPX futures reached an overnight high of 4617.70, not wanting to giv up its perch near Monday's high.  Wednesday's options are very light, but bullish above 4595.00.  Options gamma may not influence the SPX as strongly until monthly options expiration in November.
As to the Cycles, it appears that the Master Cycle came early, on October 4.  I have been preoccupied with my mother's death and missed the signs of the early ending.  On Friday I mentioned that the door slams shut for the old Master Cycle.  Since a new high was made on Monday, I have to recognize that I missed the turn in early October, day 248.
The new Cycle has a possible termination date of November 17, two days before the monthly options expiration.  We may be anticipating a shallow low at that time.
ZeroHedge reports, "US futures and European bourses retreated slightly from record highs as investors weighed the ever worsening supply crunch and virus curbs in China against strong earnings with all eyes turning to the conclusion of the Fed's 2-day meeting tomorrow, when Powell will announce the launch of a $15BN/month taper. At 7:20 a.m. ET, Dow e-minis were up 7 points, or 0.02%, S&P 500 e-minis were down 0.50 points, or 0.01%, and Nasdaq 100 e-minis were down 28.75 points, or 0.18%. Iron-ore futures tumbled on shrinking steal output in China. Tesla led premarket losses in New York.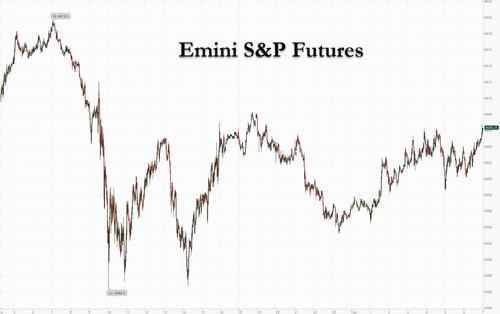 Investors paused to reflect on a rally that's taken U.S. and European stocks to record highs. With a post-pandemic supply crunch stoking inflation and pushing central banks to tighten monetary policy, they have begun to question valuations. Economic recovery is also under strain as countries from China to Bulgaria report rising Covid cases. Both the S&P 500 Index and the Dow have been scaling new peaks as U.S. companies post another stellar quarter for earnings. Of the 295 companies in the equity benchmark that have reported results, 87% have either met or surpassed estimates."