7:30 am
I will not be blogging on Monday, November 1.  I will be attending my mother's funeral.
Good Morning!
SPX futures came down to a morning low of 4567.50.  Today is day 275 in the Master Cycle, after which the door my be shut to new highs.  MAx Pain in today's expiring options appears to lie at 4575.00, so the dealers and hedge funds are doing their best to pay out the least.  In SPY (closed yesterday at 458.32) options, Max Pain appears to lie at 455.00.  Should SPY go beneath that level, a gamma storm may ensue.
ZeroHedge reports, "US equity futures fell along with European and Asian stocks on Friday after tech giants Amazon and Apple and Starbucks sank in premarket trading after their earnings missed expectations, signaling a possible drop of around $180 billion in combined market value when the U.S. reopens, while dizzying bond-market gyrations sparked by surprise central bank announcements amid concerns over inflation and monetary tightening left investors scrambling to guess what happens next. A failure by Biden and the Democrats to pass their massive Build Back Better stimulus package added to the bearish sentiment. At 7:15 a.m. ET, Dow e-minis were down 45 points, or 0.12%, S&P 500 e-minis were down 22 points, or 0.5%, and Nasdaq 100 e-minis were down 138 points, or 0.88%. 10Y yields rose 3bps to 1.61%; the dollar rose while bitcoin was flat at $61,000."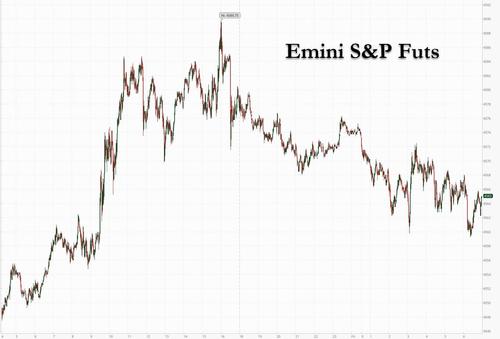 NDX futures sold off to a morning low at 15607.50 before a small bounce.  Yesterday's new all-time high in the NDX brought in more retail investors, confident of a never-ending bull market.  It doesn't appea that NDX will pull another rabbit out of the hat as the curtain closes for this Master Ccle.
Zerohedge observes, "With the bulk of the FAAMG stocks – which is now GAMMA following Facebook's rebranding to Meta – reporting solid results, investors were keenly looking to Amazon earnings, where the biggest question for Amazon is how sustainable are the growth trends that boosted its performance during the pandemic. The Internet giant was one of the biggest beneficiaries of shifts in consumer and business behavior last year while continuing to grab market share in cloud.
Many consumers flocked to buy things online as they wanted to avoid infection at physical stores, with the recent Delta wave scare likely providing a further boost to Amazon. Further, Amazon Web Services revenue soared on back of rising usage from Internet digital services – including remote-working software, videostreaming and gaming. But with the wider availability of vaccines and as employees start to return to physical offices, the risk is some of these trends may start to reverse. Investors will be also looking for any commentary on the future prospects for regulation and antitrust legislation.
That said, Amazon is lapping last year's blockbuster pandemic boost, and investors are aware it can't match last year's growth. Analyst estimate third-quarter sales growth of 16.3% to $112 billion – the high end of the company's own guidance for Q3 of $106-$112BN – less than half the pace of growth of the same period a year ago. While slowing growth is anticipated, 16.3% for a company the size of Amazon is still remarkable."
ZeroHedge further comments, "Moments after a very ugly quarter from Amazon, which missed on the top and bottom line and guided far lower than consensus, investors held on to hope that at least the world's largest company, Apple, would somehow pull a rabbit out of its magic hat of tricks and report solid earnings pulling the Nasdaq out of its after hours slump. Alas, it did not and after reporting a miss on the top line (and matching the EPS), AAPL is also tumbling after hours and dragging Nasdaq futures down with it.
Here are the ugly details from the just concluded Q4:
Rev. $83.36B, missing est. $84.69B, this was the first revenue miss since 2017!
EPS $1.24, matching est. $1.24″
VIX futures leaped to a new Cycle high at 18.06 this morning.  There is a triple resistance to overcome at 18.95.  Once accomplished, the VIX Model appears to have growing strength to mid-November where a potential Master Cycle high awaits.
Investing.com informs us, "I have been trading options and coaching / mentoring other new options traders for years. I have seen new traders who were lucky and ended up with some winning trades and others who were so frustrated and on the verge of giving up. I have seen it all. One of the things I have noticed is that very few people understand the CBOE Volatility Index, the fear gauge to the markets.
Many know that it is a measure of fear but they don't really understand what it is and how it is constructed. If you are an options trader, I would argue it is very important that you as a trader understand what the VIX is and how it works."
TNX futures soared to an overnight high at 16.17 before easing back at the open.  As mentioned earlier this week, TNX  is now in a period of strength.  This may kick off a new rally that may extend until November monthly options expiration.
Zerohedge remarks, "Ahead of today's sale of $62BN in 7Y paper, we tweeted that unlike this week's previous absolutely stellar 2Y and 5Y auction which were only superb because traders were short cash bonds heading into the auction and needed paper to satisfy their short obligations, today's auction was not at all special in repo suggesting the short overhang was far less which in turn meant that the auction would proceed purely on its fundamental, inflationary merits. I.e., it would be ugly.
We were right, and while it wasn't nearly as ugly as the infamous February 2021 7Y auction which sparked the March market swoon and the surge in yields, it was still far uglier than this week's previous coupon sales both of which stopped impressively through their When Issue,"
USD futures are higher this morning, testing Intermediate-term resistance at 93.66.  The Cycles Model calls for the next two weeks of rally with growing strength in Wave [iii], usually the strongest in the series of motive Waves.
ZeroHedge observes, "Americans' income was expected to drop modestly (-0.3% MoM) in September and, of course, spending rise (+0.6% MoM) but incomes actually fell significantly more than expected, dropping 1.0% MoM (while spending rose 0.6% MoM as expected).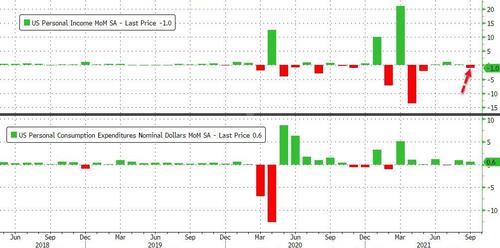 Source: Bloomberg
On the income side, wages for private workers dropped from 10.8% to 1.7%, the lowest since March 2021, while, wages for government workers rose to 7.2% from 6.8%."