8:00 am
Good Morning!
SPX futures are now above 4500.00 as Intermediate Wave (B) continues its ascent on borrowed (literally) time.  Today is day 262 of the current Master Cycle.  Since Cycles are organic, so inputs, such as cash, tend to lengthen the growing season.  Wednesday's options expiration is light, but calls dominate above 4425.00.  Hedge funds and dealer banks are surprisingly long and the talk on Wall Street is bullish.
ZeroHedge reports, "Over the weekend, a Goldman flow trader explained why it expected a powerful market meltup to emerge in coming days, and this time Goldman was right because after trading at 4317 just one week ago, spoos are now almost 200 points higher, rising above 4500 this morning after a powerful ramp pushed US equity futures and global markets as an upbeat profit forecast from Johnson & Johnson which boosted (get it "boosted") its Revenue and EPS guidance, added to the positive momentum in corporate earnings generated by big banks last week and helped counter concerns about elevated inflation. At 715 a.m. ET, Dow e-minis were up 183 points, or 0.52%, S&P 500 e-minis were up 22.75 points, or 0.51%, and Nasdaq 100 e-minis were up 61.75 points, or 0.40%. Treasury yields were unchanged at 1.60% and the dollar slumped to a 4 week low.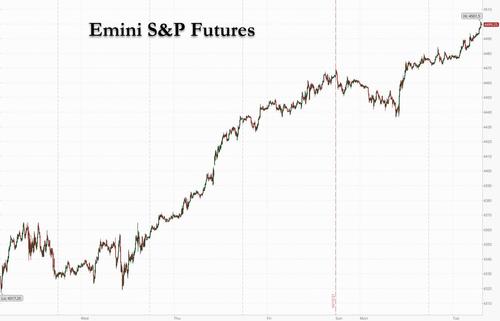 VIX futures traded at a low of 15.95 this morning, possibly verifying Friday's Master Cycle Slingshot low.  Traders often misread the VIX, conflating a low VIX with a rising market.  However, the market rises "best" with a declining VIX.  Once the decline has stopped, the risk of a reversal rises.  In addition, the Cycles propose a possible "slingshot move" that may be aimed at the Head & Shoulders target within 8.6 market days.
Yesterday's NYSE Hi-Lo closed at 94.00, 81 points beneath Friday's close.
TNX made a new corrective low, but quickly recovered.  Wave [ii] corrections may go higher than the Wav e[i] high.  The Cycles Model suggests a brief pullback this week, but trending strength may return next week.
USD futures made a low of 93.49, which may complete the corrective pattern.  If not, any further decline may be short-lived, as trending strength may re-emerge early next week.  A Master Cycle high may be due the week of November 8.