6:00 am
I am on the road today to visit my mother on the occasion of her 91st birthday.  This morning's session will be brief.
Good Morning!
SPX crossed beneath the 100-day Moving Average at 4344.43 yesterday and SPX futures continued beneath the 4300.00 level overnight.  SPX is now down more than 5% and growing.  Today's options expiration may be a disaster, as there are over 3700 net put contracts at 4325.00, 8150 net put contracts at 4300.00, 5200 net put contracts at 4275.00, 6200 net put contracts at 4250.00, 3200 net put contracts at 4225 and 13,430 net put contracts at 4200.00!
7:45 am
SPX futures have moved aboe 4300 and may test the 100-day Moving Average and Cycle Bottom resistance at 4344.90 this morning.  This adds credence to the Cup with Handle formation.  This may minimize the damage (to the dealsers and hedge funds) on the first round of expirations.  However, the retail market (stocks and ETFs) may not hold up as well later today.
SPX futures declined to 4270.00 in the ovrnight session but have recovered somewhat this morning., still beneath 4300.00.  The $1.2 Infrastructure bill failed to pass last night as we start counting the days until Washington just closes down.
ZeroHedge reports, "In a mirror image of Thursday's overnight action, US index futures reversed an early overnight drop, when sentiment was dented by growing concerns about the growing global energy crisis, which sent European gas prices to a record 100 euros, and a global stagflationary wave which overshadowed the positive sentiment from a short-term Congressional deal that averted a government shutdown. However as US traders arrived at their desks, what was earlier a drop of as much as 40 points reversed to a gain of 13 points with the Emini now trading up 14 points or 0.34% to 4,312, Dow eminis were up 47 at 745am, reversing an earlier loss, while Nasdaq 100 e-minis also turned higher and were last up 29.5 or 0.2%. As stocks bounced the dollar resumed its decline while oil's rally stalled and Treasuries were steady.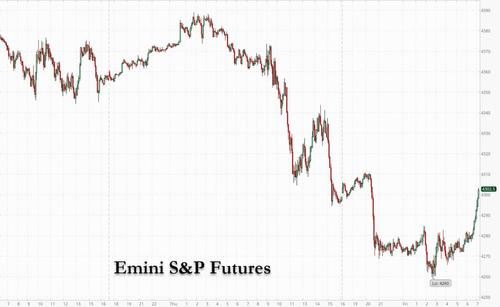 ZeroHedge reports, "Update (2330ET): House Democrats called off a Thursday night vote on the $1.2 trillion infrastructure package after the Progressive Caucus was unconvinced by leadership's proposed 'bicameral framework' to move forward on the legislation.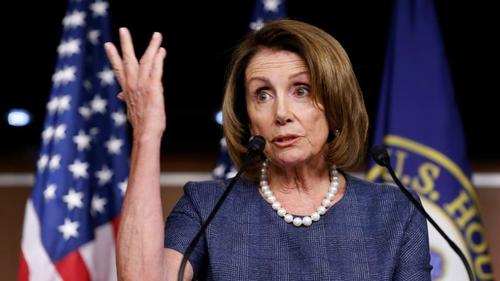 To review – House progressives have threatened to sink the Senate-passed infrastructure deal unless the moderate Democrats in the Senate agree to pass the $3.5 trillion social spending package. And with moderate Senate Democrats Joe Manchin (WV) and Kyrsten Sinema (AZ) refusing to vote on that legislation unless – according to Manchin – it's no more than $1.5 trillion, it appears the infrastructure deal is doomed to fail unless major changes are made."
VIX futures made a new high at 24.89 last night.  Should the slippery slope created by today's expiring options be too much to handle, we may see a breakout above the Head & Shoulders neckline and subsequent rally toward its target in the next two weeks.
The NYSE Hi-Lo Index closed at -29.00 yesterday, confirming the decline's continuation.
TNX futures dropped beneath 15.00 this morning, giving some relief to stocks, although transitory.  The Cycles Model indicates a surge of strength into mid-week and yet another one during options expiration.  It is possible that TNX may rise to the Cycle Top at 17.95 over the next two weeks.
The GSCI Ag Index has risen over its 50-day Moving Average at 412.80 an appears to be on a two month rally to heights not seen for the past 10 years….and higher.  Today may be the beginning of multiple periods of strength that may last through he end of October.  The current Master Cycle may remain in place through mid-December.
ZeroHedge reports, "Global food prices climbed back to near-decade highs in early September, reviving concerns about inflationary pressures. A newly emerging risk that many have missed and could catapult food prices even higher this fall/winter is China's difficult harvest season as power curbs hurt the outlook for production, according to Bloomberg.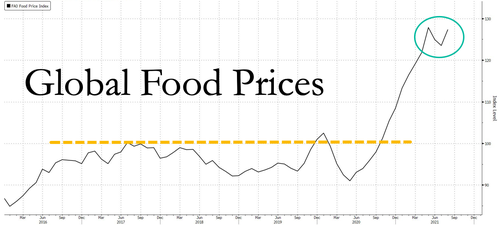 Autumn harvest has begun for the world's second-largest economy amid power constraints in at least 20 Chinese provinces and regions, making up more than 66% of the country's GDP. Some of these regions are industrial hubs that have key manufacturing plants. "
The La Palma volcano continues to emit fluid lava that is building up on a steep ledge at the western shore of La Palma Island, increasing the potential of a collapse into the Atlantic.  Furthermore, new vents are opening at fissures on the volcano itself, destabilizing the whole mountain.  Apparently, the U.S. Tsunami Warning System is not impressed.