12:10 pm
SPX is nearing the end of a probable Triangle formation.  Once complete, it may rise to 4475.00 to 4485.00.    Triangles often precede the final Wave in a series.  Standby for a final push higher this afternoon.  Once SPX reaches 4475.00, it may be appropriate to add short positions.  The rally may delay until the open tomorrow, but I wouldn't count on it.
7:30 am
Good Morning!
SPX futures have lingered near the top of its retracement, suggesting more to come.  The next resistance is at the top of Wave B at 4486.87. Shoould SPX decline beneath 4430.00, it may be an indicator of the resumption of the decline.
Today completes market day 17 (17.2) of the Master Cycle which topped out on September 2.  Wave (C) may be equal to Waves (A) and (B) in time, stretching the decline to October 21-22.  Most analysts and hedge funds are still positive, viewing the surge of new money as a positive sign, rather than as lemmings racing toward the cliff.
The NYSE Hi-Lo Index closed at 34.00 on Friday.  It may go higher today in a Trading Cycle high but a reversal may be right around the corner.
ZeroHedge reports, "US index futures, European markets and Asian stocks all turned negative during the overnight session, surrendering earlier gains as investors turned increasingly concerned about China's looming slowdown – and outright contraction – amid a global stagflationary energy crunch, which sent 10Y TSY yields just shy of 1.50% this morning following a Goldman upgrade in its Brent price target to $90 late on Sunday. At 745 a.m. ET, S&P 500 e-minis were down 4.75 points, or 0.1% after rising as much as 0.6%, Nasdaq 100 e-minis were down 83 points, or 0.54% and Dow e-minis were up 80 points, or 0.23%. The euro slipped as Germany looked set for months of complex coalition talks."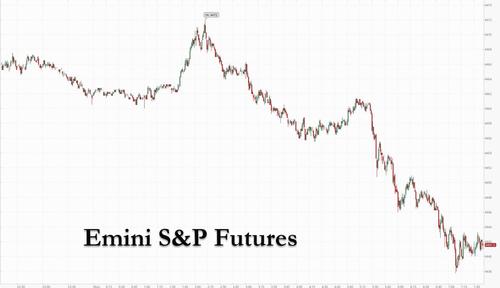 VIX futures are higher this morning, reaching a high of 19.08.  It may be aiming for the mid-Cycle resistance at 19.76 as it prepares for much higher levels.
TNX is challenging the 15.00 level this morning.  The next resistance is the Cycle Top at 17.99, giving ample room to move higher.  The next Master Cycle high may occur during the week of October 11.
ZeroHedge observes, "Following the hotter than expected durable goods headline data, 30Y Yields briefly spiked up to almost 2.05%, but fell back on the core data – although they are still holding above 2.00%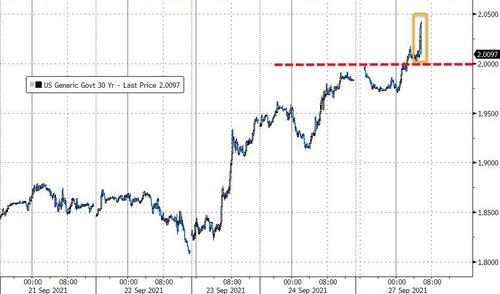 Source: Bloomberg
This has been a key level to watch in recent months…"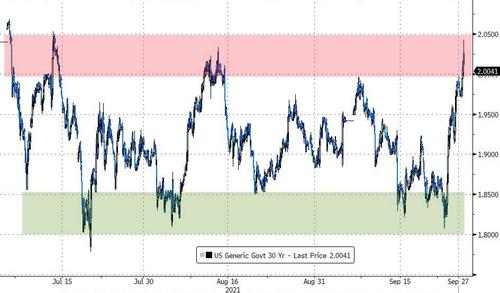 USD futures are higher this morning, but beneath the Master Cycle high at 93.53.  Should there be a breakout, we may see USD make a considerable advance.  Resistance lies at the Cycle Toop at 93.78.