10:45 am
I had originally labelled the Waves at 1-2-3.  However, the overlap and dimensions suggest otherwise.  I have concluded that we are either in a (1)-(2) or (A)-(B) formation in a Leading Diagonal Wave (1).  The rally is now approaching the 61.8% Fib retracement of a Wave (1) at 4454.91 and the mid-Cycle resistance at 4466.67.  Should it go higher, I would be inclined to re-label this as an (A)-(B) of a Primary Cycle Ending Diagnal Wave [1].  It may be complete in the next hour in the first example.  Otherwise,  it may not finish until the end of the day.
ZeroHedge observes, "A sudden wave of panic-buying took over the stonk markets this morning after they faded overnight gains.
This sent the majors up to critical technical levels.
The S&P is back at its 50DMA (having bounced off its 100DMA)…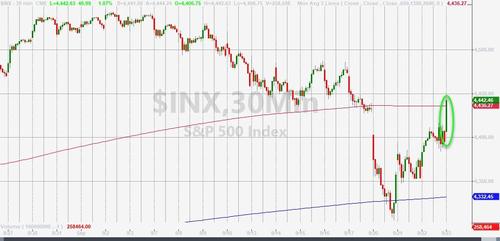 7:50 am
SPX futures have receded back down to the 61.8% Fibonacci retracement level at 4417.74 after testing the 50-day Moving Average at 4433.92 overnight.  It appears that the gap may remain open in the cash market.  SPX has just completed 14 days of what may be a 30 (market) day decline.  All of the components for a panic decline are in place.  1) SPX has tested and failed the 50-day Moving Average.  2)  There is a potential for a government shutdown and default by the end of October.  3)  Evergrande may meet its demise in the next few days.  4)  Investors are losing faith in the Fed.  5) Nuclear sabre rattling by China.  And…6) The LaPalma Volcano has become ashier with an SO2 clound hovering over southern Europe and North Africa.  While the media downplays the probability of a megatsunami, the opening of new vents suggest a possible increase of volcanic activity.
ZeroHedge reports, "US index futures jumped overnight even as the Fed confirmed that a November tapering was now guaranteed and would be completed by mid-2022 with one rate hike now on deck, while maintaining the possibility to extend stimulus if necessitated by the economy. Sentiment got an additional boost from a strong showing of Evergrande stock – which closed up 17% – during the Chinese session, which peaked just after Bloomberg reported that China told Evergrande to avoid a near-term dollar bond default and which suggested that the "government wants to avoid an imminent collapse of the developer" however that quickly reversed when the WSJ reported, just one hour later, that China was making preparations for Evergrande's demise, and although that hammered stocks, the report explicitly noted that a worst-case scenario for Evergrande would mean a partial or full nationalization as "local-level government agencies and state-owned enterprises have been instructed to step in only at the last minute should Evergrande fail to manage its affairs in an orderly fashion."
In other words, both reports are bullish: either foreign creditors are made whole (no default) as per BBG or the situation deteriorates and Evergrande is nationalized ("SOEs step in") as per WSJ."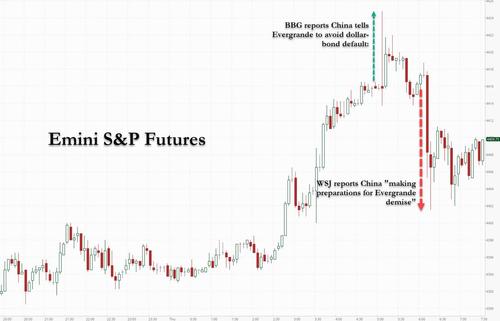 VIX futures dove to 19.06 this morning, as it develops the right shoulder of a revised Head & Shoulders pattern.  The Cycles Model suggests a probable turnaround in today's activities.
Wednesday's NYSE Hi-Lo Index remained beneath the 50-day Moving Average despite the ramp.  The NYSE is weak, with less than 1.5% of its companies making new 52-week highs.  The Cycles Model suggests something dramatic may be happening in the Hi-Lo Index in the next two days.
TNX remains above the 50-day Moving Average at 12.92 but beneath the mis-Cycle resistance at 14.04.   TNX is in a "trading band squeeze" which indicates a probable test of the Cycle Bottom at 10.02 (Wave [4]) before a dramatic rally above the trading bands in Wave [5].  The test of the Cycle Bottom may occur by mid-October.