8:05 am
Good Morning!
I spent the week in St.Louis with my mother who was in the hospital.  When I arrived, there were doubts about her condition, which is inoperable for a 90-year ole woman with a heart condition.  However, she rallied and was released on Friday.  The next milestone is her 91st birthday in October, wich I plan to attend.
SPX futures rallied this morning to a high of 4545.40, on their way to 4555.00-4560.00.  The current Fibonacci level is 4541.00, so thee is stiff resistance above that level.  SPX must complete its pattern with a derivative of five Waves.  The sequence is 5, 9, 13, 17… There are currently 7 Waves, so another probe higher may complete the pattern.  The 21.5-year Cycle (258 months) from March 23, 2000 ends on September 23.  The 258th month will reach its halfway point tomorrow, so we may look for a reversal at any time.  Today is day 272 of the current Master Cycle.
ZeroHedge reports, "European bourses dipped in the red and a rally in US equity futures which traded near all-time highs after the Labor Day holiday fizzled, as  investors weighed China's better-than-forecast trade data against the growing likelihood of fading central-bank support. S&P500 futures traded fractionally in the green and Nasdaq 100 indexes slipped and equity gains in China and Japan were followed by losses in Europe as investors speculated the ECB may get ready to roll back stimulus. The dollar and Treasuries yields rose, gold and cryptos dropped."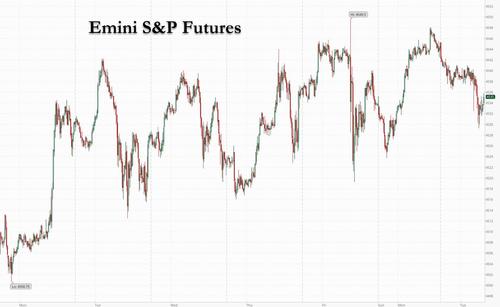 VIX futures rose to a weekend high of 17.40, above the 50-day Moving Average at 17.28.  This has the potential of an aggressive buy signal, provided the Hi-Lo Index goes lower.  The Hi-Lo Index closed at 171.00 on Friday.
RealInvewstmentAdvice comments, "Will the mid-month VIX pattern hold yet again?
The graph of the VIX (volatility) below highlights a fairly reliable pattern that has been occurring mid-month for the last year. As shown, VIX tends to decline into the middle part of most months, rally sharply for a few days, and head lower again. The pattern has been especially pronounced the last three months.  One likely cause is the combination of mid-month options expiration and low volumes. The volume of trades needed to cover and roll options contracts may be enough to push volatility higher at these times.
September is thus far looking to repeat the pattern. A nice short-term trade may again occur if VIX approaches the 16.00-16.50 range later next week. 16 has been the recent floor so if you do get long the VIX and try to take advantage of the pattern, keep risk targets in place below 16."
TNX may be on the verge of a breakout, reachign 13.72, just shy of its prior high at 13.75.  Mid-Cycle resistance is at 13.78, so that might be a more reliable focal point for a breakout.  TNX has only two weeks to its next Master Cycle high., which may break out abov ehte Cycle Top resistance at 18.43.
USD futures are primed for a reversal, with only two more weeks until its Master Cycle high.  It looks like September is going to be an active month. for the USD and TNX.