3:33 pm
Note:  I have booked an early morning flight to see my mother, who was admitted to the hospital Sunday afternoon.  The needed surgery to correct her condition may not be possible, since her cardiologist is concerned that her heart is too weak to handle that kind of stress.  Their aim is to stabilize her and probably send her home until the next episode.  Although I call her weekly, I think its time to be with her in person.  My apologies, but I may not be blogging until Friday, at the earliest.
As for the SPX, I have run out of  perceivable extensions with Wave (v) at 1.33 times the size of Wave (i).  The SPX is much like the dry tinder on the western forests.  The Fed can be compared to the US Forest Service, ignoring risks and taking the easy way out, until ignition.  Now the /Western forests are out of control with billions in collateral damage.
Take care!  I personally have placed my money anticipating a very large decline.  The next Master Cycle is not due until mid-October.
9:20 am
Note: I have received information that my 90-year-old mother is hospitalized, condition unknown.  I may have to leave for an indefinite period of time to be with her.
SPX futures hit a weekend high of 4516.50, which tells us there may be more.  As of Friday, the new target is 4520.00, where Wave (v) of [v] is equal to Wave (i) of [v].  It may go higher.  There seems to be an upper limit of 4537.00, due to possible structural limitations.  Today is day 264 of the current Master Cycle.
ZeroHedge reports, "After stocks closed on Friday at their 52nd record high of the year, when Powell's unexpecteldy dovish Jackson Hole sparked a meltup in risk assets and a meltdown in the dollar, on Monday all indications are that we will get the 53rd record high with 2021 set to have a record number of all time highs. At 7:30 a.m. ET, Dow e-minis were up 10 points, or 0.03%, S&P 500 e-minis were up 3.50 points, or 0.07%, and Nasdaq 100 e-minis were up 16.25 points, or 0.11%. Oil dropped then gain, the dollar rebounded from Friday's mauling and precious metals continued their ramp higher."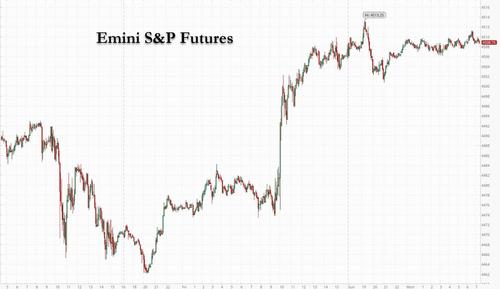 VIX futures are rising, but still beneath the 50-day Moving Average at 17.40.  VIX may have made its retracement low at 16.11, but not confirmed.
TNX is lower this morning and may be reaching it retracement limit.  The Cycles Model suggests a possible burst of strength today.  If so, it may set off a 3-week rally to a new high.  Stand by for a reversal coming soon.