2:32 pm
It appears that we are now counting "wriggles" in the pattern.  This is a small extension with a probable target near 4495.00.    All trends end in a 5-Wave impulse, down to the last degree.  I am observing at least 8 degrees of trend, some of which aren't illustrated for lack of space.    Odd as it seems, there is  a pattern that emerges out of this chaos that may surprise even the best of analysts.
ZeroHedge comments, "The last three days in stock-market-land have been somewhat farcical as stocks have exploded higher (dominated by action at the cash market open) while bonds have refused to follow suit…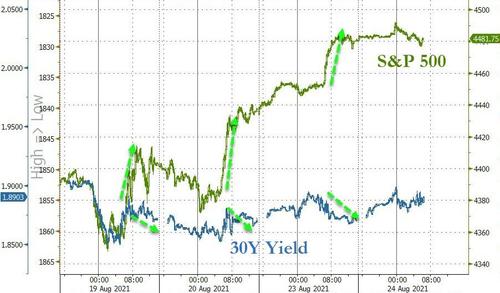 Source: Bloomberg
What drove this crazy? Simple – as Nomura's Charlie McElligott notes – A good ol' fashion short-squeeze: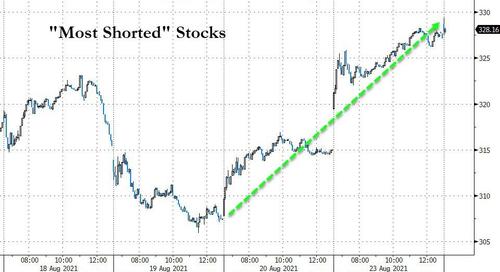 Source: Bloomberg
The cross-asset-class strategist noted that yesterday our futures imbalance monitor showed the largest 1d "buy pressure" in S&P futures that we've seen over the past month across all lot sizes and the 2nd largest "buy pressure" in NQ futures over the past 1m."
8:00 am
Good Morning!
SPX futures made a new all-time high in the overnight session, but have pulled back beneath yesterday's cash high.  Today is day 258 of the Master Cycle, so I would expect some resolution in the next 24 hours.  Wave [v] equals Wave [i] at 4495.00, which is also the location of the Cycle Top.  The point is, anything may happen and the catalyst for the reversal may be a complete surprise.
There are five discernible Waves is Wave [v], which usually means the pattern may be complete.  However, there are ways that it can be stretched to reach , for example, 4500.00.  The point is, we are also at reatest risk of a reversal.
ZeroHedge reports, "Another day, another record high in US equity futures as spoos hit a new record high of 4492 just before the European open, with Nasdaq 100 futs also hitting a record as positive news around U.S. vaccination boosted shares of energy and travel-related companies while expectations of a dovish Jackson Hole boosted overall market sentiment. At 7:30 a.m. ET, Dow e-minis were up 57 points, or 0.16%, S&P 500 e-minis were up 7.5 points, or 0.17%, and Nasdaq 100 e-minis were up 39points, or 0.25%."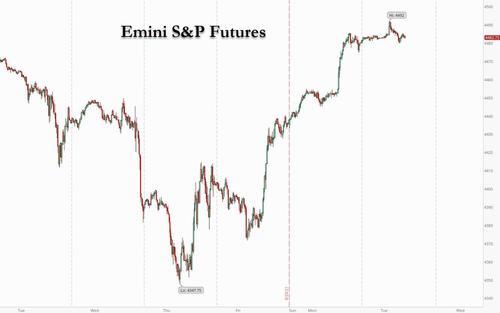 VIX futures have risen off the bottom, but not above the 50-day Moving Average at 17.38.  That is a very low bar to hurdle, so today would be a good day to stay alert for that event.
The NYSE Hi-Lo-Index rose to an intraday high yesterday at 150.00, but closed at a more reasonable 42.00.  Again, confirmation of a sell signal lies below 0.00.
TNX rmains steady beneath Intermediate-term resistance at 12.76.  A buy signal remains above that level with a possible target near 20.00.