12:17 pm
In the meantime, the NDX has made a partial retracement of its decline and appears poised for the next (most powerful) phase of its decline.  Because its peaked on August 5, its decline may take 12.9 days.  NDX has a tentative target at 6503.00, a potential 67% decline.  Short-term support is at 15024.00 for a confirmed sell signal.
2:30 pm
The NDX Hi-Lo Index fell to -7.00 this afternoon.  A close beneath 0.00 is a sell signal.  The VXN is still beneath its 50-day Moving Average.
12:05 pm
It appears that I got what I wished for.  SPX rose to 4450.21 thus far and appears to be making the final (finally!) probe to as high as 4455.00.    Today is day 276 of the Master Cycle.  It appears that, due to the spill-over of this Cycle, the next Master Cycle may only last until August 24-25 (8.6 market days).  That may be one of the shortest Master Cycles on record, but don't let that fool you.  It could be a monster.  Sell below 4435.00.
10:26 am
SPX appears to be constrained by tomorrow's options expiration.  4450.00 and below are skewed toward puts, while 4455.00 and above are skewed toward calls.  There appears to be a reluctance to push higher.  SPX futures, which track closely with the cash market, topped out this morning at 4449.80, just above yesterday's high.   But the cash market gapped down at the open and is only now back in the MAX PAIN zone.   No technical damage was done by the decline, but the chances of a new high are diminishing by the hour.   Honestly, I would rather see a quick run above 4450.00, then the revesal will be more obvious.  Neither the VIX nor the Hi-Lo are supporting a sell signal yet.
There may be an aggressive selling opportunity beneath 4435.00.
8:00 am
Good Morning!
The Shanghai Composite Index was rejected at the 50-day Moving Average, declining to Intermediate-term support at 3510.24 before a bounce.  This tech-heavy index exerts a lot of influence on the NDX.  We may consider a further decline beneath the Intermediate-term support as a confirmed sell signal.
ZeroHedge reports, "One month ago we observed that after tumbling for much of 2020 and even turning negative early Q2, China's credit impulse had finally troughed with significant consequences for global reflation. But with China's economy rapidly slowing and Beijing considering what is the best way to stimulate the economy without leading to another overheating, the latest Chinese credit data released overnight which missed every consensus expectation, confirmed that Beijing's latest attempt to reflate the local (and global) economy will not be a walk in the park."
NDX futures remain anchored near 15000.00, where it has bounced.  Short-term support is at 15008.00, where a confirmation of the trendline sell signal lies.  NDX internals are weaking.  The NDX Hi-Lo closed at 7.00 yesterday, just above absolute zero, which confirms the sell signal.  I will keep you posted.
SPX futures hugged the flat line during the overnight session.  If my observations are correct, there may be a final push to 4455.00, or somewhat higher.  It would not surprise me to see this move in the first hour of trading in the cash market.
ZeroHedge reports, "Another day, another all time high in US equity futures with spoos trading at the nice, round 4,444 on Thursday morning, while Dow futures also hit a record high on Thursday ahead of earnings reports from companies including Walt Disney and data expected to show a jobs market recovery was on track.
Yet while nothing can stop the relentless juggernaut in US stocks, global equity markets fluctuated on Thursday, with European shares taking a pause after an eight-day rally of record highs on a mixed batch of earnings as Asian shares failed to follow a strong close on Wall Street with fears about the spread of the Delta variant of the coronavirus weighing on sentiment even as tame U.S. inflation eased fears the Federal Reserve would rush to reduce its economic support. As of 715am S&P futures were up 4 points to 4,444, Dow futures traded up 43 points or 0.12% and Nasdaq futures were 4.75 higher or 0.03% to 15,024. Treasury 10Y yields rose as high as 1.36%, reversing the drop after yesterday's stellar 10Y auction as a 30Y auction looms; the dollar nudged higher while copper prices jumped after workers at a mine in Chile threatened to strike. Bitcoin dropped to $45,000.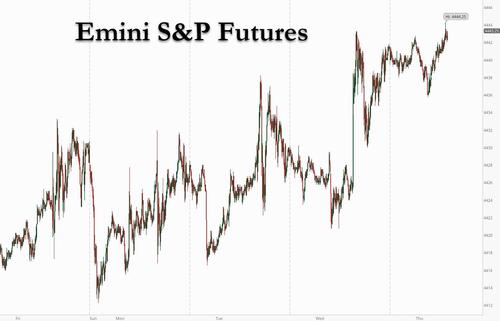 VIX futures rose above yesterday's low at 15.87, which appears to be the Master Cycle low.  This morning's low was 16.04.  It doesn't have far to go to the 50-day Moving Average at 17.27 to make a buy (SPX sell) signal.
TNX appears to be approaching the 50-day Moving Average at 13.88, where it may be due for a test today.  A pullback is due where long TNX (short UST) positions may be taken.